GM introduces world's first front-center airbag
by
KBB.com Editors
|
September 30, 2011 4:43 AM
General Motors has announced it will install the world's first front-center airbags in three of its midsize crossover vehicles starting in the 2013 model year. This new safety innovation will be introduced on the Buick Enclave, GMC Acadia and Chevy Traverse lines, and become standard equipment on all versions equipped with power seats.
Co-developed with restraint-system specialist Takata Corporation over a three-year period, GM's new front-center airbag is a tethered tubular inflatable restraint that deploys from the right side of the driver's seatback and locates itself between the two front buckets. Designed to be particularly effective in the case of passenger-side impacts, GM says it provides additional protection regardless of which side of the vehicle is struck and can accommodate a wide range of body sizes and types. In addition to helping mitigate the potential for head-to-head or other types of contact trauma with both front seats occupied, it helps stabilize the driver even when there's no passenger aboard. The automaker also anticipates this new front-center airbag will provide some added measure of protection in the case of rollover accidents.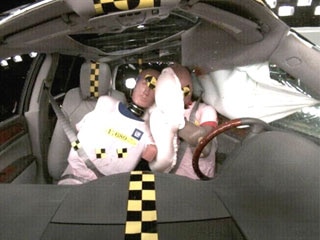 "While no restraint technology can address all body regions or all potential injuries, the front center air bag is designed to work with the other air bags and safety belts in the vehicles to collectively deliver an even more comprehensive occupant restraint system," said Gay Kent, GM executive director of Vehicle Safety and Crashworthiness. "This technology is a further demonstration of GM's above-and-beyond commitment to provide continuous occupant protection before, during and after a crash."