GM Introduces the Industry's First Front Center Air Bag
by
KBB.com Editors
|
December 6, 2011 12:38 PM
It's sage advice for drivers to treat every decision behind the wheel as a life and death decision, because most of them are. And among the most dangerous driving decisions we make involve crossing traffic, which means essentially every left turn and every crossing of another road. Get it wrong, miss seeing and waiting for an oncoming vehicle due to inattention or distraction, and you risk a rude intrusion of that vehicle into the side of yours.
If a side impact occurs...best of luck. But you do get some protection from side door beams and - if your vehicle is so equipped - side air bags. But if it's on the far (passenger) side, even if you're securely belted down, you'll pivot out of your shoulder belt toward the impact and into the center console. If it's a hard hit, you'll likely suffer some serious injuries, or worse.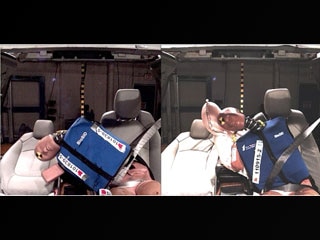 National Highway Traffic Safety Administration's Fatality Analysis Reporting System's (FARS) data shows that such far-side impacts account for 29 percent of all side-impact fatalities of belted front occupants and 11 percent of belted-front-occupant deaths in non-rollover crashes. If unbelted, of course, you'll be projected across the car to meet the intruding vehicle at the far-side door, crashing into your front passenger on the way.
Now General Motors has teamed with supplier Takada Corp. to design and (soon) offer the industry's first front-center air bag to help protect you in exactly this very common type of crash. It will be introduced on 2013 midsize crossovers (Buick Enclave, GMC Acadia and Chevrolet Traverse), standard on all Enclaves and Acadias and Traverses with power seats.
This unique front-center air bag -- which deploys from the right side of the driver's seat and positions itself between the front seats in milliseconds in side crashes and rollovers -- provides restraint in passenger-side crashes when the driver is alone as well as an energy-absorbing cushion between the driver and a front passenger to limit cross-vehicle movement in crashes on either side. There's always a driver, of course, and there's a front passenger 38 percent of the time, so it benefits both occupants. It will also provide some benefit in rollovers.
"The front center airbag has real potential to save lives in side crashes," says Adrian Lund, president of the insurance Institute for Highway Safety. "GM and Takata are to be commended for taking the lead in this important area."
GM and Takata invested three years in designing, testing and developing the front-center air bag to achieve optimum packaging, cushioning and restraint for a variety of crashes, occupant sizes and positions. "[It] is designed to work with the other air bags and safety belts...to collectively deliver an even more comprehensive occupant restraint system," says Gay Kent, GM executive director of Vehicle Safety and Crashworthiness.
It will take some time for GM to roll out this innovative, ground-breaking new safety system to other vehicles as their interiors are redesigned to accommodate them, but we recommend keeping front-center air bags in mind next time you're looking for a new vehicle.