GM and Porsche shine in 2013 J.D. Power Initial Quality Study
by
Bob Nagy
|
June 22, 2013 3:41 AM
The auto research group J.D. Power and Associates has just released the findings of it 2013 U.S. Initial Quality Study, and the big winner this time on the manufacturer side was General Motors, while Porsche claimed top spot in the individual nameplates ranking. The Power IQS sets its index numbers by measuring the number of problems per 100 (PP100) vehicles buyers report during the first 90 days of new vehicle ownership using a national database that for 2013 consisted of input from over 83,000 respondents. A comprehensive enhancement of methodology further fine-tuned the basic IQS formula this year to enable the online collection of even more detailed information, particularly as it pertains to perceived problems with new technologies being introduced.
For the first time in the 27-year history of the IQS, General Motors headed the overall manufacturer ratings. With a 98 PP100 stat, it was the only automaker to have a score in double digits and handily outpaced Toyota and Honda which tied for second. GM also captured a nearly unheard of eight top vehicle rankings in the 26 individually rated IQS segments. As in 2012, the Luxury Segment-winning Lexus LS Series reprised its best-overall rating, this time with a new record low 59 PP100.
Also: Your 12 midsize sedan choices for 2013
On an individual nameplate basis, Porsche moved up one position from its 2012 placement to claim top spot with a PP100 rating of 80, but it was GMC (90) that turned in the most unexpectedly impressive performance to claim second on the list followed by Lexus (94), Infiniti (95) and Chevrolet (97). Filling out the remaining top 10 slots were Acura and Toyota tied at 102, Honda (103), Jaguar (104) and Hyundai/Kia/Mercedes-Benz tied at 106. This year, a total of 17 nameplates scored better than the 113 PP100 industry average-- including GM's two other divisions, Cadillac (108) and Buick (109). Of the 16 that fell below that demarcation line, Scion fared the worst, netting a 161 PP100 rating.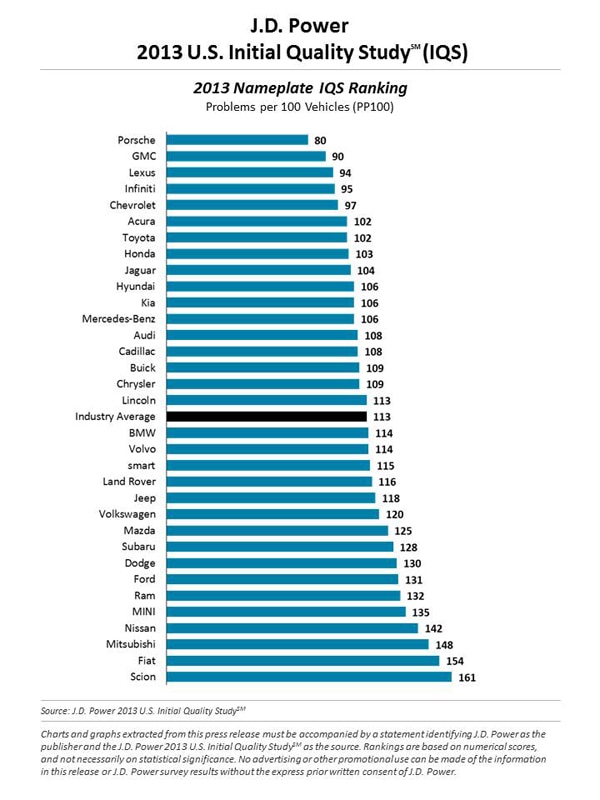 In commenting on the results, Power VP of Global Automotive David Sargent offered several interesting insights, including that over 64 percent of the items cited by 2013 IQS respondents as problems were design related as opposed to traditional defects or malfunctions and that all-new vehicles in the IQS accounted for 21 percent more problems than did their comparable carryover counterparts.
Also: 10 Best Luxury SUVs of 2013
"Automakers are investing billions of dollars into designing and building vehicles and adding technologies that consumers desire and demand, but the risk is that the vehicle design, or the technology within the vehicle, in some cases may not meet customer needs. The successful companies will be those automakers that find a way to give customers the technology they want while at the same time making it sufficiently intuitive so all customers find it easy to use."
The best example of that reality is evidenced by Ford, with a 131 PP100 nameplate index that relegated it to 27th place. A sizable percentage of the reported owner ire was related directly to the capable but often confusing MyFord Touch infotainment system. Earlier this week, Ford announced it was embarking on yet another round of upgrading for MyFord Touch, this time to add more conventional knobs and buttons that would simplify its use.
Complete results of the J.D. Power and Associates 2013 U.S. Initial Quality Study can be found at http://autos.jdpower.com/.
You Should Also Know...
Cadillac has upgraded its Certified Pre-Owned program benefits
New Mazda Certified Pre-Owned program adds 3-year buyback protection
Nissan has dropped prices on seven of its 2013 models
Popular at KBB.com