Future MyFord Touch systems will have more buttons and knobs
by
Bob Nagy
|
June 17, 2013 7:26 PM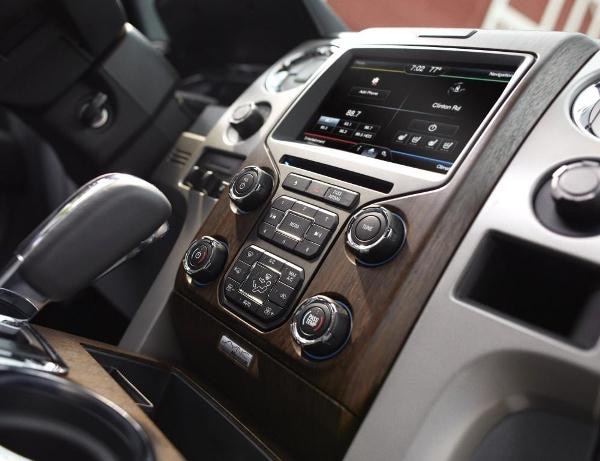 Although providing impressive stats to show that its pioneering SYNC and MyFord Touch technologies are attracting more customers and enjoying higher take rates -- 79 percent in 2013 -- than voice-control and touch-screen alternatives offered by competitors, Ford also has confirmed that changes are on the way, specifically for the latter system. While exceptionally capable, the on-screen controls in MyFord Touch have continued to draw the ire of many users for being too complex and distracting to deal with on the fly, even after a major updating effectively simplified the interface and enlarged the size of its virtual buttons. Later this summer, another round of downloadable upgrades will be introduced to bring overall consumer satisfaction levels up even further, but a more pivotal change to MyFord Touch is set to be rolled in over time with the adoption of the kind of enhanced system actuation pioneered on the 2013 F-150 pickup.
Also: Your 12 midsize sedan choices for 2013
Devised as a way to make it easier for a driver wearing work gloves to operate the audio and climate controls on a MyFord Touch-equipped F-150, this revamped design supplements existing touch-screen controls with several ancillary knobs and buttons that allow quicker and more direct access to those functions. Not surprisingly, this augmented setup also currently enjoys the highest level of MyFord Touch quality satisfaction of any vehicle in the entire Ford lineup. As a result, Raj Nair, group vice president, global product development, has confirmed that a similar balanced blend of electronic and conventional controls is now being developed for the MyFord Touch package on all future Ford vehicles.
Also: 10 Best SUVs under $25,000
"We are committed to listening to our customers and improving MyFord Touch to keep drawing in new customers and increasing satisfaction with even higher quality," says Nair. The announcement comes just two days ahead of the upcoming J.D. Power and Associates Initial Quality Survey. Since 2010, Ford has slipped from a top-5 rating to below the industry average, with most of that decline directly attributable to consumer issues related to the operational complexity of MyFord Touch.
More New Car Tech...
Audi is introducing new Matrix LED lighting technology
Cadillac's Super Cruise technology is ready to start real-world testing
The 2014 Mercedes-Benz S-Class features the new COMAND telematics system