Ford to Launch Cloud Networking
by
Bob Nagy
|
March 18, 2015 5:36 AM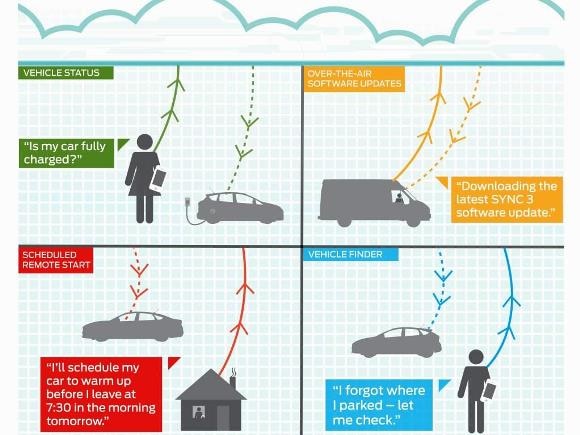 In the hopes of making life easier for owners of Ford and Lincoln vehicles, Ford Motor Company will partner with Microsoft to use Azure -- Microsoft's latest cloud-based data delivery services -- to create a global network hosting enhanced MyFord and MyLincoln Mobile systems and enabling real-time software updates for Ford's new Sync3 infotainment packages. Sync3 rolls out later this year in various 2016 models and will be found across the lineup by the end of next year.
Also: The Class of 2015 -- New Vehicles Ready to Roll
Microsoft's senior director of worldwide manufacturing, Sanjay Ravi, outlined the capability in a company blog post, noting that Azure "provides a global common cloud platform that allows Ford to deliver services worldwide and scale quickly to reach its broad customer base. This means that Ford can send updates as they become available, ensuring customers will have the latest technology as it becomes available." Updates for the existing Sync2 must be performed via a USB drive used during a dealer visit or mailed to the owner.
Also: Kelley Blue Book Best Buy Awards of 2015
In addition to automatic over-the-air software updates using a home Wi-fi connection, this new cloud-based system allows owners to perform various other functions from checking the status and/or location of a vehicle to pre-scheduling starting/warmup times or even charging the battery of an electric or plug-in hybrid model. It also can provide Ford and Lincoln with diagnostic data to help recognize vehicle issues before they turn into major problems or advise about the need for any routine maintenance. Toyota and Chinese automaker Chery also have contracts with Microsoft to use the Azure system.
More Ford News...
We test the all-new 2015 Ford F-150 Pickup
The 2016 Ford Shelby GT350R Mustang is track ready but street legal