Ford builds 5 millionth EcoBoost engine
by
KBB.com Editors
|
March 17, 2015 7:49 AM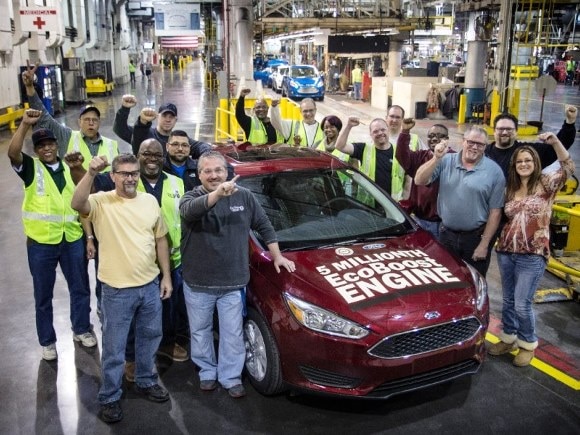 Ford Motor Company hit another milestone in the history of its EcoBoost engine family with the production of the 5-millionth unit -- a 1.0-liter/3-cylinder fitted to a 2015 Ford Fiesta. Introduced in 2009 as a 3.5-liter V6 used in the Taurus SHO, the automaker's award-winning turbocharged/direct-injected engines with variable valve timing are available in a wide variety of sizes and configurations. They include 4-cylinder versions in 1.0-, 1.3-, 1.6- and 2.0-liter displacements as well as 2.7- and 3.5-liter V6s.
Also: The Class of 2015 -- New Vehicles Ready to Roll
With over 200,000 EcoBoost engines rolling out of factories around the world every month, their availability has now spread across the entire FoMoCo vehicle lineup here. Today, the Ford Fusion, Escape and F-150 are America's best-selling turbocharged midsize passenger car, SUV and truck. While efficiency remains a core value of EcoBoost technology, performance is another strong suit. Later this year, the new 2016 Ford Focus RS will arrive with a 2.0-liter EcoBoost four that makes in excess of 315 horsepower and late next year, the 2016 Ford GT supercar hits the streets packing a next-gen 3.5-liter EcoBoost V6 that will boast in excess of 600 ponies.
More Compact Cars...
Check out our Compact Car Buyer's Guide to see what's new and what's next.