First Pic: Infiniti Q30 Concept
by
Bob Nagy
|
August 27, 2013 6:15 AM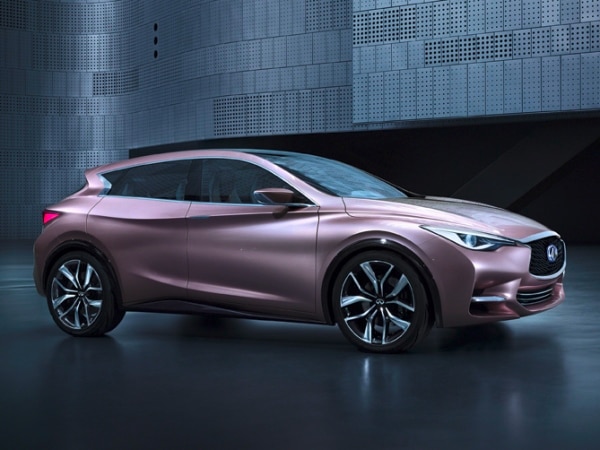 Here's an early first look at the Infiniti Q30 Concept that will formally bow in at Frankfurt next month. Embracing a unique mix of body styles and promising to defy conventional thinking, the Q30 Concept is the precursor to a new entry level premium compact vehicle the automaker will aim at a new generation of younger upscale buyers in an attempt to extend Infiniti's global reach as well as the breadth of its product portfolio.
Also: 10 Best Sedans Under $25,000
Envisioned under the direction of Executive Design Director Alfonso Albaisa, the Q30 Concept reflects the latest evolution in the brand's styling language and merges "the dynamic design and sportiness of a coupe, the roominess of a hatch and the higher stance of a crossover." By overlaying that unique visual presence with "elevated levels of fit/finish, craftsmanship and performance," Infiniti hopes to shake up the status quo in the premium compact realm with the Q30 Concept's volume-build successor.
No additional details were released on the Q30 Concept. However, as we reported earlier, the production Q30 is expected to be a front-driver based on a variation of Mercedes-Benz' modular "MFA" small-car platform currently used in its new A-Class/B-Class offerings and likely powered by M-B's 1.8-liter turbocharged 4-cylinder gasoline engine. The car is slated to go into production sometime in 2015.
More Hot Concept Cars...
Audi TT Ultra Quattro Celebrates the Light Stuff
The Subaru VIZIV Concept offers a look into the automaker's design future
The Volkswagen Design Vision GTI Concept is one hard-core hatch