Ferrari unveils its latest HY-KERS hybrid system
by
KBB.com Editors
|
May 1, 2012 12:50 PM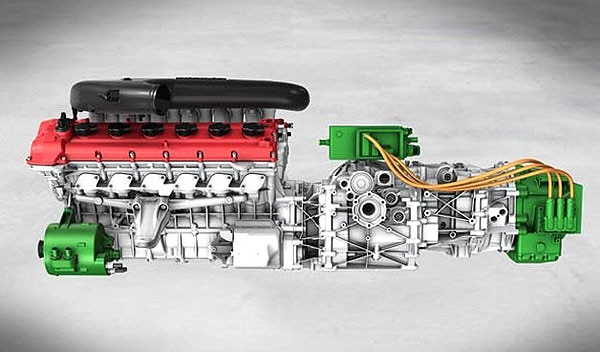 While we're still awaiting facts and photos on the next-generation Ferrari Enzo that will be unveiled later this year, the automaker recently offered an early look at the hybrid powertrain technology that will be used in its mid-engine supercar. Dubbed HY-KERS 2012 (for Hybrid-Kinetic Energy Recovery System), this street-spec gasoline-electric package also incorporates technology first introduced on its Formula One racing cars. However, the latest iteration is smaller, lighter and significantly more efficient than the original. Unlike the Gen I HY-KERS that was developed for use on a front-engine V12 Ferrari 599, this latest iteration is optimized for a mid-engine application.
Presented at the Beijing Auto Show, Ferrari's HY-KERS 2012 package consists of a highly tuned V12 engine mated to a 7-speed dual-clutch automated transmission and a primary electric motor that work in collective concert with an electronic controller, a lithium-ion battery pack and a secondary electric motor mounted on the front of the engine that generates power for the car's various ancillary systems. In addition to using an F1-derived electronic control unit to oversee torque management and traction-control functions, the new HY-KERS package relies on it to command a highly efficient regenerative braking system that facilitate on-the-fly recharging of the car's battery pack.
This new hybrid setup is expected to make about 800 horsepower in Enzo trim. Although Ferrari offered no hard performance data about its upcoming supercoupe, it did confirm that a HY-KERS 2012-equipped V12 would have roughly 10 percent greater output and emit about 40 percent lower CO2 emissions than an identical non-hybrid V12.