EV Resale: Short circuiting the electric dream?
by
Matt DeLorenzo
|
February 27, 2015 12:57 PM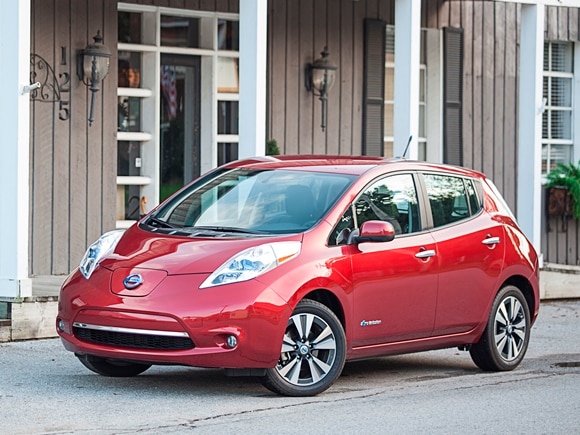 As manufacturers expand their EV offerings as a way to meet increasingly stringent fuel economy standards, it's becoming apparent that this alternative technology will not hold its value as well as more conventionally powered cars, according to resale value data gleaned by Kelley Blue Book.
Pure electrics like2012 models Nissan's Leaf and Mitsubishi's iMiEV, for instance, are worth less than 30 percent of retail value after just three years. Most cars of that age typically retain 60 percent or more of their retail value. Plug-in hybrids, which operate in an EV mode with ranges of 20 to 40 miles before their gas engines kick in, typically fare better in resale, retaining more of their value. But it should be noted these vehicles still underperform comparable models equipped only with gasoline engines. For example, a 2011 Chevy Volt is worth about 36 percent of its value when new, while the similarly sized Cruze retains 60 percent of its value.
Used vs. new
The tax breaks being offered only on new EVs and plug-in hybrids (which can be as high as $10,000) along with price cuts from manufacturers in order to spur demand have contributed to the sharp decline in the value of used models. In addition, reports of deteriorating range in older pure EVs have also hurt resale. Even more pressure on the values of used EVs and plug-in hybrids is expected since many of these vehicles are leased and soon will be returning to a market that is seeing more and more new EVs and plug-in vehicle entries.
Also: Kelley Blue Book Best Buy Awards of 2015
"What is clear is that this segment is getting quite competitive with new models hitting the market every year and it will be interesting to see if these new models can attract mainstream customers beyond the early adopters," observed Eric Ibara, KBB's director of residual value consulting. "This is the challenge for the industry. EVs cost substantially more than a comparable vehicle equipped with an internal combustion engine. The limited range on most EV's and the long charging time also take it out of consideration for a lot of potential buyers."
The Tesla factor
The only entry so far running counter to this trend of steep depreciation curves has been the Tesla Model S. According to KBB data, it is shown to retain 71 percent of its value, which is above average. This more the result of Tesla's limited volume and market positioning as a luxury entry. It's likely that the all-new 2015 BMW i8 plug-in hybrid will be the same class, with low volumes and high demand keeping its resale value up. On the other hand, it will be interesting to track the depreciation on BMW's i3 EV, which has a lower price and is geared more towards the volume market.
Ibara adds that the success or failure of EVs hinges on battery technology. "The industry has been waiting for a breakthrough in battery technology but so far, that hasn't happened," he said. "Lower cost batteries that deliver twice the range would be a game changer and would move EVs into consideration for a larger pool of potential buyers. With the prospect of moderate or low priced gasoline, the bar has been raised for EVs. It is likely that ten years into the future the majority of cars on the road will continue to be powered by IC engines."
This glut of new EVs and plug-in hybrids along with lower priced gasoline will continue to put pressure on manufacturers to either cut prices or offer incentives, further depressing the market for used EVs and hybrids. In other words, it is turning into a buyers' market for alternative power vehicles.