EV Cup to kick off zero-emissions racing series in U.S. this fall
by
KBB.com Editors
|
May 27, 2011 10:48 AM
Organizers of the world's first motorsport series designed exclusively for electric vehicles have announced a schedule change that will now see competition commence here in America this fall. Although on-track action in the inaugural EV Cup was set to begin this summer in Europe, various logistical issues caused the organizers to rethink the original plan. Sylvain Filippi, Managing Director of the EV Cup, explained: "The requirements for safety aspects and the delivery schedule for race cars was not going to allow sufficient time for testing. We need to ensure that we are absolutely ready and have everything exactly right before we start."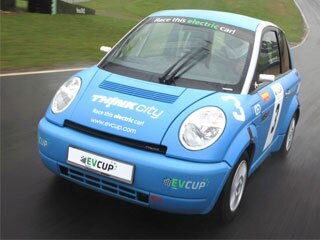 While admittedly disappointed in this minor setback, Filippi is genuinely buoyed by the prospects of an American debut for the series, which will see a pair of events held in California. The first will be at Mazda Raceway Laguna Seca in November followed by a trip to the Auto Club Speedway in Fontana in December. "The interest in the EV Cup has been fantastic, especially in the U.S. which is why we wanted to keep our two race events there this year. We plan to begin the full series early in 2012 and will expect to start with races in the U.S. again before coming back to Europe for races here. It was a difficult decision to make but we believe it is the best way to move forward. We have notified all circuits concerned."
The EV Cup action will be divided into two distinct categories, the street side of the mix to be contested by identically prepared Think City electric cars while the single-seat Westfield iRacer has been chosen to do battle in the Sports EV segment. Organizers of the EV Cup also have created a special Prototype EV class, where purpose-built one-off electric racers will showcase their potential in various time-trial runs.