Detroit Electric SP:01 shows its new shape
by
Bob Nagy
|
October 24, 2014 8:31 AM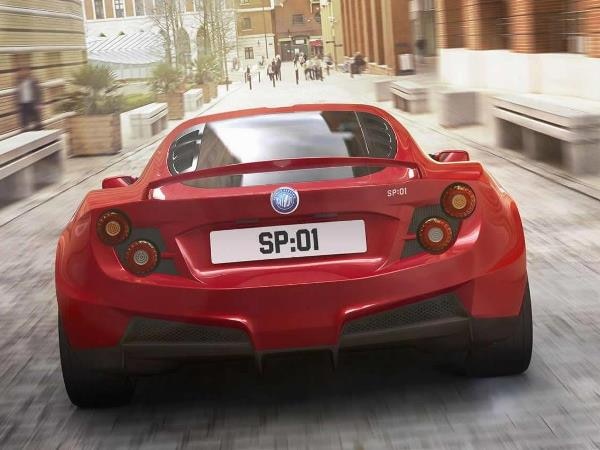 A lot of electrons have run down the wire since fledgling EV automaker Detroit Electric pulled the wraps off of its SP:01. Since its initial reveal, the 2-passenger SP:01 has undergone a number of changes morphing from a roadster into a sleek coupe seen here. Billed as the world's fastest electric model with a top speed of 155 mph, the car originally was due in late 2013 before a number of federal certification issues caused the U.S. introduction to be delayed and Detroit Electric to move production from its headquarters in Wayne County, Michigan, to a new facility in Warwickshire, England, charged with making cars for Europe and Asia. Detroit Electric still plans to build North American-spec cars here and sales are slated for early next year for all three markets.
Also: The Class of 2015 -- New Vehicles Ready to Roll
Beyond gaining a fixed roof, the final-form SP:01 underwent additional aerodynamic development that resulted in revised fascia treatments, a large fixed rear wing and a new underbody diffuser to enhance its stick and stability at speed. The SP:01's innovative lithium-polymer battery pack also has a new protective composite casing that forms an integral part of the reengineered vehicle's structure and further improves its torsional rigidity. This boldly-styled bullet is promising, but the real proof of concept won't come until the first customer SP:01s start rolling off the production line.
More Electric Vehicles...
U.S. sales of the 2014 Mercedes-Benz B-Class Electric have now begun
The 2015 Kia Soul EV goes on sale here later this year
We recently drove a Tesla Model S from LA to Las Vegas and back