Coastal California in the 2014 Kia Sorento
by
Jason Allan
|
August 14, 2013 11:57 AM
When you picture yourself on the California coast, are your bare feet in soft sand? Is a gentle breeze tempering the warm sun? Did you remember to put on sunscreen? (Your mom wanted us to ask.)
If so, then you're imagining yourself on any of the dozens of Southern California beaches edging Los Angeles, Orange and San Diego counties.
But travel north and the water begins to get colder, palm trees give way to pines and warm sand beaches are supplanted by rocky cliffs. The Beach Boys didn't sing much about California's Central Coast but they did sing a lot about cars, and that's the best way to take in everything this mostly undeveloped stretch has to offer.
Our family of four and a 2014 Kia Sorento recently did just that, spending four days and three nights making our way from Orange County through Malibu, Santa Barbara, Pismo Beach, Big Sur, Monterey and Santa Cruz, ultimately logging 900 miles.
Here's a look at some of the sights Highway 1 has to offer, and a review of the Sorento's performance under the pressure of a long family test drive.
Dune Climbing
Follow Highway 1 up the coast through Santa Monica and Malibu and you'll eventually come across a big sand hill your kids will demand to climb. It's a great view from the top, and you'll burn off more than a few calories on the way up.

Dune Riding
The Oceano Dunes State Recreational Vehicle Area is about 3 hours north of Los Angeles, and it's the only California State Park that allows vehicles on the beach. We shared two ATVs for two hours through Steve's ATV Rentals for about $160 out the door, and the kids -- who'd never ridden ATVs -- didn't stop talking about it the rest of the trip.

The Madonna Inn
Drive by it enough times and you'll eventually feel compelled to spend a night at the Madonna Inn in San Luis Obispo. Each of the 110 rooms has its own theme and its own name, and some have features like rock showers and watefalls. If we ever stay again we'll be sure to research our way into one of the more unique rooms instead of taking whichever one they give us.
Hearst Castle
A must-do if you're in the area, plan at least a couple hours and try to buy your tickets in advance, lest you have to wait a couple hours for the next available tour or get shut out altogether. The bus ride up the hill and 40-minute tour were good enough and just short enough to keep the kids' attention throughout.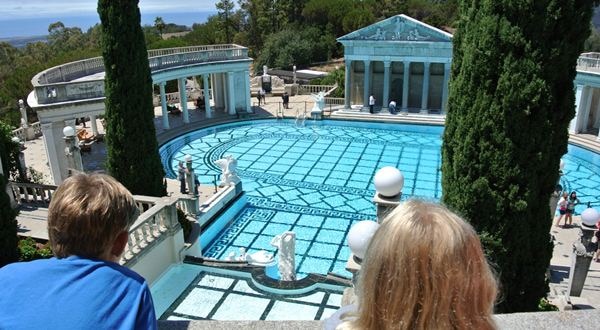 Elephant Seals
Roadside attraction meets ocean view just north of Hearst Castle at Piedras Blancas, where giant elephant seals hang out on the beach.
Sandwich with a View
There are a handful of places to grab a bite along the 90 winding miles between Hearst Castle and the Monterey area, but another option is to stop at the grocery store in the morning, pack a cooler with sandwiches and drinks, and have a tailgate picnic on a cliff overlooking the Pacific Ocean.
Hyatt Regency Monterey
We spent two nights at the Hyatt Regency in Monterey -- mostly because of a good rate -- and found it just fine.
Monterey Bay Aquarium
For killer whales, dolphins and thrill rides, you'll have to hit Sea World in San Diego. The renowned Monterey Bay Aquarium focuses mostly on the smaller stuff, but that makes it more manageable. The beautiful jelly fish exhibit, playful sea otters and interactive touch pools are highlights.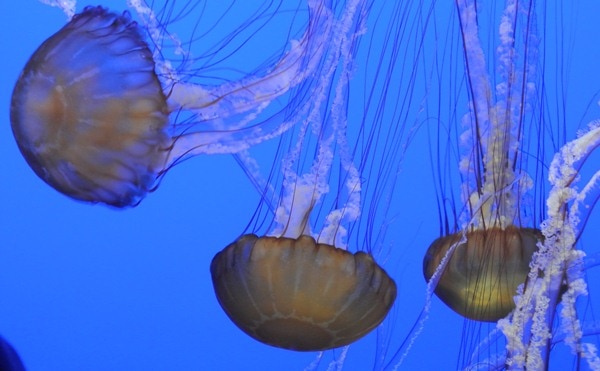 Taste Test
Road trips and novelty food are usually a better mix than was the chocolate-covered jalapeno we got from one of the tourist-trap candy stores on Cannery Row in Monterey. Lesson learned.
Fresh Fish & Chips
Wanting to try something new on our way from Monterey to Santa Cruz, Yelp led us to Phil's Fish Market in Moss Landing. It's an authentic harbor area fish market where you order at the counter and forgive that it isn't spotless. The fish and shrimp and chips and coleslaw proved better than the salmon sandwich, but Phil himself took down celebrity chef Bobby Flay with his hearty-looking cioppino, so consider the fish stew.
Sixth-oldest Roller Coaster
The key draw for kids in Santa Cruz is the Beach Boardwalk amusement park, with rides and games right next to the sand. The Giant Dipper is the sixth-oldest operating roller coaster in the country, and not a bad one.
Monterey Mexican
Another Yelp discovery, Lopez Family Restaurant is a perfectly old-school Mexican restaurant hidden behind an unassuming door on a windowless building. The food was just fine, but we'd go back for the vibe.
Starbucks Substitute
Searching for coffee and a light bite from somewhere other than another Starbucks, we stumbled upon Caffe Trieste in Monterey. It's kind of a coffee shop/restaurant hybrid, with good coffee and a promising menu. We'll be back.
Dennis the Menace Playground
Our eight- and nine-year-olds were among the older kids at this Monterey park, but they got a half hour of enthusiastic exploring out of it. Afterward, we went for a short pedal boat ride in the adjacent lake.
Santa Barbara
If you can't make it back to the Los Angeles area by early afternoon, you're better off planning an itinerary to arrive after 8 p.m. We stopped in Santa Barbara, grabbed some Wahoo's Fish Tacos on State Street, walked directly across the street for some Coldstone ice cream and then cruised the coast around sunset a bit before beginning our final descent through LA and finally back into Orange County, wrapping up what's sure to prove a memorable four days with the family.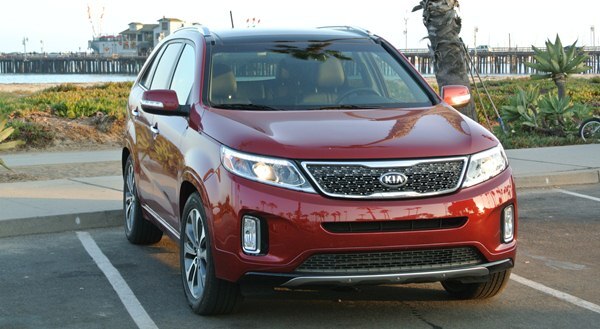 2014 Kia Sorento: A Road Trip Machine
I chose the 2014 Kia Sorento for our family's summer road trip for three key reasons: the cargo capacity and loading ease of a crossover, Kia's robust and headache-free infotainment system, and the fact that it's (mostly) new for 2014 and we're still in the getting-to-know-you phase of the relationship.
On the Road
Having just driven the 224-horsepower Mitsubishi Outlander days earlier, it was easy to appreciate the Sorento's 290 horsepower V6 when we had to pull back onto the fast-moving US 101 without a merge lane. And that impressive power was balanced by highway fuel economy of about 27 mpg — according to the trip computer — at an average speed of between 70 and 75 mph. That's better than the EPA highway rating of 25 mpg, and on the high side for a V6-powered 3-row vehicle.
The Sorento also proved smooth and quiet throughout the trip, making for easy conversation the whole time. Highway steering feel was a potential weak spot, but the Sorento furthered its cause in that department, too.
Inside
Unlike so many other cars in the Kia lineup, there's nothing particuarly head-turning about the Sorento. It looks just fine, but it doesn't stand out like Kia's bold, boxy Soul or sleek Optima, for instance.
No, the Sorento doesn't really begin to impress until you get inside, have a look around and start putting everything to use. Materials, build quality and features -- both quantity and quality -- are all impressive.
What kind of features? Things like a big, panoramic moonroof, reclining and sliding rear seat, heated/cooled front seats, retractable rear side-window shades and one of the best infotainment systems in the business, notable for its functionality, graphics and ease of use. We used all of it -- and more -- during our 20 hours on the road.
Another example: While it's nice to think about a digital-free family vacation spent playing games, singing songs and listening to classic books, in reality the iPad is the greatest thing to happen to the family road trip since the automobile. The Kia Sorento SX offers three power ports up front including a USB port, and two ports in back including a 115-volt wall-type plug. Enough power ports for all means one less thing to share.
My main concern about the Kia Sorento as long-haul transport was seat comfort. But after some early fine-tuning of seat height and rake, the driver's seat ended up surpassing acceptable and qualifying as comfortable. Thankfully.
Wrapping Up

It's about 400 miles from the Hollywood sign to the Golden Gate Bridge, and there's plenty of California to see in between. For a family of four with a full complement of electronics, the 2014 Kia Sorento is a great way to see it.