Camera-Based Collision Alert Debuts on 2012 GMC Terrain
by
KBB.com Editors
|
December 15, 2011 7:20 AM
We've all been there...tired, drowsy, needing to pull over to rest, but no time to do so. Maybe we've drifted out of our lane or off the road more than we'd like to admit. Maybe we've had a rear-ender when the vehicle in front stopped unexpectedly. Most of us have also been guilty of "distracted driving" while on the phone, dealing with unruly kids or trying to retrieve something off the passenger-side floor. Scary, potentially expensive and sometimes deadly.
The National Automotive Sampling System estimates that rear-end crashes account for approximately 28 percent of the nearly 6 million police-reported incidents that occur each year in the U.S. The National Highway Traffic Safety Administration (NHTSA) says the majority of rear-end collisions involve driver inattention, and the Insurance Institute for Highway Safety (IIHS) says forward collision warning systems have the potential to help prevent such crashes.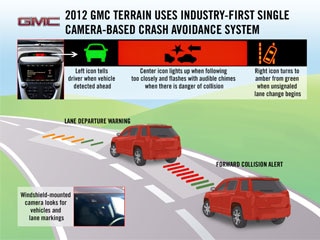 There is technology available on some vehicles to help prevent such incidents, but most of it is radar-based and fairly expensive. Now GM has introduced an industry-first, inexpensive (a $295 option) single-camera crash-avoidance system on the 2012 GMC Terrain CUV that seems to work at least as well as any to help avoid both rear-end and lane-departure crashes.
Two important safety systems in one box, the system uses a high-resolution digital camera mounted on the inside of windshield ahead of the mirror that looks for vehicles and lane markings and provides both audible warnings and a visual display to warn the driver if he or she is following another vehicle too closely, when a collision is imminent, or when departing a lane without signaling. The lane-departure audio alerts come from speakers on either the left or right side of the cockpit to indicate on which side the driver's attention needs to be.
"Digital image sensors are used in just about everything from cameras to mobile phones to computers, and this is making them a more-affordable alternative for use in vehicles," says Raymond Kiefer, General Motors Technical Fellow for crash avoidance systems. "By combining a digital camera with state-of-the-art image processing algorithms, we're able to estimate when a crash may be imminent."
The display, positioned at eye level at the base of the windshield, has green icons for "vehicle ahead" and "lanes detected," a flashing red "forward collision alert" icon and an amber one for the "lane-departure warning," the latter two accompanied by warning chimes. At speeds above 25 mph, Forward Collision Alert warns if a driver is following too closely or in imminent danger of a front-end crash. You can set its distance warning for near, medium or far, and while it won't slow or stop your car, it does pre-charge your brakes when it judges that a collision may be imminent to help you reach maximum braking as quickly as possible.
Above 35 mph, the image processor also looks for lane markings to provide alerts if your vehicle drifts out of its lane without a turn signal. The camera sees very well at night though not in severe weather, GM says, but 85 percent of rear crashes occur in clear weather.
Both systems can be switched off so they don't annoy you when you prefer them not to, but -- based on our brief but convincing tests on a GM Proving Grounds track -- we recommend using them all or most of the time. This very useful and affordable safety system will also be available on the 2012 Chevrolet Equinox CUV, and we hope GM can roll it out to additional vehicles as quickly as possible.