Cadillac Ciel Concept - 2011 LA Auto Show
by
KBB.com Editors
|
November 16, 2011 9:20 AM
Making its first formal auto show appearance in Los Angeles, the Cadillac Ciel (it means sky in French and is pronounced "C-L") is still officially just a one-off exercise in "large, expressive luxury." However, when introducing this four-passenger, four-door show car at Pebble Beach, in August, Clay Dean, global design director for Cadillac indicated that the Ciel not only recalls the heritage of the brand but also "where it can go in the future." Created at GM Design's North Hollywood Design Center and inspired by the grandeur of a drive down California's iconic Highway 1, the Ciel Concept is positioned as "a grand gesture that explores themes driving Cadillac's explorations into range-topping flagship luxury."
>See more new cars unveiled at the 2011 Los Angeles Auto Show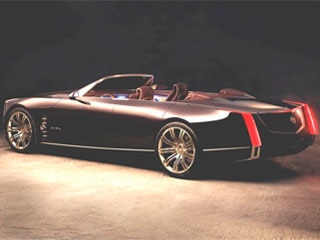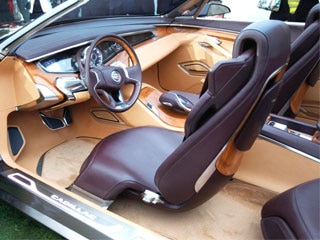 Arguably the boldest take yet on Cadillac's Art and Science design philosophy, the Ciel Concept's sweeping bodywork takes low and wide to a new level. Unique front and rear LED lighting elements are set off by nickel-plated brightwork, a polished-aluminum windshield frame and custom Cabernet paint. The Ciel Concept rides on a 125-inch wheelbase -- a foot longer than the current CTS -- and is fitted with appropriately-scaled 22-inch alloy wheels.
Access to the Ciel's richly hand-finished inner sanctum is via conventional front and rear-hinged aft doors that dispense with a B-pillar to afford better entry/exit to all seating positions. Rich leather is complemented by a bounty of Italian Olive wood trim that covers the dash, door panels, front seatbacks and console. That latter element runs the full length of the cabin to effectively create a personal space for each passenger. Although the instrument cluster has a decidedly minimalist character, it's thoroughly modern in functionality with transparent gauges that provide both analog and digital readouts and logic-driven display hierarchy to keep the driver updated with all necessary information. Other nifty touches include heated/cooled seats, pull-out cashmere blankets for all three passengers, and zipper closures for the in-door storage.
To keep the Cadillac Ciel Concept moving at a properly grand touring pace, it's fitted with a twin-turbocharged version of GM's 3.6-liter Direct Injection V6 bolstered by a hybrid system using lithium-ion battery technology. We'll have to wait to see exactly how much of the Ciel Concept transitions to future Cadillac reality, but this high-profile dream machine certainly opens the door for some intriguing speculation.