Buy and Drive: Dallas to D.C. in a Brand New Subaru XV Crosstrek
by
David Boldt
|
October 31, 2014 1:09 PM
If it were a bicycle, Subaru's XV Crosstrek would be what the industry and enthusiasts dub a 'gravel grinder'. With road geometry, enough clearance for off-road rubber, and drop bars for maximizing comfort during long hours in the saddle, gravel grinders have evolved as cyclists in the Plains states undertake all-day marathons on gravel roads. And in looking for its automotive equivalent, choosing Subaru's XV Crosstrek was a no-brainer.
In need of a new car to accommodate an extended stay in the D.C. area, the basic requirements (not met by the preferred Miata) were a rear seat, four doors, manual transmission and all-wheel drive. Those last two features narrow the field considerably. Nissan's Juke would have been in play if Nissan were to offer all-wheel drive with something other than their CVT, and the Mini Countryman would have been more attractive if reasonably equipped versions didn't occupy price points well north of $30,000.
But given a positive ownership experience with a still-in-the-family 2011 Subaru Forester, and equally positive impressions from a couple of weeks in Subaru's new XV Crosstrek (equipped with both the standard CVT and hybrid drivetrains), a trip to a Subaru dealer was the decided-upon route. Regrettably, finding a manual-equipped Crosstrek isn't as easy as finding a Subaru showroom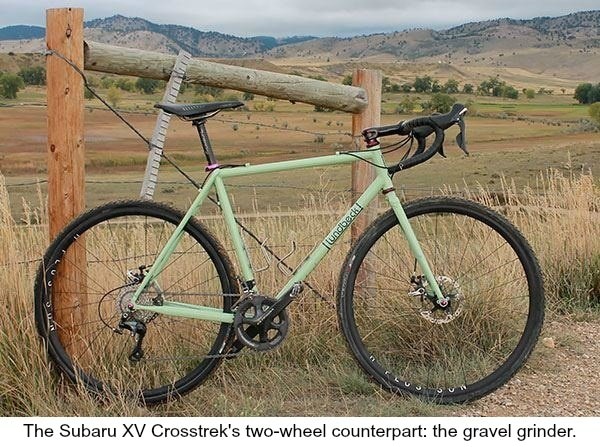 At a Virginia dealer near D.C., we found a congenial staff and their uncooperative vehicle locator. The 'Desert Khaki' at an area store was sold in the time the internet manager moved his hand from mine to the mouse, and the dealer team wasn't able to appropriate a silver Crosstrek from another lot to their own. So, knowing we'd be back in Texas soon before returning to D.C., a call was placed to Sewell Subaru, near the city's Love Field. Did THEY happen to have a manual Crosstrek with no one's name on it?
To make a long story more readable, the short answer was yes. Terms were agreed to (48 monthlies), and dealer-installed equipment was installed. Despite having been told in Virginia that Subaru's short-shift kit would not match up to a Crosstrek, the techs at Sewell had no such problem. And despite a price of over $500 (parts and labor), we're mightily pleased with the result. Beyond the shift kit, we added a leather shift knob provided by Subaru's STi catalog, as well as Subaru's own rear hitch (better for transporting bikes within an apartment building's garage). The grand total was just under $25K, which - given the content and today's market environment - impresses as a screaming kind of deal.
In an ideal world our drive from Dallas to D.C. would comprise a travelogue. While the roadway between North Texas and Texarkana can be described as nondescript, the scenery east of the Texas/Arkansas border ranges from scenic to spectacular. To be sure, the route, from I-30 to I-40 to I-81 (Texas to Arkansas to Tennessee to Virginia), doesn't constitute a Rocky Mountain High, but is well worth the drive, gas and lodging. Regrettably, we needed to arrive in D.C. by midafternoon on that Monday, necessitating some fourteen hours on Sunday (Dallas to Knoxville), followed by another eight to D.C. With 150 get-to-know-it miles on the Subie's odometer, we were on our way.
The XV Crosstrek
The recipe used to create its Crosstrek is one Subaru has worked to perfect since the first Outback rolled out of, well, the Outback. Take a well-executed wagon, add a reasonable amount of ground clearance, and give it just enough visual differentiation to let the masses know it's something special. With the Outback it was Subaru's Legacy acting as donor; for the XV Crosstrek, Subaru modifies its compact Impreza. And while we wouldn't be averse to buying an Impreza, we have gotten used to the high hip point and improved viewpoint when navigating the traffic we've enjoyed/suffered in truck-heavy Texas.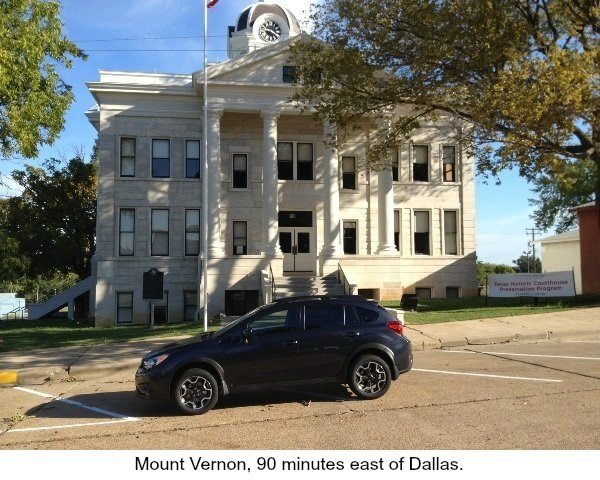 Despite the Crosstrek's raised ride height (affording 8.7 inches of clearance), the vehicle's handling dynamic retains a dynamic. In contrast to the 2011 Forester, the chassis seems better connected, and cornering more stable. With a wheelbase of almost 104 inches, and overall length of just 175 inches, this is a very compact footprint. And that compactness is fully evident when trying to load it with luggage while the rear seat is up. Subaru claims 22 cubic feet, but the actual space feels smaller. Fold the rear seat forward and you'll enjoy almost 52 cubic feet, enough to carry a bike and maybe a board.
The Power
Under the XV's hood sits Subaru's oh-so-dependable 2.0-liter flat four, boasting - if that's the word - 148 horsepower and 145 lb-ft of torque. With the smooth-shifting manual we'd regard its acceleration as acceptable, an appraisal we wouldn't give to this same engine equipped with Subaru's CVT; with the auto we'd describe it as simply slow. Throw in the hybrid's small increase in total power (to 160) and torque (163 lb-ft) and you have something you can arguably play with, but in almost all instances one wishes for the 200 naturally aspirated ponies available to the BRZ boys - or the 258 made available to WRX owners. That said, we needed a car now - not two years from now. And in the engine's defense, its output is almost identical to that offered by a Porsche 911...fifty years ago!
The Metal
Although sheetmetal is subjective, we like the mild funkiness evident in the Crosstrek's profile and stance. And unlike more than a few crossovers, where the wagon's D-pillar does a great job of blocking rearward vision, the view from the driver's seat is almost unobstructed. That, combined with the higher seating position and expansive windshield, gives the Crosstrek operator a degree of confidence in cut-and-thrust traffic they might not enjoy in competitive CUVs.
Within Subaru's product lineup, we've been big fans of the Outback - until it grew, in our eyes, too big. Today its footprint is that of a large car, and for those wanting maximum comfort and utility the Outback would be the logical choice. Our Crosstrek will serve as a second car (holding down the senior spot is an '06 Grand Cherokee); as such, we're prepared to forego some utility for a splash of maneuverability, while not sacrificing all-season capability.
Inside
Behind the ergonomically shaped 3-spoke wheel Subaru provides the necessary info within the instrument panel. The area in front of the passenger seat could use some visual enhancement, but our bigger complaint is that the plastic/vinyl wheel tends to get slick after a few hours behind it. Were it wood we'd use driving gloves, but you wonder why a product team providing what they intend to be an upscale product can't budget the $30 necessary to provide a leather-wrapped wheel on the 'Premium' edition, as it comes on all other versions of the Crosstrek.
The Subaru's cloth-covered seats were comfortable and supportive over the first day's fourteen hours, less so over the next day's eight. And while the Premium's black cloth won't exhibit the soiling of the Ivory alternative, the black attracts lint like the proverbial magnet. As with the steering wheel argument, the availability of leather seating would be a welcome option when spec'ing the manual transmission, but Subaru's product planners aren't making that box available.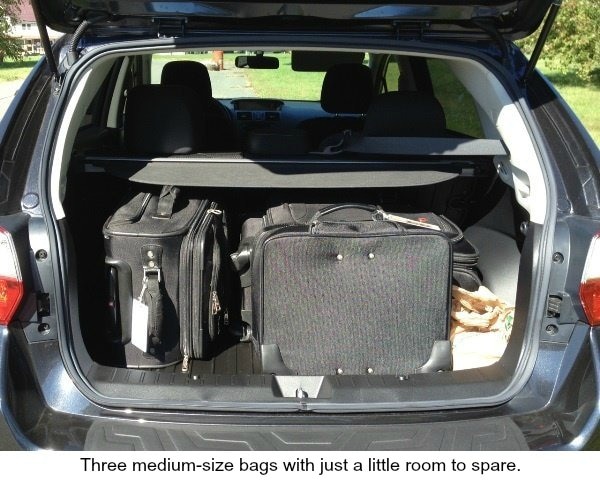 Over the Road
The XV Crosstrek cruises smoothly at the 75 to 80 mph we were able to maintain. The upper end of that range is achieved at an indicated 3,600 rpm, which doesn't feel busy but is also less economical than would be a relaxed overdrive provided by a 6th gear. In some 1,300 miles of driving we averaged just over 28 miles per gallon, and we did this while varying our speed (in deference to a new, tight powerplant) and never engaging cruise control.
The 2.0-liter 4-cylinder engine, while not overtly powerful, is appropriately visceral and adequately responsive. We remain pleased with the 5-speed, its short-shift kit and just-about-perfect clutch engagement. With a child seat installed, and a bike rack about to be, we're ready for just about anything...except perhaps a drive back to Dallas.
What we saw...and didn't
We could easily do a thousand words on what we missed on this trip. The detour to Mount Vernon's town square, roughly 90 minutes east of Dallas, was worthwhile; the Franklin County Courthouse is a visual gem. For fans of the Dallas Cowboys (or Monday Night Football), know that Dandy Don Meredith grew up here. The welcome center in Memphis is comfortable, informative and clean, with tributes to both Elvis and B.B. King. We hoped to find a Starbucks within the building (or a fried banana sandwich), but didn't. Starbucks is notably absent on much of I-30 and I-40, something that we noticed on the same drive nine years ago. A quick dinner in Nashville - near Vanderbilt University - reinforced our affection for Tennessee's capitol (and the campus has a Starbucks).
We arrived in downtown Knoxville well after sundown, which is regrettable, as it looked to be a compelling city center. And when leaving Tennessee and entering southern Virginia you're reminded why early American settlers enjoyed an almost inborn wanderlust; the terrain in and around the Shenandoah Valley, while not as dramatic as that offered in Tennessee, looks to be exactly the land you'd want when living off of that land.
If given more time, a stop in Little Rock for the Clinton Presidential Museum - which we've seen - is well worth the short detour. And on a presidential note, we've yet to tour Andrew Jackson's Hermitage, despite several trips through the state of Tennessee. Of course, Nashville is chock full of tourist destinations (even if you live there), beginning with the Grand Ole Opry and working its way through a long history of both memorable music and forgettable pop culture.
As a frequent visitor to D.C., I've made the requisite two-hour stops at various branches of the Smithsonian, but look forward to extended visits. The city has a great vibe, made even more so by the number of people on bicycles - and the number of people in Subarus.
More Subaru XV Crosstrek
If you want to learn more about the Subaru XV Crosstrek, read our full review. If you're ready to run the numbers, build and price your own XV Crosstrek to unlock its Fair Purchase Price, 5-Year Cost to Own and more.