Building Great Teen Drivers One Turn at a Time
by
Jack R. Nerad, Executive Editorial Director, KBB.com
|
March 29, 2015 9:15 PM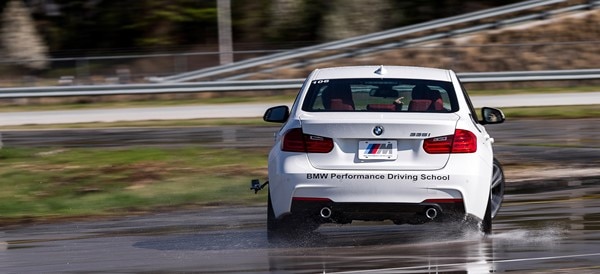 When your daughter attends a teen driving school that specializes in safety and she emerges with the nickname "Killer Emma," you might conclude that things didn't go so well. But that was hardly the case when my 16-year-old daughter attended the BMW Teen Driving School at its home base in Spartanburg, South Carolina. She didn't actually kill anybody. (Okay, one time it was close.) And she left with a new appreciation of driving, car control and her own abilities to avoid automotive mayhem.
It was our good fortune that BMW is trying to shine a white-hot spotlight on its nationwide Teen Driving School tour, and thus they invited Emma and about 15 other teens from across North America to attend their expansive two-day performance driving program. Held at the spotless BMW performance driving school that is situated right across the street from BMW's massive South Carolina assembly plant, the teen driving school is one of a number of programs designed to take individuals with varying degrees of driving ability and increase their skills and confidence. The teen driving experience had about as much in common with my long-ago teen drivers' education course - conducted, as I remember, in Oldsmobile sedans -- as filet mignon has with beef jerky. Even today the typical teen driving course is about turn signal use, street sign reading and keeping proper intervals. Any mention of "driving dynamics" or the physics involved in accelerating, cornering and stopping a vehicle are conspicuous only by their absence.
Diving into Car Control Head First
In Carolina, the head-first dive into car control came immediately after a quick classroom session where engaging instructor Derek Leonard extolled the virtues of looking where you want to go -- not at the obstacle that is crossing your current path of progress. Paired with 17-year-old Kaira, who hailed from New Jersey, Emma and the rest of the teen drivers put that advice to the test in a "warm-up" slalom, an exercise many of the kids had difficulty pronouncing, lot less executing. Told in the classroom that a 9-and-3 o'clock hand position on the wheel is the preferred method, Emma took that to mean keeping her hands at 9-and-3 AT ALL TIMES while sliding the wheel through her fingers. Amazingly, she made it through the slalom in that manner while avoiding all the cones, although at a turtle-like pace. Disabused of that technique - "You can't let the wheel slide through your hands like that, Emma," crackled the walkie-talkie - she took a more conventional approach in later efforts. After very tentative first-run passes, she and her fellow teens cranked up the speed in subsequent rounds much to the detriment of the cones marking the course, which took a terrible punishment.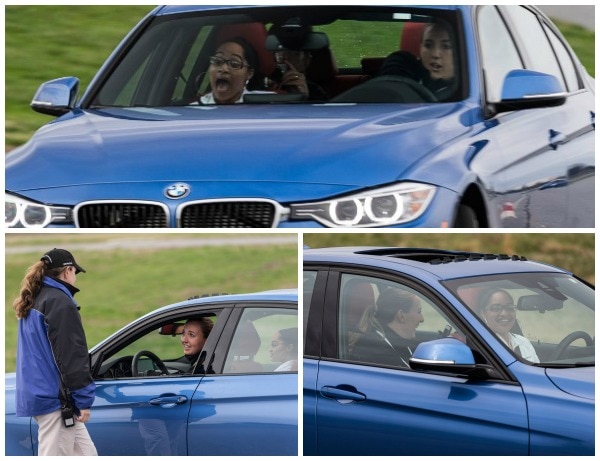 In the lane-change maneuver Emma, exuberant in most anything, exhibited a completely in-character tendency to make supersized steering inputs. In her defense, sharp moves are called for in a lane change, but tempering the steering inputs with a bit of discretion was suggested by instructor Rafael Torres.
"Not so much steering, Emma! Emma, not so much."
Looping the Loop on the Skidpad
Since virtually all of Emma's driving is, like most teens, limited to short, low-speed (one hopes) commutes back-and-forth to high school, her next assignment proved to be eminently daunting. In fact the wet skidpad proved to be eminently daunting not only to the teens but also to a significant percentage of the media who participated in the event. The idea of the skidpad is to, well, skid or, perhaps more precisely catch a skid before the BMW 335i used by the school can spin out. Since the 335i is a sweet-handling sedan, persuading it to skid takes a devilish combination of polished concrete, plenty of water, a dose of speed and the deft hand of the instructor on the emergency brake. Emma, however, didn't wait for the application of the emergency brake to begin her first skid. Prompted by Rafael to accelerate hard, she applied so much throttle that the tail flew out immediately, sending the car into a dramatic 300-degree pirouette that ended with three of the four tires wallowing in mud outside the concrete circle.
"Emma, not so much throttle! Emma, not so much."
Yet another exercise was designed to persuade the impressionable teenagers that engaging in distracting behavior like texting while driving is a really bad idea. While circulating a specially designed course each of the teen drivers was asked to perform a task requiring some thought. The insidious factor, however, was that at any time the instructors could deploy a "water wall," an upward-shooting collection of geyser-like sprays that they were required to avoid. Which is how Emma got her nickname. As she drove through the course, she was asked to name her favorite song. Since she is a music-lover, this stumped her and simultaneously a water wall appeared in front of her, so she took almost immediate evasive action - characteristically BIG action -- steering away from the gushing water and directly toward a videographer who was attempting to chronicle the process. Happily, she re-corrected, steering away from him, and he managed to leap out of the way. The resulting footage was dramatic, but in truth the "Killer Emma" nickname is actually more than a bit exaggerated.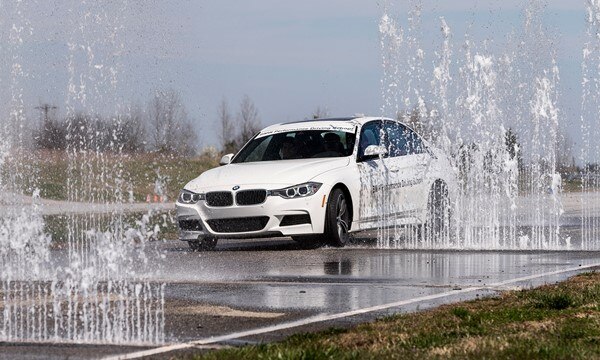 What is not exaggerated is how radically each of the teens improved their driving skills and their car-handling confidence by noon of the second day. And while there were dozens of miscues early on, this is not a story about failure but about expanding levels of competence, and that expansion could not have been accomplished without pushing the envelope a little too hard.
"Our goal is to get them out of their comfort zone," Leonard said. "If you're not a little bit anxious out there, you're not doing it right."
Out of Control in a Controlled Situation
All the adults who attended can attest that throughout the program all the kids were doing it right. So on the second day, their ability levels jumped markedly. While Emma had struggled through the first day's single lane-change maneuver, taking out several cones, on the second day in the more complicated double-lane change, she had learned to temper the massive steering-wheel motions. By her final run she was just about perfect, avoiding the stopped semi and resuming her original lane without taking out cones or videographers. On the wet skidpad, the triumph was even greater. Try as he might, her instructor could not get the 335i to spin while she was at the wheel. She caught every skid quickly and, dare I say, better than most veteran drivers would've done.
Then before each family pair scattered to make their way home, there was one final bit of fun. Along with the other kids, Emma and her new friend Ava got to pilot a wide variety of BMW vehicles, including their favorite, the Z4 sports car, around a short handling circuit. Some say today's teens don't like cars, but I can tell you it was impossible to wipe the smiles of these kids' faces as they zipped around the short course at speeds that sometimes exceeded 70 mph.
"Now I have a goal," Emma told me as she climbed out of the Z4. "I'm going to work to earn enough money so when I'm older I can buy a BMW."
"And drive it safely?" I added.
"Yeah, Dad, of course, I'll drive it safely."
That should be music to the ears of the BMW folks, including longtime friend and colleague, Dave Buchko, who made the whole thing happen. The two-day and one-day courses, conducted in both Spartanburg, South Carolina, and Thermal, California, are experiences I would heartily recommend to every family with teen drivers. And to get a taste of the driving techniques with a lower investment, a shortened but still very valuable version of the Teen Driving Experience is coming to major markets across the country through the spring and summer, and it is free, so don't fail to take advantage of it. Not only is it tremendous fun; it can also be a life-saver.
BMW Teen Driving School Dates & Locations
As part of its 2015 Ultimate Driving Experience tour BMW is offering Teen Driving Schools in nine metropolitan areas across the country. The Ultimate Driving Experience's Teen Driving School is a condensed two-hour version of the BMW Teen Driving School curriculum taught at the BMW Performance Center and described above.
The first Ultimate Driving Experience recently concluded in Atlanta, Georgia's Atlanta Motor Speedway. The tour moves on to New Jersey at MetLife Stadium (April 11-19); Miami, Florida at Hialeah Park (May 9-17); Washington, DC at FedExField (June 6-14); Seattle, Washington at Emerald Downs (July 25 & August 2); Los Angeles, California at Santa Anita Racecourse (August 15-23); Phoenix, Arizona at Phoenix Raceway (September 12-20); Dallas, Texas at Lone Star Park (October 3-11); Chicago, Illinois at Arlington Racecourse (October 24-November 1); and concludes in New York (New Jersey) at Citi Field (November 14-22). The Teen Driving School is free, but your teen must register by logging on to http://www.bmwusa.com/ude or by calling 800-558-4BMW. To be eligible drivers must be under 21 years of age and have a valid driver's license or learner's permit.
BMW Teen Driving School Photo Gallery
More BMW Goodness
Elsewhere in the world of BMW, the 6 Series lineup has been updated for 2016 and we recently drove the new BMW X6 M high-performance SUV, dubbing it a Bavarian attack dog. Turning our focus back to the teens, here are our 10 Tips for First-Time Car Buyers.