Best Buy Awards Small SUV/Crossover 2015
by
KBB.com Editors
|
November 14, 2014 10:06 AM
Our Small SUV Best Buy of 2015 demonstrates the category's most appealing mix of quality, value, features, driving dynamics, fuel economy, safety and more, as informed by yearlong vehicle testing, back-to-back comparisons and our industry-leading pricing and resale value insight.

2015 Honda CR-V

The Honda CR-V might have taken this trophy even without the all the significant upgrades it receives for 2015.
The Honda CR-V has long been the benchmark for small SUVs, and its latest revamp makes it even more impressive for 2015. Among a cadre of considerable competitors, the CR-V proved its mettle over and over to pull ahead of the pack and take our 2015 Small SUV Best Buy Award. For those familiar with Honda's venerable compact sport utility vehicle, it's easy to see why. The CR-V's effortless driving manners, roomy interior and reputation for reliability and efficiency have paved the way for best-seller status in a segment that is far more crowded today than when the original version debuted nearly two decades ago.
In that time span, the Honda CR-V has endeared itself to countless owners and has set the standard for other 2-row, 5-passenger compact SUVs. What's the CR-V's secret? It does everything right while appealing to a broad range of buyers. Whether this Honda serves as a daily commuter, road-trip warrior or family hauler, the CR-V lives to please. The one thing you won't find it doing is resting on its laurels.
Improving that Benchmark
Now halfway into its fourth generation, the 2015 CR-V has received numerous enhancements. Where other vehicles at this stage may only get minor updates such as a new front and rear end, the 2015 Honda CR-V arrives with more power, better fuel economy, advanced safety features, and the kind of creature comforts that are appreciated day in and day out (power liftgate, anyone?)
More Efficient, More Powerful
Among the CR-V's most appealing virtues is its fuel efficiency. For 2015, its mpg numbers have risen to 27 city/34 highway in front-wheel-drive models and 26/33 for CR-V models with traction-enhancing all-wheel drive -- increases of 3 to 4 miles per gallon over outgoing versions. And that efficiency doesn't come at the cost of power. In fact, the 2015 CR-V has more torque than the previous model thanks to a revamped 2.4-liter 4-cylinder engine. The last but certainly not least ingredient to this latest CR-V's fuel-sipping ways is a new continuously variable automatic transmission (CVT) that is so refined you might think it's a traditional automatic.
These updates wouldn't mean much if they didn't yield improvements where the rubber meets the road. Literally and figuratively, it all adds up for the 2015 CR-V. Honda's compact crossover SUV is a pleasing companion wherever you roam. With its balanced blend of power, handling and refinement, the CR-V is feisty when you need it to be (just throw it in Sport mode) and smooth and easygoing the rest of the time.
A People Pleaser
The CR-V's attributes go beyond just pleasing the driver. This Honda is filled with thoughtful touches that make trips enjoyable for all aboard. As noted in our 2015 Honda CR-V full review, this is "as good as it gets in the compact SUV segment." Even base models now include rear air ducts for improved ventilation, while higher trims boast leather seats and an infotainment system that pairs to phones quickly and doesn't require a computer programming degree to figure out. The CR-V also stands out for its cargo capacity, which expands to a surprisingly cavernous 70-plus cubic feet with the rear seats folded.
Safety-minded
The CR-V takes seriously the duty of protecting its precious human cargo. All models are equipped with a multi-angle backup camera, and most trims come with Honda's innovative LaneWatch, which displays a real-time video image of what's occurring in the right-side blind spot. For 2015, the Honda CR-V offers more safety features than ever -- some previously reserved for luxury cars. Just added are a collision-mitigation system that can automatically apply the brakes to prevent an accident, lane-departure warning, and a lane-keeping system that automatically steers the CR-V back into lanes if it drifts.
A Real Value, Now and Later
Starting just over $24,000, the Honda CR-V offers significant value across trim levels and topped our list of 10 Best SUVs Under $25,000. Just as important, the CR-V retains its value well enough that it was a Top 10 Best Resale Value Award winner last year.
More Honda CR-V
Build and price your own 2015 Honda CR-V to unlock its Fair Purchase Price, 5-Year Cost to Own and more. The CR-V will please most people, but there are a dozen other small SUVs also vying for attention. Check out our Compact SUV Buyer's Guide to find the one that's best for you.
2015 Honda CR-V Photo Gallery
2015 Small SUV Best Buy Finalists

There's no denying the CR-V's head-of-class status among small SUVs. But it's also surrounded by several other star students. These finalists are smart buys in their own right, and each excels in areas that may just be the perfect match for your particular wants and needs.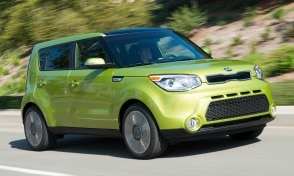 2015 Kia Soul
The Funky Alternative with Alluring Features
The 2015 Kia Soul can't help but stand out in this group, and not just because of its funky design. More urban carryall than traditional utility vehicle, the box-shaped Kia Soul nevertheless serves the same purpose as most of today's compact crossover SUVs: to carry people and their stuff with minimal fuss while providing efficiency, easy driving manners and value. The Soul succeeds in those aspects while tucking more than a few aces up its sleeves. In addition to its value pricing, the Soul can be equipped with tons of amenities like ventilated front seats, a heated steering wheel, and a panoramic sunroof. No wonder it's among our 10 Coolest Cars Under $18,000. As noted in our full review of the 2015 Kia Soul, "Whether you desire value, practicality, stylish looks or surprising technology and amenities in your economy hatchback, the 2015 Soul checks all the boxes."
Build and price your own 2015 Kia Soul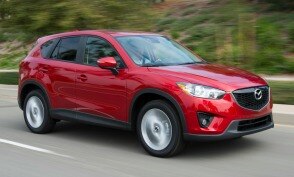 2015 Mazda CX-5
The Fun, Functional and Frugal Compact SUV
The athlete of the group, the Mazda CX-5 is the most fun-to-drive and engaging hauler among our contenders. In our full review of the 2015 Mazda CX-5, we note: "On the road, the CX-5's handling impresses, with sharp reflexes and an ability to carve corners that's rare in the compact-SUV market." With a starting price just north of $22,000, fuel economy up to 35 mpg, and rear seats that fold nearly flat for cargo versatility, Mazda's small SUV is as practical as it is playful. For drivers who want the most interaction, the CX-5 boasts one of the best manual transmissions available on an SUV, while higher-end trims can be dressed in leather and equipped with advanced active features like blind-spot monitoring and automatic emergency braking.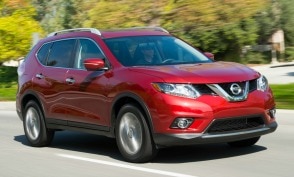 2015 Nissan Rogue
Standout Design and Strong Fuel Economy
The 2015 Nissan Rogue may be a compact SUV, but it has the presence of a larger, more mature midsize vehicle thanks to fluidic design and a slightly bigger footprint than its rivals. With an EPA rating of up to 33 mpg, the Rogue also stands out for its fuel-sipping ways. As noted in our full review of the 2015 Rogue, "Nissan's compact utility vehicle is among the most fuel-efficient thanks to its standard Xtronic CVT transmission." An attractive cabin and comfortable ride manners further bolster the Rogue's assets, and its available Around View multi-camera system makes backing up a breeze. These factors and the Nissan's overall friendly ways also made this 2nd-generation Rogue one of the 12 Best Family Cars of 2014.