Best Buy Awards Small Car 2015
by
KBB.com Editors
|
November 14, 2014 10:37 AM
Our Small Car Best Buy of 2015 demonstrates the category's most appealing mix of quality, value, features, driving dynamics, fuel economy, safety and more, as informed by yearlong vehicle testing, back-to-back comparisons and our industry-leading pricing and resale value insight.

2015 Honda Civic

A perennial bestseller and familiar face on our 10 Best lists, the Civic proved an easy pick as our Small Car Best Buy for 2015.
Here's a shortcut for choosing a small car: Put the Honda Civic at the top of your list, then try to beat it. Famous reliability has been the Civic's calling card for decades now, but the secrets to its success are many. And even if they're not exactly secrets, no other automaker has been able to duplicate the Civic's well-rounded recipe.
At the heart of the Civic's enduring appeal is a unique brand of refinement that touches every inch of the vehicle. The same engineering and manufacturing prowess that combine to make the Honda Civic so reliable also make it more satisfying to drive and operate.
In the simplest terms, the Honda Civic is a good product that lasts.
Renowned Reputation
It takes a long time to build a good name, and the Honda Civic has been providing America with affordable, reliable transportation for more than 40 years. Trouble-free ownership is a hallmark of Honda's venerable compact car, and a key reason owners and experts recommend it so enthusiastically. Even as it becomes increasingly refined and more generously equipped, the Honda Civic remains first and foremost the safe choice.
Proven Resale Value
When does a $20,000 car cost less than an $18,000 car? When you look at the big picture and consider depreciation. The Honda Civic retains its value better than most cars on the road, returning more money to owners' pockets when they sell. Considering resale value is a key step for financially savvy new-car shoppers, and the Civic is a resale value all-star.
Superior Driving Feel
There's a certain subliminal satisfaction that comes with driving a Honda Civic. Step on the gas pedal and the Civic pulls away smoothly and accelerates at just the right pace. Apply the brakes and it stops with the same just-right feel. Driving a Civic is like having a conversation with someone who understands exactly what you're saying, and completely agrees.
With the Honda Civic you're not just buying a good car, you're buying good chemistry. And the Kelley Blue Book Small Car Best Buy of 2015.
More Honda Civic
You'll find the current-generation Honda Civic on no fewer than three recent 10 Best lists, including 10 Best Sedans Under $25,000, 10 Tech-Savviest Cars Under $20,000 and 10 Best Back-to-School Cars.
If you want to get to know it a little better, read our 2015 Honda Civic review. If you'd like to weigh the Civic against the competition, check out our Compact Car Buyer's Guide to see what's happening in the segment and get to know all your choices.
And if you're ready to run the numbers, you can build and price your own 2015 Honda Civic to unlock its Fair Purchase Price, 5-Year Cost to Own and more.
2015 Honda Civic Photo Gallery
2015 Small Car Best Buy Finalists

None of our Best Buy winners is the best buy for everyone. Every car offers its own unique mix of strengths, and every buyer has his or her own combination of needs and wants. For compact car shoppers seeking something exceptionally stylish and fun to drive, for instance, the Mazda3 may very well be the best buy, even if it costs a little more than the Civic. Here are the three other small car standouts we handpicked for inclusion in this year's awards program, each of them the very best small car for someone. In alphabetical order: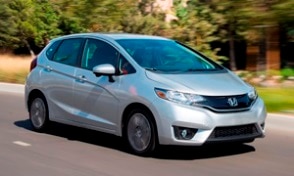 2015 Honda Fit
So Practical It's Fun
The only subcompact car to make our list of finalists in the small car segment, the Honda Fit has been freshly redesigned for 2015 and remains the easiest car in its class to recommend.
Fold down the rear seatbacks and the cavernous Fit turns into a small moving van. Rear-seat passengers are treated to a surprising surplus of headroom and legroom. The Fit's flexibility is unparalleled in the category.
It's impressive on the road, too. In our 2015 Honda Fit review, we praised its "great outward visibility and upright seating position coupled with precise steering, good brake feel and predictable road manners."
The Fit's value, versatility and personality are three key reasons it took the top spot on our most recent list of 10 Best Back-to-School Cars. And a robust infotainment offering helped it secure the second slot on our list of 10 Most Tech-Savvy Cars Under $20,000.
With a starting price just over $16,000, truly exceptional resale values and a reputation for reliability befitting its badge, you can't get more car for less money than with the Honda Fit.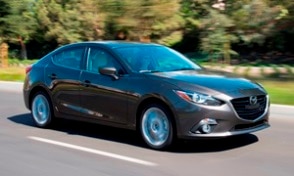 2015 Mazda MAZDA3
A Beautiful Blast
The Mazda3 has appeared on our annual list of 10 Coolest Cars Under $18,000 every year since 2004, recently reclaiming the top spot on the strength of a brilliant redesign for the 2014 model year.
It's always been among the best-looking, most fun-to-drive compact cars, but the 3rd-generation Mazda3 has taken its style and substance alchemy to a new level, while also making up for lost time in the areas of technology and fuel efficiency. Read our 2015 Mazda3 review to learn more.
If style and fun are more important to you than they are to the average small car shopper, there's a good chance the Mazda3 will win your personal best buy award.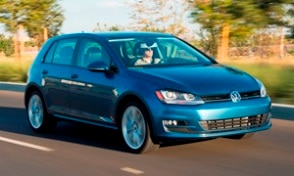 2015 Volkswagen Golf
European Goodness
One of the best-selling cars in Europe remains more of an insider's choice in this country. The Golf costs a little more than most other compact cars, but it offers dynamics and refinement on par with some entry-luxury cars. For some buyers, the Golf is both the best choice and biggest bargain in the segment.
The Golf has undergone a full redesign for 2015, a thoughtful refinement of the same recipe that makes it one of the best-selling cars in the world every year. Combining the engaging driving feel of a European sport sedan with the interior materials and design to match, the Golf's hatchback versatility adds a measure of practicality that makes the whole package hard to beat.
As detailed in our 2015 Volkswagen Golf review, the premium car of the compact car segment starts under $19,000.