Kelley Blue Book Best Buys of 2017: Luxury Car
by
KBB.com Editors
|
November 15, 2016 6:00 AM
When Value is a Luxury

Value and luxury aren't mutually exclusive concepts, but it's true that some luxury-car shoppers are driven largely by the desire to spend more money than their friends and neighbors in an effort to display wealth and success. Today, however, luxury cars are available in a wider range of prices than ever. As a result, smart shoppers can enjoy the trappings of an upscale automobile that also delivers bang for the buck. They'll find both in the 2017 Audi A4. 

Timeless Design

For a car that was completely redesigned for 2017, the changes are hard to pick up at first glance. But then again, that's one of the strong suits of the Audi brand. The German automaker's offerings are clean and contemporary in execution, evolving from generation to generation so that they keep up with the times with a continuity that allows them to age gracefully. This timeless approach to design is also one of the keys to why Audi vehicles tend to hold their value well. 
This latest generation of the Audi A4 is based on VW Group's compact MQB architecture and measures a little wider and longer than the previous model. That extra room provides a more relaxed cabin not as closely coupled as the old A4's. In keeping with the exterior's contemporary design, the interior relies on the cool touch of metal trim bits instead of more traditional wood. There's an abundance of soft touch materials on the dash and door surfaces, however, complementing comfortable leather seats. 

But it's the new A4's even stronger sense of technology -- most notably a configurable dash that links the center touchscreen with a large instrument display in front of the driver, a setup Audi calls "virtual cockpit" -- that really cements the experience as something special. 

Advanced Infotainment

Audi has been one of the leaders in making the interface between the driver and the increasing amount of on-board technologies easier and more intuitive. In addition to its quadrant approach to major control areas, Audi's Multi-Media Interface (MMI) system adds a touch pad to further enhance operation, making it easier to enter addresses or page through various screens. And if the MMI isn't your thing, there are plenty of redundant conventional controls that allow you to perform a variety tasks with the intuitive flip of a switch or turn of a knob. 

The virtual cockpit allows you to display Google maps on the center display, but also in the panel directly in front of the driver. There are also a number of different options for how you display traditional analog gauges and digital information. The choices seem almost endless.  

While it's based on compact car architecture, the A4's comfortable front bucket seats and relatively low cowl height provide good outward vision. The rear seat accommodates two comfortably, three in a pinch. There's a fold-down center armrest and tri-zone heating and air conditioning that give the rear seat passenger control over their immediate environment. There's also plenty of attention to detail, like the way the roomy trunk is finished with carpeted closeouts and trimmed out hinges that add to the A4's upscale aura. That cargo area is also easily accessed through the large rear decklid with low a liftover height. 

Driven to Please

The 2017 Audi A4 blends ride comfort with the road manners expected from a German sports sedan. Power comes from a 252-horsepower turbocharged 2.0-liter engine mated to a 7-speed dual-clutch automatic transmission. Equipped with stop/start technology, the engine delivers 24 mpg city/31 highway for a combined EPA rating of 27 mpg. Output is delivered to the front and rear axles through Audi's Quattro all-wheel-drive system. The A4 relies on a drive-by-wire system, which means there's no direct mechanical connection between the gas pedal and throttle. As a result, the accelerator tip-in is very precise, a feeling that may seem touchy to some or spirited to others, depending on tastes.  

The Drive Mode Select system allows you to tailor the response of the throttle, suspension stiffness, transmission shifts and steering feel. Comfort mode provides the best blend of ease of operation in city driving. Get the A4 out on the open road and the Dynamic mode brings out the sport sedan soul of this 4-door. The 7-speed transmission can be manually shifted via paddles on the steering wheel or in the manual fore-aft mode on the console mounted shift lever. Even in full automatic mode, the gears change with smooth authority. The steering is precise, well-controlled with great feedback—there's absolutely no vagueness in on-center feel. 

Priced to Please, as Well

Base MSRP on the 2017 Audi A4 Sedan 2.0T Quattro S Tronic actually begins just under the big 4-0 at $39,400 for a model equipped with the 17-inch alloy wheels, Quattro all-wheel drive, power sunroof, leather seating surfaces, 6-way power heated seats, keyless start and a rear-view camera. Our test model had full LED lighting, 18-inch wheels, a Bang & Olufsen Surround Sound system, 8-way power seats, a parking system with around view camera and other options as part of an $8,600 Prestige package. An additional $1,450 brings the driver assist package that includes active lane assist, automatic high beams, traffic sign recognition and a trick GPS-based adaptive cruise system that anticipates and slows for turns. Add in the adaptive suspension for $1,000, $1,450 for a warm weather package that boasts ventilated seats and rear window shades plus a $500 cold weather package that has a heated steering wheel and rear seats, and our out the door price was $54,275 excluding delivery. 

The Audi A4, thanks to its timeless design and high content levels for its pricing, does well in our Kelley Blue Book 5-Year Cost to Own measurements. Excellent resale value is also a big part of the story, with the A4 predicted to retain as much as 46 percent of its value after three years, which is also at the top of its category. The Audi A4 isn't perhaps as ostentatious as some would expect a luxury car to be, but what it lacks in flash it more than makes up in being a smart buy. 

More 2017 Audi A4

For a full report on this class leading luxury car, read our 2017 Audi A4 expert review. You can also build and price your own to find its Fair Purchase Price, 5-Year Cost to Own and more. Find out more in our Compact Luxury Sedan Buyer's Guide.
KBB Video: 2017 Audi A4

Last year's remake of the Mercedes-Benz C-Class propelled this 4-door sedan to the top of the luxury car category and 2016 C300 Sedan's repeat victory underscores just how effective those changes were in making it one of the best Mercedes ever. With good looks, strong performance and a comfortable, yet compact package, the C-Class has winner written all over it.

2016 Mercedes-Benz C-Class

The 2016 Mercedes-Benz C-Class remains true to form.
Last year's remake of the Mercedes-Benz C-Class propelled this 4-door sedan to the top of the luxury car category, and its repeat victory underscores just how effective those changes were in making it one of the best Mercedes vehicles ever. With good looks, strong performance and a comfortable, yet compact package, the C-Class has winner written all over it.
Made in America
While its design, performance and three-pointed star point to its German pedigree, the 2016 Mercedes-Benz C-Class is actually built in America alongside the company's SUVs at a plant in Alabama. This home-grown Merc has the build quality, upscale materials and solid chassis we've come to expect from vehicles imported from Germany. The C300 we tested was strikingly handsome, with clean lines and an almost coupe-like profile. While large doors make entry and exit of the front seats a breeze, the rear, as with all cars in this class, is a bit compromised with a little head ducking and twisting required to get in back. Once you're inside, however, there's a sleek interior clad in leather with quality wood accents and a modern layout, including a prominent center console screen that looks like an iPad set on edge. The front seats are comfortable and supportive and Mercedes' improvements to its COMAND rotary switch control scheme is greatly enhanced by the touch-sensitive pad that makes it easy to navigate the screen to select and operate various functions.
Performance with an Edge
Equipped with a 2.0-liter turbocharged 4-cylinder engine, the 2016 Mercedes-Benz C300 not only has 241 horsepower delivered to the rear wheels via a 7-speed automatic transmission, but it also delivers impressive fuel economy of 25 mpg city/34 mpg highway thanks to technology that includes a standard start/stop system. On top of a $38,950 base price, our test car featured an AMG spec sport package that includes more powerful brakes, aggressively bolstered sport seats, a flat-bottom steering wheel with silver shift paddles, aluminum sport pedals and AMG-inspired exterior accents. The package is more of an appearance option than anything else, but does underscore the sporty nature of the basic C300 package, which has plenty of power and grip if you need it when pushing the car to its limits. And yet in everyday driving, the car is quiet, comfortable and responsive, in keeping with its luxury car brief.
Easy Does it
Among the options that make driving the 2016 Mercedes-Benz C300 Sedan easy to operate are the driver assists like blind spot warning ($550) and the excellent backup camera with dynamic gradations that are among the best in the industry. As one editor put it, "getting to the curb was utterly intuitive" using the camera, which is a $460 add-on. Other convenience features include keyless entry and start, rain-sensing wipers, dual-zone climate control, split-folding rear seats and power seats. Extras on our test car included a premium Burmester Surround Sound System, which was part of a $2,220 premium package, leather upholstery with a power front passenger seat and ambient lighting for $2,880, a multimedia package for $2,230, as well as an $800 LED lighting option and the aforementioned $2,175 sport package. With the $720 silver metallic paint, $325 for open-pore black ash interior accents and $825 destination, the all-in price is $53,715. While that's just a tick above a base Mercedes-Benz E-Class, remember that you are getting a fully-loaded C300 that offers the same level of amenities of a much more expensive car in a slightly more compact package. And if you can live without the sport package and a few other extras, the cost is comfortably in the $40,000-$50,000 range.
More 2016 Mercedes-Benz C-Class
Read our 2016 Mercedes-Benz C-Class full review for even more details, or build and price your own new C-Class to unlock this week's Fair Purchase Price, 5-Year Cost to Own and more. To keep exploring your category options, check out our Small Luxury Sedan Buyer's Guide.
2016 Luxury Car Best Buy Finalists

None of our annual Best Buy Award winners is the best choice for every single buyer. Here are two more good options, in alphabetical order, each handpicked to take part in this year's Best Buy Awards program.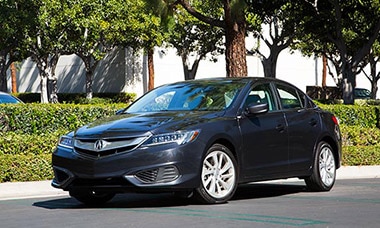 2016 Acura ILX
Performance Meets Luxury
Acura has made significant upgrades to its compact 2016 ILX sedan, giving it more distinctive styling that brings it in line with the newly launched TLX. Honda's luxury division also made a concerted effort to dress up the interior with luxury accoutrements. The familiar two-screen setup remains, although to Acura's credit, they have an actual manual knob you can use to adjust the sound system's volume. Perhaps the biggest change is an upgrade to the powertrain mating the 201-horsepower 2.4-liter 4-cylinder engine with a new 8-speed dual-clutch automatic transmission. The new setup gives the car a livelier feel even when not in sport mode. One editor described the interior as "pleasant with leather and hints of luxury, but you never get a full, deep breath of it." The 2016 Acura ILX does a fairly good job of muting exterior noises and road imperfections, but never completely isolates you from the 4-cylinder engine, wind or tire noise. With upscale features like navigation, lane departure warning and adaptive cruise control and a $33,820 MSRP including destination, the Acura ILX is a smart choice for budget-minded luxury buyers.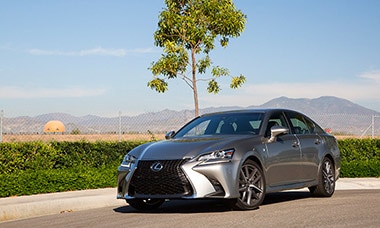 2016 Lexus GS

Tailored Elegance, with a Dash of Spice

The previous Lexus GS 350 was a favorite in our long-term evaluation fleet, and much of that goodness has carried over into the updated 2016 Lexus GS. However, in an effort to reach out to a younger demographic, our GS F Sport test car featured a rather large and aggressive grille that may attract youthful buyers at the risk of alienating longtime and older Lexus fans. And while the F Sport package gives the car a sporting edge, the real value in the Lexus GS is its attention to minimizing noise, vibration and harshness. This is one quiet car with a smooth, comfortable ride to match. The interior is finely tailored with leather, wood trim and soft touch materials. The large center console screen has great resolution and rather than being a touchscreen (which usually ends up covered in fingerprints, not a nice look for a luxury car), it's controlled with a mouse-like selector mounted on the center console making it fairly easy to navigate through various functions. The driving experience is what we've come to expect with Lexus, combining light and easy steering with good on-center feel, linear brakes and good visibility all around. The 311-horsepower 3.5-liter V6 coupled to an 8-speed automatic transmission provides plenty of pulling power. The new GS 350 has gone up in price, now with a base list price of $50,000. Add the $4,115 F Sport package and our test car sticker nears $55,000.