Kelley Blue Book Best Buys of 2016: Electric/Hybrid Car
by
KBB.com Editors
|
November 12, 2015 2:59 PM
The Chevrolet Volt continues to reign in our Electric/Plug-in category for the second consecutive year. However, save for its name, this all-new Gen II iteration shares little else with its award-winning predecessor. New from the ground up, the 2016 Volt reflects a comprehensive recasting of the original package that complements improved performance and greater range with sleeker styling, additional comfort/convenience/safety features and even-more-attractive pricing. Collectively, those enhancements add up to the outstanding overall value required to be a Kelley Blue Book Best Buy Award winner.

2016 Chevrolet Volt

Fully redesigned and better in every way, the Volt remains King of the Green Hill.
The Chevrolet Volt reigns in our Electric/Hybrid category for the second consecutive year. However, save for its name, this all-new, second-generation iteration shares little else with its award-winning predecessor. New from the ground up, the 2016 Volt reflects a comprehensive recasting of the original package that complements improved performance and greater range with sleeker styling, additional comfort/convenience/safety features and even-more-attractive pricing. Collectively, those enhancements add up to the outstanding overall value required to be a Kelley Blue Book Best Buy Award winner.
Chevy is quick to point out that many of the key changes made to the Volt resulted from comments voiced by current owners who loved their cars but recognized there was still significant untapped potential in this groundbreaking extended-range electric vehicle. With formidable challengers that included Toyota's new hydrogen-fueled Mirai and Volkswagen's e-Golf, the 2016 Volt needed all of that extra goodness to maintain its primacy in this eco-centric realm.
Greater Range, Still no Anxiety
Since being introduced in 2010, the Volt's fundamental appeal compared to any pure battery-powered EV has been its Voltec range-extender system that uses a small gasoline engine to generate electricity on the fly when charge in the main battery is depleted. Chevy engineers raised the benchmarks on every element in that package, trimming nearly 100 pounds in the process while enhancing the Volt's dynamic character. For openers, a new larger-capacity but lighter 18.4kWh lithium-ion battery elevates the Volt's pure EV range from 38 to 53 miles and earns a 106 mpge rating, up from 98 in 2015. While its revised two-motor drive system still generates 149 horsepower, it now makes an additional 21 lb-ft of torque. And that motive force can be used even more effectively, permitting the new Volt to sprint from 0-30 mph in just 2.6 seconds -- 19 percent quicker than before -- and reach 60 mph in just 8.4 ticks. Chevy also enhanced the recharging process to further optimize battery replenishment procedures and costs, whether you're plugging in at home or a public facility.
GM research indicates most 2016 Volt owners should be able to rely on battery power alone for about 90 percent of their trips. When travel distances do exceed its capacity, the Volt's new 1.5-liter range-extender generator unit seamlessly kicks in to keep those electrons flowing and keep you moving on. In addition to even quieter operation, this new 4-cylinder turbo burns regular gasoline, not the premium required previously. It also earns a 12-percent better EPA combined mileage figure, a bump that helps raise the Volt's total max travel distance from 380 to 420 miles.
Looks Better, Drives Better
Although powertrain upgrades may be the heart of the 2016 Volt, the recasting effort also endowed it with a more sophisticated appearance and confident driving demeanor. Slightly larger than before, the Volt benefits from a modest wheelbase stretch and is wrapped in more aerodynamically efficient bodywork complete with active grille shutters, underbody fairings and wind-cheating taillamp lenses. In addition to a stronger and more rigid core structure, the Volt's new platform architecture and suspension improve ride and handling while helping trim nearly 250 pounds from its total curb weight. The brakes also boast greater capability and better blended-regen effort that improves pedal feel. While still not a sport sedan, the changes definitely add new charm to the Volt's dynamic character in town or out on the freeway.
The quieter, more comfortable interior of the 2016 Volt displays a similarly enlightened rethink that enhances user-friendliness as well as visual appeal. It also increases seating capacity from four to five -- although the new rear-center spot in the still modestly scaled split-folding bench is a last-resort, kid-only perch. A highly-legible fully reconfigurable 8.0-inch digital main instrument display is teamed with a new 8.0-inch center touchscreen that handles the standard Chevrolet MyLink audio system which now features conventional buttons instead of the original touch controls. The 2016 Volt also offers Apple CarPlay compatibility with Android Auto functionality coming later.
Priced to Please
Initially rolling out in California and Oregon, the 2016 Chevy Volt is available in LT and new Premier trim grades. Despite wide-ranging improvements, the Volt LT starts at $33,995 -- nearly $1,200 below its 2015 counterpart -- while the upline Premier opens at $38,345. Both are eligible for the full $7,500 federal income tax credit as well as other state and local incentives which can bring the effective price on an LT down into the mid-$20K range and drop the Premier below $30,000. KBB projects the 2015 Volt will have one of the lowest overall 5-year Cost to Own figures of any hybrid; and while stats on the new car are still pending, the 2016 appears poised to carry on in that same value vein.
Both Volt variants share a long list of standards that includes numerous power assists and automatic climate control as well as OnStar with 4G LTE wireless connectivity and the versatile RemoteLink app. However, the Premier model upgrades from cloth to leather upholstery and adds things like heated front/rear seats, a Bose Premium Audio system and Automatic Park Assist. But the biggest reason to consider making the step up are a pair of Premier-only Driver Confidence Packages that bring Side Blind Zone Alert with Lane Change Alert, Rear Cross Traffic Alert, Forward Collision Alert, Lane Keep Assist, Low-speed Front Automatic Braking, a Following Distance Indicator and IntelliBeam headlamps. It's also the sole Volt to offer an available MyLink radio with navigation system.
More 2016 Chevrolet Volt
For a more comprehensive look, check out our 2016 Chevy Volt full review. And for more details on what's included in each Volt trim grade as well as optional features, you can build and price your own Volt to unlock its current Kelley Blue Book Fair Purchase Price, 5-Year Cost to Own and more.
2016 Electric/Hybrid Best Buy Finalists

Challenging the Chevy Volt for top honors in the Electric/Hybrid category were two other notable rivals: the Toyota Mirai and the Volkswagen e-Golf. Listed below in alphabetical order, each represents its own uniquely attractive approach towards creating a cleaner and greener future for mass transport. While we anticipated including the new 2016 Toyota Prius in this mix, vehicle availability issues prevented that from happening this time around.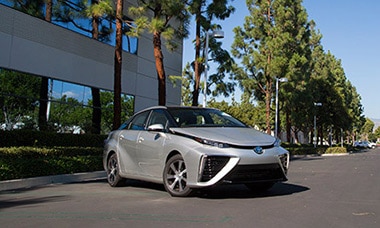 2016 Toyota Mirai
A Hydrogen-Fueled Dream Machine
They say that timing is everything, and while the new 2016 Toyota Mirai continues to make plenty of automotive headlines, this futuristic zero-emissions sedan proved just a bit too leading edge to snare this year's Electric/Hybrid Best Buy honors. Although its edgy styling drew mixed response from our evaluation team, there was unanimous agreement Toyota's pioneering foray into creating a mass-produced fuel-cell vehicle merited major kudos on every operational level.
Based on Toyota's New Global Architecture and fitted with a 153-hp electric motor fed by a hydrogen-powered fuel-cell, the 4-passenger midsize Mirai rides and handles smartly. It's also capable of traveling up to 311 miles before needing a refill, a process that only takes about five minutes to complete. But with the hydrogen infrastructure still in its infancy, Toyota is limiting the Mirai's initial distribution to certain areas of Northern and Southern California before expanding to other select states as support systems and vehicle supply can be ramped up to accommodate demand.
Beyond upscale elements like full LED lighting and an extensive roster of comfort/convenience touches that range from heated Softex-covered front/rear seats and a power tilt/telescoping steering column to a JBL premium audio system with navigation and adaptive cruise control, the Mirai features all of Toyota's Star Safety System elements as well as premium driver assists like Blind Spot Monitoring, Lane Departure Warning and Rear Cross-Traffic Alert in addition to its dedicated Intelligent Hydrogen Monitoring system.
Stating the car represents "a turning point for zero-emission vehicles," Toyota has committed to bolstering the Mirai's acceptance by making its ownership experience as exceptional as possible whether a customer chooses to purchase one outright for $57,500 -- before up to $13,000 in various federal and state incentives -- or lease it at $499 for 36 months with $3,649 down. In addition to three years of complementary hydrogen fuel, the Mirai will arrive with three years of 24/7 personalized Concierge service, Entune with Safety Connect and full Roadside Assistance as well as Toyota Care maintenance for up to 12,000 miles annually. The Mirai represents a bold step towards tomorrow, but one Toyota feels confident will pay long-term dividends.
Build and price your own 2016 Toyota Mirai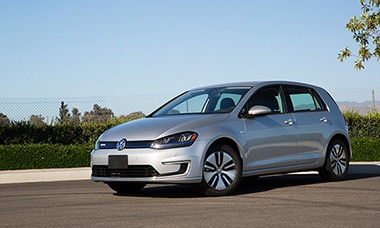 2016 Volkswagen e-Golf
European Sensibilities Electrified
Volkswagen's first fully-electric model to be sold in the U.S., the 2016 e-Golf found immediate favor with our KBB test team thanks to engaging driving dynamics that closely approach those of its conventionally powered 5-door sibling -- and its equally attractive pricing. The 24.2kWh lithium-ion battery that energizes the e-Golf's 115-horsepower motor gives it a class-leading 116 mpge combined EPA rating along with an official 83-mile per-charge range. However, by positioning that sizable pack beneath the floor the e-Golf sacrifices nothing in the way of passenger or cargo space -- which at 22.8 cubic feet with the 60/40 rear seat up and 52.7 cubic feet with it flat-folded makes this cheeky EV as versatile as it is environmentally friendly.
Entering its sophomore year, the VW e-Golf gets a handful of upgrades that add even more appeal. Highlighting the list are VW's new MIB II infotainment system that finally brings USB connectivity and smartphone integration via VW's Car-Net App-Connect as well a late-arriving Driver Assistance Package that includes Forward Collision Warning with Autonomous Emergency Braking and Park Assist, although the latter will only be available on the SEL Premium model that opens at $36,415 before any credits or incentives. The biggest news here is the introduction of a new e-Golf SE that trades off a few of the SEL Premium's niceties like full LED headlamps, a touchscreen navigation system, V-Tex leatherette upholstery and DC fast-charging capability in return for an even more attractive $29,815 starting sticker and a $199/month factory leasing deal at participating VW dealers.
Like any pure EV, the e-Golf's inherent range/recharging-time considerations do limit its mass-market appeal. But urban dwellers with short to moderate commutes may well find it the travelmate they've been looking for.