Best Buy Awards Electric/Hybrid Car 2015
by
KBB.com Editors
|
November 14, 2014 7:53 AM
Our Electric/Hybrid Car Best Buy of 2015 demonstrates the category's most appealing mix of quality, value, features, driving dynamics, fuel economy, safety and more, as informed by yearlong vehicle testing, back-to-back comparisons and our industry-leading pricing and resale value insight.

2015 Chevrolet Volt

Unique technology and strong value drive the Chevrolet Volt to victory as our Electric/Hybrid Car Best Buy for 2015.
That the Chevy Volt stands atop our list of Electric/Hybrid Best Buy contenders after four years in the marketplace is a testament to its virtues. The Volt might not be the newest entry in a group that includes the Nissan Leaf, BMW i3 and Toyota Prius, but a clever powertrain and exceptional value helped Chevrolet's gasoline/electric wondercar secure the win.
Among an exceptionally diverse field, the Volt occupies a sweet spot between value and desirability. Those same traits have helped secure the Volt's position as one of Kelley Blue Book's 10 Best Green Cars every year since its introduction. Last year's $5,000 price cut didn't hurt either.
Follow the Money
A basic 2015 Chevrolet Volt has an asking price of $35,170 while our tester checks in at $38,305. The BMW i3, while arguably more interesting than the Volt, is about $11,000 pricier (be sure to add another $4,000 for the i3's optional gasoline range extender). The Toyota Prius boasts a base Manufacturer's Suggested Retail Price (MSRP) that's well below the Volt's, but the story doesn't end there. Thanks to a generous $7,500 federal tax incentive, along with various state incentives, the net purchase price for a Chevy Volt could be as much as $10,000 lower than MSRP. Take that and other out-of-pocket expenses into account, and the Volt is about $1,600 cheaper to own over the course of five years than a Toyota Prius.
Life in the Real World
As we said in our full review of the 2015 Chevy Volt, "If you relish the idea of driving an electric car, but fear the idea of being stranded with a dead battery, the Chevy Volt might just be the ideal solution." Pure electric cars work fine for drivers with short predictable commutes, but for longer travels a gasoline backup sure comes in handy. In the Volt's case, its batteries are stout enough for an EPA-estimated 38 miles of gas-free driving -- long enough for most drivers' commuting needs. That's wonderful, but what about unexpected detours or weekend jaunts? At those times the Volt's gasoline-powered range extender shines bright, expanding its range to 380 miles. In essence the Volt adapts to the needs of the driver...not the other way around. That's a trick that pure electric cars, at least for the moment, can't match.
The Joys of Driving Green
It's easy to focus on the environmental and financial advantages of the Chevy Volt, but let's not forget the importance of fun. Mash the rightmost pedal, and the wonders of electric propulsion become clear. The Volt accelerates with silky effortlessness. Carry some of that speed through an unclogged onramp, and you might be surprised by the Volt's willingness to play. No, this electrified Chevy isn't a sports car, but there's more fun here than the green veneer might suggest.
Who's Got the Look?
Ok, we'll admit it. Style counts. Especially among electric and hybrid cars, a compelling design tends to correlate with acceptance from the buying public. On that count the Volt strikes a smart balance between futurism and familiarity. Techy-looking energy usage readouts and sci-fi startup/shutdown sound effects co-exist with comfortable seats, a usable capacitive touch instrument panel, and a surprisingly accommodating cargo area. Provided you don't need more than four seats, the Chevy Volt delivers a good mix of style and substance.
Build and price your own 2015 Chevrolet Volt
2015 Chevrolet Volt Photo Gallery
2015 Electric/Hybrid Car Best Buy Finalists

No two tastes are the same, which is why we've included each of our Best Buy finalists for your consideration. Perhaps more than any other category, Kelley Blue Book's Electric/Hybrid Best Buy field is a diverse one. We have a budget-priced electric car in the Nissan Leaf, a straight-up hybrid in the Toyota Prius, and a premium electric car with optional range extender in the BMW i3. These three electric/hybrid car standouts were handpicked for inclusion in this year's awards program. Depending on your needs and wants, any one of them could be a best buy. Here they are in alphabetical order: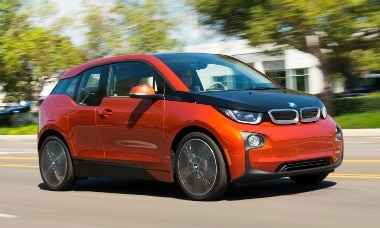 2015 BMW i3
The Electric Car, Elevated
The BMW i3 spurred some deep discussion among our editorial staff about what constitutes "value." In the end, the i3 wasn't quite intriguing enough to overcome its price premium, but the Bimmer's unusual interior materials, distinct exterior and driving dynamics might win over buyers with more flexible budgets.
Excess body-lean aside, the rear-wheel-drive i3 handles surprisingly well, as detailed in our BMW i3 review. There's something charming about piloting an electric car from a near SUV-like perch through a roundabout at speeds that strain the definition of "prudent." Driven at more practical speeds, the BMW i3 promises anywhere between 70 and 110 miles of electric range, a number that essentially doubles with the optional 2-cylinder gasoline-powered range extender.
As a brand-new car, questions remain about the BMW i3, but some things are certain. The i3 is a more distinct, more fun and more interesting choice provided you can afford its approximately $42,000 base price. Oh, and the i3 has one killer feature that no other Best Buy competitor in this class can match...a BMW badge.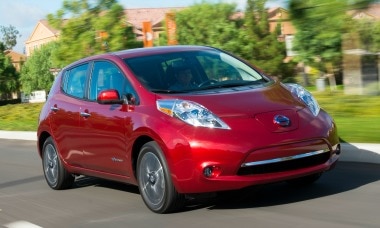 2015 Nissan Leaf
Pure Green
Hybrids have their place, but in some circles they're merely half measures. As a pure electric car, the Nissan Leaf will never, ever, ever use a gallon of gas. For unadulterated green cred, it's hard to top that kind of commitment. Of course there's more to the Leaf than the lack of a gas tank. It's actually quite practical, thanks to a hatchback body style and 5-passenger seating.
In our full review of the 2015 Nissan Leaf we noted, "The Leaf made the electric vehicle (EV) mainstream thanks to its affordable price, easy driving manners and user-friendliness." And our praise and admiration for the Nissan electric car hasn't diminished.
The Nissan Leaf also has the honor of being the least expensive car in our Electric/Hybrid Best Buy group. Granted, there's much more to the total cost of ownership than just initial purchase price, but if minimizing your upfront investment is a top priority, along with curtailing your use of fossil fuels, the Nissan Leaf is a good match.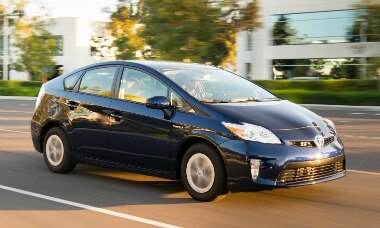 2015 Toyota Prius
The Old Familiar

"As the best-selling hybrid in the world, it's no surprise that the 2015 Toyota Prius is the car most people think of when they hear the word 'hybrid.'" -- so begins our full review of the 2015 Toyota Prius. The Prius has long been the de facto standard for hybrid buyers and it's easy to understand why -- 50-mpg efficiency wrapped in a pragmatic 5-seat hatchback design and bolstered by Toyota's long-standing reputation for reliability.

Drive one and you might notice a distinct lack of power...or fun, for that matter...but criticizing the Prius for those shortcomings misses the point. The Toyota Prius does everything real people need a car to do, just without using so much gas. It might be a universally recognized beacon of earth-friendly efficiency, but at its core the Toyota Prius hybrid remains a genuinely innovative vehicle that's easy to live with.

Build and price your own 2015 Toyota Prius

If you need an extra boost to help get you started in your Electric/Hybrid car shopping, be sure to check out our Fuel Economy Stars Buying Guide -- this guide makes it all make sense.