Audi 'e-gas' project to anchor new CO2-neutral mobility initiative
by
KBB.com Editors
|
May 17, 2011 11:59 AM
Intent on taking the lead role in sustainable mobility, Audi has announced an ambitious new program focused on pursuing a long-term goal of true carbon neutrality under the banner of "Audi balanced mobility." Formally presented in Hamburg, Germany by Audi Chairman Rupert Stadler, it encompasses every aspect of the value-added chain, and hopes to generate new interest and support from all of the country's gas and power suppliers. "Ecology and economy in unison: that is the greatest challenge of the future. To attain this we must bring mobility completely into equilibrium -- with people and their new values and with the environment. CO2-neutral mobility is our goal."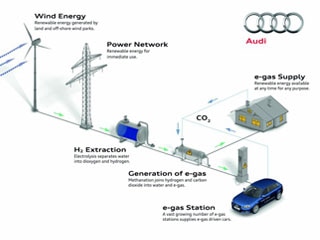 Audi's multi-faceted approach to the challenge will include several distinct arenas, from using an array of wind turbines on the North Sea to generate "renewable" electricity that gets fed directly to the power grid to using part of that green energy to create hydrogen by means of electrolysis. The hydrogen, in turn, can either be used to power fuel cells, or to manufacture a form of synthetic methane gas, a fuel Audi refers to as its "e-gas." Chemically identical to compressed natural gas, the automaker has committed to begin series production of vehicles -- starting with the Audi A3 TCNG model seen here -- fitted with specially modified versions of the automaker's existing TFSI engines that will be fueled by this e-gas. The cars are scheduled to begin appearing in Audi's German showrooms sometime in 2013.
Although still a long way from being a fait accompli, the Audi balanced mobility initiative has been lauded by numerous environmental scientists, including Ernst Ulrich von Weizsäcker, co-president of the International Resources Panel who sees the practical, eco-friendly and sustainable approach of Audi's e-gas project as making great strides towards its goal of achieving CO2-neutral mobility. A big part of the appeal involves its inherent ability to efficiently store this new-gen but potentially unpredictable "green power" within the existing energy systems. According to Audi, the system is designed to easily balance any surplus or shortage of electricity generated by converting it to e-gas -- which can then be stored in existing municipal gas network -- and/or just as efficiently be transferred back into the power grid, as real-world conditions dictate.