AAA: Car cost to own/operate drops
by
Bob Nagy
|
May 5, 2015 7:00 AM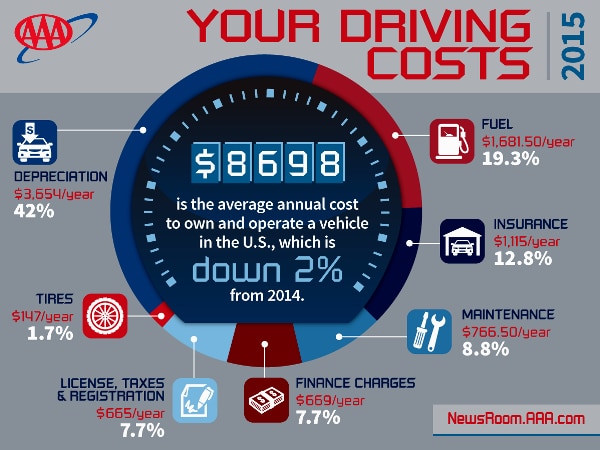 A just-released study by the American Automobile Association found that the annual cost to own and operate a vehicle in the U.S. will average $8,698 this year, a 2-percent drop from the 2014 average. To establish the figures contained in its 2015 Your Driving Costs study, AAA calculated the prices an average consumer would pay for fuel, maintenance, tires, insurance, license/registration fees, taxes, depreciation and finance charges associated with driving a typical sedan 15,000 miles annually. According to AAA, drivers can expect to shell out 58 cents for each mile they drive and rack up nearly $725 a month to fully cover the fixed and variable costs related to owning and operating each of their vehicles. However, John Nielsen, AAA's Managing Director of Automotive Engineering and Repair, notes that means owners also can look forward to saving approximately $178 this year, on average.
Also: Class of 2016 -- New Cars Ready to Roll
AAA's findings reflect a mixed bag of cost changes. A 13.8-percent drop in fuel prices and a 21-percent reduction in finance charges contributed to $268.50 and $178 respective slices in the average while depreciation, the single largest cost factor in the formula, was up by 4.1-percent - to $3,654 - and insurance premiums rose by nearly nine percent to $1,115 annually. The remaining three contributors were maintenance, up almost one percent; tires, up just over one percent and license/registration fees, up 3.4 percent. However, collectively they added only $32 to the bottom line.
Also: Kelley Blue Book Best Buy Awards of 2015
In addition to establishing the $8,698 index number, AAA also reported costs for other key vehicle categories. The annual cost for small sedans came in at $6,729 ($0.449 per mile); medium sedans at $8,716 ($0.581); large sedans at $10,649 ($0.710); minivans at $9,372 ($0.625), and 4WD SUVs at $10,624 ($0.708). The AAA has been publishing the Your Driving Cost study since 1950. That year, each of the average 10,000 motoring miles racked up annually set cost a mere nine cents and gasoline was $0.27 a gallon.