2016 Mazda CX-3 to make L.A. debut
by
Bob Nagy
|
October 28, 2014 8:40 AM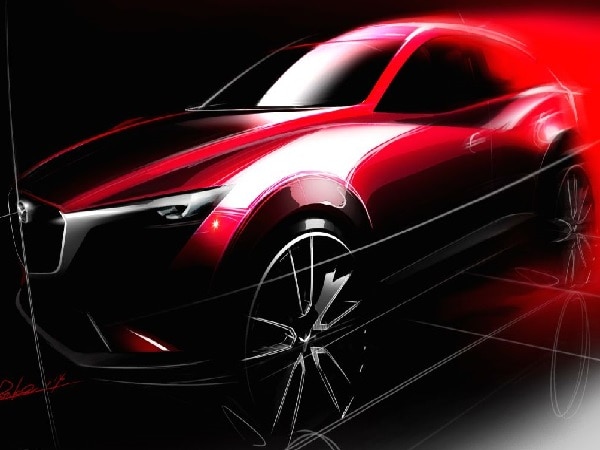 Mazda confirmed it will unveil a new CX-3 crossover next month at the Los Angeles Auto Show. Set to slot below the CX-5 and face off against vehicles like the new Chevrolet Trax, Honda HR-V and Jeep Renegade, this entry level SUV will be the fifth in the automaker's lineup to embrace the full suite of SkyActiv technologies. The new CX-3 will likely be based on the same platform that underpins the new Mazda2. Like the U.S. version of the Gen IV Mazda2, specific on-sale dates for the CX-3 are yet to be determined. However, both vehicles are expected to bow sometime next year.
Also: The Class of 2015 -- New Vehicles Ready to Roll
Exterior styling of the new CX-3 embodies the latest and most evolved take on Mazda's Kodo - Soul of Motion design language and features bodywork that displays "a sharper form" and "an enhanced sense of speed" coupled with what's rumored to be a slightly elevated ride height and off-road-flavored cues. Those elements notwithstanding, we're led to believe the CX-3 will be a front-drive-only model. While global versions of the CX-3 are virtually certain to offer both gasoline and diesel SkyActiv engines, don't expect to see the latter here anytime soon. We do anticipate that, like the new Mazda2, it will offer Mazda's latest i-ActiveSense and Mazda Connect driver-safety and telematics technologies. We'll know much more in November.
Also: 10 Coolest Cars Under $18,000
Mazda will have a fairly major presence in Los Angeles. In addition to the new CX-3, refreshed versions of the 2016 Mazda6 and CX-5 also will be making their respective global premieres. The all-new 2016 Mazda MX-5 that was unveiled in September also make an appearance on the show stand.
More Mazda News...
Come along for a drive in the 2015 Mazda MX-5 Miata 25th Anniversary Edition
Editor's Page: 2015 Mazda CX-5 - fun-to-drive functionality