2016 Honda Pilot teased for Chicago
by
Bob Nagy
|
January 21, 2015 2:38 PM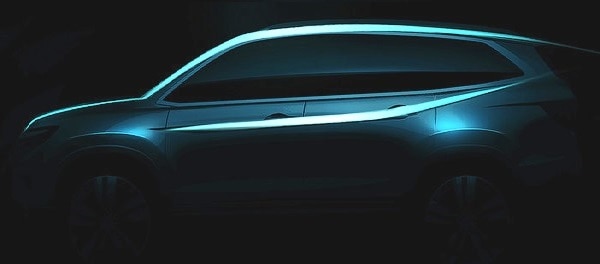 Here's a first shadowy glimpse of the all-new 2016 Honda Pilot which will debut on February 12 at the Chicago Auto Show. Although no specifics accompanied this teaser, Honda promises the sweeping makeover of its popular 8-passenger people mover "will raise the stakes in the mainstream three-row SUV segment with new technology, advanced safety, class-leading fuel economy and enhanced family utility and versatility."
Also: The Class of 2015 -- New Vehicles Ready to Roll
Last redone in 2009, the new Pilot will be wrapped in more stylish and streamlined bodywork that adds contemporary Honda-style flair to a package that boasts loads of flexible space for people and cargo. The transition also is expected to bring the Pilot's driver-assist, infotainment and safety systems up to current state-of-the-art spec. Although Honda did not indicate what may be found under the hood of the 2016 Pilot, some version of the current 3.5-liter i-VTEC V6 engine seems likely to carry forward.
Also: Kelley Blue Book Best Buy Awards of 2015
Designed and engineered in America, the 2016 Honda Pilot will be built here as well in the automaker's Lincoln, Alabama, plant, home of the next-generation 2016 Honda Ridgeline that's also due later this year. Sales of the new Honda Pilot start this summer.
More SUVs and Crossovers...
Cadillac has taken the all-new 2015 Escalade to a new level of luxury
The redesigned 2015 GMC Yukon and Denali are full-size fantastic
Editor's Page: 2015 Nissan Pathfinder rolls on with style