2012 Mercedes-Benz SLS AMG Roadster - official spy shots
by
KBB.com Editors
|
May 9, 2011 8:47 AM
Due for its formal reveal this September at the Frankfurt Auto Show, the first barely disguised factory images of the 2012 Mercedes-Benz SLS AMG Roadster have just been released. Under development for the past three years, the soft-top version of the gull-wing SLS AMG coupe have benefited from extensive computer modeling and simulation work during its initial development stages, efforts now being put to the real-world test by the same group that created its stunning platform-mate.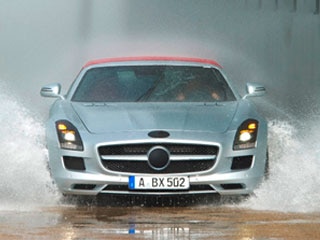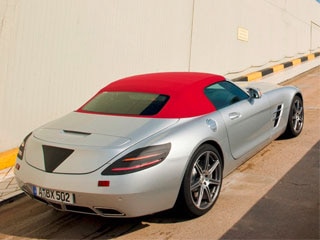 Set to launch here late in 2011, the teams at the Mercedes Technology Center (MTC) in Sindelfingen and AMG in Affalterbach established several clear priorities for the SLS AMG Roadster, which will also be powered by a naturally-aspirated 6.2-liter/562-horse AMG V8 engine. As might be expected, areas of prime concern involved bodyshell rigidity, handling dynamics, soft top fit/seal and NVH (Noise, Vibration and Harshness) characteristics.
To address the first and most critical issue, the Roadster's aluminum space-frame structure has been specially reinforced through the addition of more robust side sills, a stronger dash crossmember plus associated support elements and a dedicated stiffening structure located between its top bay and gas tank, changes that ensure coupe-like stiffness but add just five pounds of additional weight. The SLS AMG Roadster also adds a rear reinforcing crossmember behind the seats to support the car's fixed-hoop rollover protection system. Mercedes says these modifications ensure that the Roadster's handling dynamics will be fully equal to those of the Coupe.
The design of the SLS AMG Roadster's power-activated soft top came in for a similar measure of intense scrutiny. Its sound-attenuating three-layer cloth construction uses a more aero-efficient bonded-in backglass; and the lid fits neatly over a magnesium/steel/aluminum framework with an articulated "Z" configuration that facilitates compact, easy stowing behind the seats as well as helps lower the car's center of gravity. Capable of being electro-hydraulically raised/lowered at speeds of up to 31 mph, it can keep the Roadster's cabin quiet and dry/dust-free when raised -- even at its electronically limited 197 mph top speed. The entire assembly is made to minimize all manner of buffeting/booming issues under all conditions.