2011 Peugeot 3008 Hybrid4 -- First diesel-electric production car
by
KBB.com Editors
|
August 24, 2010 8:14 PM
Previewed in concept form at the 2009 Frankfurt Motor Show, the 2011 Peugeot 3008 Hybrid4 is set to become the world's first production car to match electric power with a diesel rather than a gasoline engine. Set to debut at the Paris Auto Show in October and go on sale in Europe next spring, this compact crossover reportedly delivers 74.4 mpg economy on the European Combined Drive Cycle and emits a scant 99g/km of CO2 while offering five-passenger utility plus the added safety of on-demand all-wheel drive.
A "full-hybrid" design, the 2011 Peugeot 3008 Hybrid4 is capable of operating on either or both of its power modules. Up front, it carries a 2.0-liter Peugeot HDi turbodiesel four that makes 163 horses and 221 lb-ft of peak torque which gets shipped to the wheels via an electronically controlled automated six-speed manual transmission. At the rear, an electric motor energized by a nickel-metal hydride (Ni-MH) battery pack can add between 27-37 horsepower and 74-148 lb-ft of torque on demand.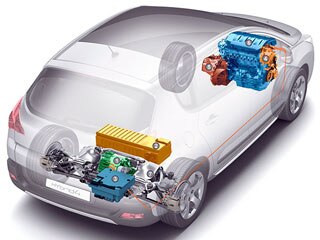 A dedicated Powertrain Management Unit (PTMU) coordinates the two, and allows the Peugeot 3008 Hybrid4 to operate in one of four different modes. When "Auto" is selected the vehicle uses the most efficient combination of diesel/electric power while "ZEV" puts it into a zero-emissions EV configuration that only allows the diesel engine to be activated under sustained acceleration. The "4WD" mode stresses a dual-power bias to help enhance the vehicle's capabilities under less-than-ideal traction conditions while the "Sport" mode dials up more aggressive use of both diesel and electric power as well as revises the shifter mapping to showcase its maximum performance potential. As with all modern hybrid systems, the 2011 Peugeot 3008 Hybrid4's setup also incorporates a highly-efficient regenerative-braking system as well as the latest iteration of start/stop technology.
In addition to simplifying basic packaging issues and eliminating the need for costly redesigns, the basic Hybrid4 front/rear modular configuration yields improvements in the vehicle weight distribution. Equally important, Peugeot sees its overall cost effectiveness as key to future application in a variety of different vehicles/market segments, regardless of the type of internal combustion engine or battery chemistry used. Although its yet-to-be-revealed pricing will no doubt play a role in determining the ultimate fate of the 2011 Peugeot 3008 Hybrid4, the execution is impressive and it appears that the day of diesel-electric hybrids may well be upon us.