2015 Volvo XC90 to offer multiple new-gen safety systems
by
Zach Vlasuk
|
July 5, 2013 2:57 PM
Volvo has announced that its next-generation XC90 will introduce a variety of innovative safety features, including two technologies it claims will be world automotive firsts. All are set to arrive late in 2014, although there's no confirmation at this point regarding which ones will be introduced in the U.S. at that time.
In addition to Adaptive Cruise Control with Steer Assist, the upcoming iteration of Volvo's 7-passenger SUV also will see the first-ever applications of Road Edge/Barrier Detection with Steering Assist, Pedestrian Detection in Darkness and Animal Detection with Collision Mitigation. Volvo recently invited us to their proving grounds in Stora Holm, Sweden, to sample these active safety systems in real-world situations.
Adaptive Cruise Control with Steer Assist is designed to help the driver maintain safe following distance and lane positioning in traffic using input from a camera and radar sensors that automatically adjust the throttle, brakes and steering as required. Road Edge and Barrier Detection uses those same data inputs to help prevent inadvertent road departures by automatically issuing a warning and then autonomously applying counteracting steering torque to bring the vehicle back in line.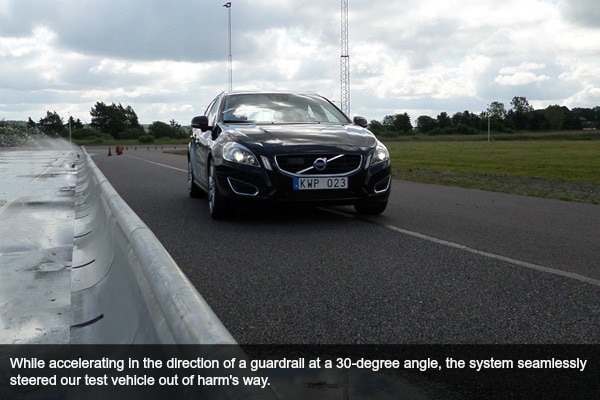 Volvo's new Pedestrian Detection in Darkness setup effectively expands on the automaker's current system through the implementation of a faster and more sensitive camera with enhanced exposure control that will allow the system to function around the clock and automatically apply the brakes whenever it senses a potential impact with a pedestrian, cyclist or even another car or truck.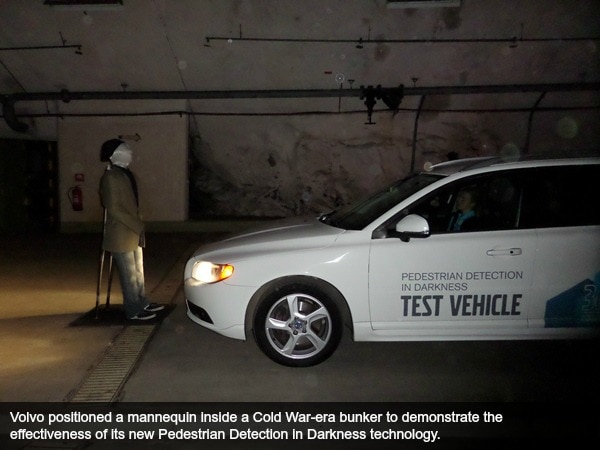 Finally, the new Animal Detection with Collision Mitigation system automatically brakes for larger animals at any time of day or night to help the driver either significantly reduce the speed of impact or avoid contact altogether.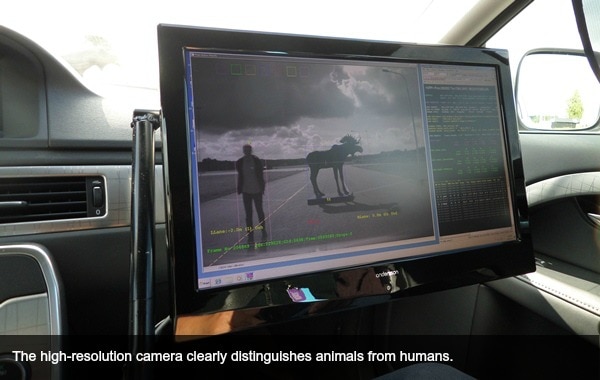 In addition to these four production-ready safety enhancements, Volvo also gave us a sneak peak at what may be coming down the pipeline in the not-too-distant future. The two technologies on display were a car-to-car communications system that allows direct and continuous interaction between vehicles and the surrounding infrastructure, as well as Autonomous Parking, a feature that will let a car safety navigate through a Wi-Fi-enabled parking lot and slip into an empty a space without a driver on board.
Why the sudden shift towards active safety solutions? Because compensating for driver deficiencies requires sophisticated electronics that can seize control of the vehicle in a precarious situation, and Volvo intends to leverage its new life-saving technologies to achieve its ambitious goal of reducing the number of serious injuries and vehicle-related deaths to zero by 2020.
More New Safety Tech...
Audi will offer new Matrix LED lighting technology
Cadillac's Super Cruise system is ready to start real-world testing
Mercedes-Benz has introduced a new anti-wrong-way-driver warning system