Modern solution to a cold problem
To most folks tires are things that wear out, go flat, or just cost a big pile of money when it comes time to replace them. While all these things are true to a certain extent, the important thing to remember about tires is that they are where the rubber meets the road. The four small patches of rubber making contact with the tarmac are all that keep the car on the good part of the highway and out of the ditch. When it comes to choosing tires, the old maxim of the right tool for the right job holds true. Choosing the right tire for the driving task at hand is the key to happy motoring.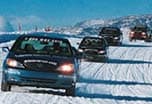 One would not attempt to tighten a bolt with a circular saw, just as one cannot expect to drive on winter roads with tires made for summer performance. This of course, brings us into the topic of snow tires. Putting on the snow tires has traditionally meant a sacrifice in handling performance for better grip on snow and ice. In the past, as the snow fell motorists were busy bolting up blocky waffle tread or metal studded tires to their vehicles for added safety against unwanted slips and slides. While traditional snow tires do a fine job of cutting through the snow and ice, they also excel at making noise, and are generally detrimental to vehicle handling performance. Traditional snow tire construction is fine for tractors fording slowly through mud, but makes for poor modern vehicle handling on dry roads.
The Future of Tomorrow
Fortunately for those who enjoy driving in the snow without having their car look like a miniature monster truck, snow tires have come a long way from the old paddle wheel waffle tread style of olden days. Dashing through the snow is now easier and safer than ever thanks to the miracle of modern technology. Unlike flying cars, space age bachelor pads, helper robots, houses that paint themselves, and other great promises of a future that never happened, modern snow tire technology is here right now and can actually make life easier. Studless snow tire technology grew out of a solution to a problem. Studded snow tires have a tendency to tear up the roads as they chew through snowy and icy surfaces, not only creating a great deal of dust and road wear but also costing municipalities piles of money in repairs come springtime. The solution to these problems was to rethink the snow tire altogether.
Bridgestone created the first performance studless snow tire as a result of Japan making studded snow tires illegal. The patented secret of the Blizzak snow tire is the Multicell® tread surface. Thousands of microscopic cells are built into the rubber compound. Under a microscope the tiny cells in the compound look a lot like Swiss cheese. Normal tread wear continually exposes new cells along with tens of thousands of miniature biting edges that grip the snow and ice without the use of studs, blocky treads, or tractor-tire sidewall construction. Snow tires now come in an array of choices to suit any driving style and vehicle type. With the advent of performance-oriented all-wheel-drive vehicles, performance snow tires make more sense now than ever before, so mounting up the winter snow tires no longer means a sacrifice in driving performance---even with only two wheels providing propulsion.
Mud, Snow, and Perhaps Ice
With many state and local municipalities now implementing rules governing the use of studded tires and placing chain restrictions on certain roads, choosing the right tire to plow through snow and ice can get confusing. All-season mud and snow tires are good compromises between high-performance summer radials and purpose-built snow tires. If you live someplace where it snows only occasionally, but rains a great deal, then choosing all-season mud and snow tires may be the right choice. If on the other hand your neighbor is already out in mid-August breaking in the engine on his new Winter Warrior turbocharged snow blower, then dedicated snow tires for the winter months are smart choices for safe winter driving.
Another good tip is to obtain an extra set of wheels dedicated solely for winter use. Permanently mounting the snow tires on their very own rims can save time and money when springtime comes. An extra set of wheels can also save those expensive aluminum wheels from damage due to corrosive winter road salt.
Finally, while it may seem tempting to save a few bucks and mount only two snow tires, this thrift can lead to danger. Each type of tire possesses unique sidewall, grip, and handling characteristics, so mixing and matching can lead to unpredictable handling on dry roads and dangerous conditions in the snow. Two snow tires on a front-wheel-drive car will be of no use as the rear of the car slides around where the front used to be, and a couple of snow tires on the back of a rear-drive car will be of little value as the front tires plow along with little grip.
by Mike Bumbeck / autoMedia.com