Alternative transportation, an economical advantage
You have to "have it bad" for motor scooters, according to one website dedicated to the Vespa brand. Vespa, in fact, may be the quintessential example of the scooter one visualizes when thinking of these personable, two-wheeled vehicles, perhaps reminded of "Toad" crashing his into Mel's Drive-In in the classic cruising film, "American Graffiti."
But that would be unfair to all owners and enthusiasts of motor scooters. The joy of scooter ownership extends to all those who love the open air ride, who have a great deal of self-confidence and don't feel threatened or intimidated by their bigger motorcycle brethren, and are comfortable with sharing the road with all the other traffic out there, including oversized SUVs and trucks pulling multiple trailers.
Today, however, perhaps the most relevant benefit offered by motor scooters is their incredible fuel economy. Since gas prices began climbing so significantly, so have sales of the various scooter brands sold in the U.S. New owner/riders have included many people who rely on their vehicle for their job, above and beyond the traditional commute to and from work. Got a paper route? Get a scooter. Appraisers, meter readers, couriers---the list could go on and on; the delight felt directly in the wallet.
Another clear advantage for scooters is their size. Intimidating when coming up against an SUV perhaps, but those feelings quickly evaporate when the rider is in search of parking. For those with a short commute, particularly college students, the ease in securing a parking space is simply an added bonus. And depending on the location, a parking permit for a scooter is a lot less than for a car.
And let's not forget insurance. Add another check in the plus column.
Cult Following
A common term used to describe scooter enthusiasts is scooterists. For many, owning a scooter places them in an elite group, despite the growing number of recent buyers. In a lot of cases, an owner of a vintage scooter (be it a Mustang, Cushman or Lambretta) is somewhat older, perhaps a bit eclectic and one who cherishes ownership of these collectibles. Frankly, some scooterists insist that the enthusiasm for these tiny transports is dying out; relatively few younger people want to ride scooters, unless they too are in possession of a certain character trait---the desire to be different. Thus, many rockers, artists, and other alternative-thinking people ride scooters, but they do so for reasons beyond their love for these little "putt-putts." They ride scooters because they are individualists. They listen to no one but themselves.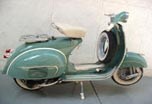 Still, scooterists like the idea of hanging out with others of a similar mind. Like certain car models, many scooter brands have encouraged owners' groups and regional clubs, culminating, like the Vespa Club of America, into hosting an annual meeting, which Vespa owners call Amerivespa. This year, the Vespa scooterists met in Cleveland, because evidently Ohio is well known nationally for its great scooter scene. Unless one knew that, it is hard to fathom Cleveland being a "hotbed of scooter activity." For those who admire vintage, but prefer something new, there are modern versions of Vespas built by manufacturers who have long been known for their motorcycles (as well as cars). Honda and Yamaha, for example, offer various lines of scooters, some modeled after the look of the old Vespas and Cushmans. In 2001, upscale Italian scooter-maker Piaggio returned to the U.S. by reintroducing the Vespa, to the delight of many.
Assuming a Responsible Ride
One thing all scooterists must accept is the fact that they need to be trained and licensed to ride any two-wheel vehicle legally allowed on city streets and local highways. Even though scooters offer significant visibility, a full helmet can limit a certain degree of depth perception for some riders. Regrettably, other traffic may not see a scooter at all. Therefore, a safe rider is a defensive one, cognizant of all movement surrounding him. One of the first things a Driver's Ed instructor teaches all motorists is to "look ahead." This is far more important when riding a scooter, extending that command to a wide perspective---see the roadway and realize you may be the smallest vehicle sharing it.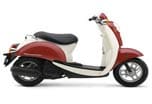 Scooter riders must possess a motorcycle license in most states. And some states or communities may not allow one to ride a scooter on the freeway, or at least the smaller versions, which may be classified as no more than a motorized bicycle. California generally states that a scooter has to be at least 150 cc to be allowed on its freeways. It is always best to check out the rules and regulations at one's local DMV to make sure.
Mick Koslov, owner of the Scooter Shop in Orange, CA, urges new riders to take a class before they head out onto the streets. "Generally, community colleges offer courses, or allow a scooter/motorcycle school to conduct a class on their campus parking lot, with some even providing scooters for rent. Same for select local Highway Patrol stations," Koslov said. "Scooters may be considered a toy, but it's always safety first."
Safety is always a concern. To many, it's the love of riding and doing so in a neat, little two-wheeler. Owning a scooter can be a fashion statement. It's not who you are, but what you drive, or ride, in this case. And, with the many values these little vehicles offer, especially in today's volatile economy, the choice for transportation may be an easy one. Bottom line: Scooters, for lack of a better word, are cool.
by Pete Evanow / autoMedia.com