What makes a roof tough enough?
Rollovers are not common occurrences in accidents, but they certainly can be deadly. Rollovers account for only three percent of highway accidents, but they claim a quarter of all highway fatalities. Last year alone, 10,553 people died in rollover crashes, up from 10,442 such deaths in 2003. Unfortunately, sixty percent of those killed were not wearing seatbelts.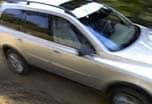 New Standards
Sparked by the Firestone tire recall issue in 2000, the topic of rollovers has grabbed the legislative spotlight. In the highway bill passed last month, Congress included legislation requiring the government to revisit its 1971 roof crush standard for passenger vehicles. This month, the National Highway Traffic Safety Administration (NHTSA) announced new roof crush standards that it will be implementing. "It will take a comprehensive strategy to reduce the staggering number of rollover deaths on the nation's highways," said NHTSA Administrator Jeffrey Runge, M.D. "Improving roof strength is an integral part of that plan."
Current roof crush standards, which do not apply to vehicles weighing over 6,000 pounds, were set at a time before Americans fell in love with light trucks. The current standards test vehicles by pressing a flat, steel panel down on the driver's side of the roof with a force equal to 1.5 times the vehicle's gross weight. To pass the regulation, a vehicle's roof must prevent the steel plate from moving down more than five inches. The proposed new standard would extend roof strength requirements to all new vehicles weighing up to 10,000 pounds, and would beef up minimum roof strength requirements, mandating that all such vehicles be able to withstand an applied force equal to 2.5 times the vehicle weight while maintaining sufficient headroom for an average sized, adult male.
The agency estimates that among seat-belted occupants, about 807 serious injuries and 596 fatalities are caused annually by making contact with a collapsed roof during a rollover crash. NHTSA estimates that the new roof crush standards will prevent 13 to 44 deaths and 500 to 800 injuries per year. The estimated cost per vehicle would be $11.81, reaching a total average cost per year of $88-$95 million.
Under the new standards, all vehicles weighing less than 10,000 pounds will be required to pass these new tests meaning that, for the first time, large SUVs and pickups will be subject to the same regulations as lighter vehicles. NHTSA will receive comments on the proposal for 90 days before reviewing those comments and then making any changes that are deemed appropriate prior to issuing its final rule. The agency is also considering improvements in seatbelt standards to reduce deaths and injuries in rollover crashes.
Dynamic Testing
Many automakers already have roofs that can withstand 2.3 times their gross weight-the roof of Volvo's XC90 can actually withstand 3.5 times its own weight. Congress asked the government to look into a dynamic test that measures roof crush in an actual rollover incident, but NHTSA says that a dynamic test that is capable of providing consistent results is not available.
Comments are already coming in at high decibels from safety advocates dismissing the new standard as still being too lenient. They call for a higher-pressure ratio similar to the Volvo XC90 and for the test to be applied to both sides of the roof. Joan Claybrook, President of Public Citizen, a safety advocacy group said, "the long-delayed roof crush rule proposed by NHTSA fails to comply with new safety mandates issued by Congress just last month. The highway funding bill requires roof strength be tested both on the driver and passenger sides of a vehicle. However, the proposed rule tests roof strength only on one side." The group maintains that testing done by NHTSA shows, "roof deformation was most severe on the side of the vehicle opposite the side that makes first contact with the ground." According to Public Citizen, "the second or far side impact is more severe because it has a more severe pitch angle and greater roll angle than the first impact and the strength added by the windshield and its bonding is gone when both break after the first impact, substantially weakening the roof." The group argues that greater roof strength would keep windows from breaking and would mitigate ejections of occupants from vehicles.
Also included in the proposed regulation is a provision that would pre-empt any state laws or court decisions that conflict with the rule. "We believe that any effort to impose either more stringent requirements or specific methods of compliance would frustrate our balanced approach to preventing rollovers from occurring as well as the deaths and injuries that result when rollovers nevertheless occur," NHTSA said in the proposal. The language protects manufacturers meeting federal standards from being sued for not surpassing those standards. Rollovers have resulted in many civil suits around the country and juries have awarded huge sums to plaintiffs, even though the vehicles in question have passed government safety standards.
by Cathy Nikkel / autoMedia.com