Government working to mandate ESC systems on all new vehicles
In a departure from the usual regulating process, the National Highway Safety Administration (NHTSA) is close to decreeing that all U.S. passenger vehicles must be equipped with Electronic Stability Control (ESC) systems. Usually, regulators set standards that automakers may meet with any technology that works. However, ESC systems are proving to be so good at doing what they are supposed to, that the Feds are moving to mandate ESC with hopes they will dramatically reduce deaths and injuries from rollover crashes. This requirement, should it pass, would mark the first regulation requiring an active safety device that actually prevents accidents from happening. In the past, the government had concentrated only on devices like seatbelts and airbags that protect occupants during or after crashes.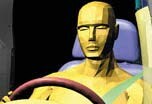 Single Stats
A single-vehicle crash is the most deadly possible accident scenario on our roads. In 2004, single-vehicle crashes accounted for 21,739 deaths or 57 percent of all highway fatalities. According to the NHTSA, the rate of serious injury in passenger-vehicle rollovers is 36 percent higher than in crashes where there is no rollover. Rollovers are by far the leading cause of fatalities in SUVs. In single-vehicle crashes, 79 percent of the fatalities among SUV occupants involved rollovers. Single-vehicle rollover crashes produced more than 50 percent of all occupant deaths in SUVs compared to 34 percent in pickup trucks and 19 percent in cars as found by the Insurance Institute for Highway Safety (IIHS).
ESC systems, per federal studies, reduce single-vehicle rollovers in passenger cars by 35 percent and in SUVs by 63 percent. The IIHS estimates that ESC systems could save as many as 7,000 lives per year. ESC was first offered in the U.S. as a feature on the 1995 Mercedes-Benz S-Class, and then eventually across the automaker's entire U.S. fleet. BMW soon followed suit. The systems have now spread across various U.S. vehicles; 20 percent of new 2005 vehicles offered ESC as either standard or optional equipment, up from only six percent in 2003.
How ESC Works
ESC works by using sensors in the wheels and steering mechanism to keep an eye, so to speak, on the intended steering path, and the overall yaw rate and lateral acceleration of the vehicle. When the system detects a deviation from the driver's intended path---i.e. the back wheels begin to spin out---it applies the brakes in a proportionately appropriate manner to each wheel independently, and may reduce engine torque to provide stability until the vehicle gets back on its intended path. All of this takes place at the speed of a computer---far faster than the reaction time of top athletes even. The consensus is that because the system is able to anticipate and intervene to prevent loss of control, it can, therefore, reduce the number of crashes due to driver error and loss of control.
NHTSA will analyze the systems using a dynamic new test, where an actual driver will take a vehicle through a course, rather than simply using statistics and measurements to project results. In this new test, the driver will take the vehicle up to 50 mph then steer sharply in one direction, and then back again to simulate a typical avoidance maneuver on a highway. The vehicle's speed will increase with each maneuver until the vehicle either spins out or passes the test.
System Variations There are distinctions between different ESC systems. Some systems can be turned off, and some provide settings that allow greater levels of under- or oversteer before ESC intervenes. Some drivers, who feel they are better behind the wheel than a computer, choose to drive without ESC. Driving enthusiasts who race their cars on tracks tend to turn their ESC systems off to get better performance going around the ovals. The average driver though has no reason to ever turn their ESC system off. It will step in and correct driving errors to help prevent crashes. A driver must rely on a much slower human reaction should their ESC system be deactivated.
Before the ESC regulation can become law, both the Department of Transportation (DOT) and the White House Office of Management and Budget must approve it. Expectations are that it will clear those hurdles by early summer, 2006. Congress mandated last August that the DOT devise standards for automotive stability control as a means to prevent rollovers. DOT has an October 1, 2006 deadline to propose the regulation. Although the regulation's details are not yet available, automakers are not expected to balk at the new mandates. NHTSA lists the 2005 vehicles that are available with ESC systems on its website, www.nhtsa.gov.
by Cathy Nikkel / autoMedia.com