New study shows 4-time increase in accidents
Talking on a cell phone while driving can quadruple your chances of a crash ending with a hospital visit, according to a new study released by the Insurance Institute of Highway Safety (IIHS). The statistic is an equal opportunity warning. The same statistics apply to women, men, young or old, hands-free or handheld cell phone users. The study, entitled the "Role of cellular phones in motor vehicle crashes resulting in hospital attendance" by S. McEvoy et al, is published in the British Medical Journal, available at bmj.com.
Case Study
IIHS researchers chose Perth, Australia for the study since cell phone records were available there to the researchers, and were not in the U.S. Perth is also a city that bans the use of handheld cell phones while driving. The study covered a period from April 2002 to July 2004. Subjects were drivers treated in hospital emergency rooms for injuries suffered in auto crashes.
Weather had little to do with the results, since almost 75 percent of the crashes occurred in clear conditions. Eighty-nine percent of the crashes involved other vehicles and more than half of the injured drivers reported that their crashes occurred within 10 minutes of the start of the trip. Even though Perth bans handheld cell phones, one third of the study's subjects reported they were using handheld phones. However, injury crash risk didn't differ from one type of reported phone use to the other.
"This isn't intuitive. You'd think using a hands-free phone would be less distracting, so it wouldn't increase crash risk as much as using a handheld phone. But we found that either phone type increased the risk," said Anne McCartt Institute vice president for research and an author of the study. "This could be because the so-called hands-free phones that are in common use today aren't really hands-free. We didn't have sufficient data to compare the different types of hands-free phones, such as those that are fully voice activated."
The results of the study are based on the experience of 500 drivers and are consistent with a 1997 study done in Canada that also used cell phone billing records to uncover increased accident risk from cell phone use. That study also showed a four-fold increase in the risk of an injury crash. Previous studies on the hazards of cell phones and driving relied on simulated driving situations or were very small in scope. This is the first large study of the on-the-road consequences of mixing cell phones and steering wheels.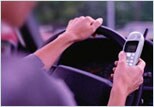 Handheld Ban?
Calling the IIHS findings a clear message, Lt. Colonel Jim Champagne, Chair of the Governors Highway Safety Association (GHSA) said, "Drivers should not use any type of cell phone behind the wheel." He added that policy makers continue to look for the answer to distracted driving, which includes a litany of activities: eating, reading, talking to passengers, watching the countryside or listening to the radio while driving. Champagne cautioned against states enacting laws against handheld cell phones based on the study's findings that hands-free phones were no safer. Such bans, he said, "send an incorrect message to drivers that as long as they are hands-free, they are safe."
The National Highway Traffic Safety Administration had grappled with cell phone distraction for almost a decade. NHTSA says the cognitive distraction of talking on a cell phone keeps a driver's mind off the road and the task at hand. The agency's stated policy is that it is safer to stay off the phone while driving handheld, hands-free or voice-activated. NHTSA estimates that 25 percent of all police-reported crashes are the result of driver distraction.
There is as yet no definitive study that shows activities like eating or drinking a cup of coffee or messing with a CD player to be the same or worse than chatting on a cell phone. However, NHTSA cites one study that compared eating and operating a voice-activated cell phone to continuously operating a CD player, which found that operating the CD player was more distracting than the other activities. In a test track study conducted by NHTSA, the results showed that manual dialing was about as distracting as grooming and/or/eating, but less distracting than reading or changing CDs.
by Cathy Nikkel / autoMedia.com