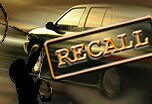 Dealing with manufacturing mistakes
Massive recalls litter the automotive landscape nearly every season. Hyundai once recalled a quarter million Elantra sedans with an airbag problem; four million Ford pickups and SUVs once lined up for overheating speed-control deactivation switches; and Toyota, at one point, recalled 978,000 pickups and SUVs to take care of a steering relay rod defect.
This recent spate of recalls may prompt you to ask yourself, "What do I do if I see my own vehicle pop up on the news?" First, don't panic. It's not like seeing yourself on "America's Most Wanted."
Types and Steps
Automotive recalls come in basically two forms: those ordered by the National Highway Traffic Safety Administration (NHTSA) and voluntary recalls initiated by the manufacturer. Because of the public relations impact of a defect in the family transportation, the auto industry makes every effort to come out first and early with recall information.
When the manufacturer goes public with a recall, there's still a lot of preparation to be done before the individual owners bring their vehicles to the dealership for the fix. First, the manufacturer has to determine the precise cause of the problem and how best to rectify it. Dealers have to be notified and provided with the proper parts and information.
The next step is to notify specific vehicle owners by mail, using state motor vehicle records to make that determination. Media announcements of factory recalls rarely pinpoint the exact models and accessory packages involved. Just because Ford announces a recall of F-150s for a particular model year, for instance, doesn't necessarily mean every single F-150 of that year carries the defective part.
The recalls that get prime time news coverage are those that involve large numbers of vehicles as well as those with serious consequences. But some only involve the paint or minor inconveniences. As a result, statistics indicate that roughly one in four vehicle owners never respond to a recall notification. So if the recall involves something as trivial as a glove compartment knob and the closest dealer is 100 miles in the wrong direction, use your own judgment. But if the defect could impact the safety or mechanical operation of the vehicle, stay on top of the situation and respond appropriately to the manufacturer's written notice.
Time Commitment
The NHTSA allows manufacturers a reasonable amount of time to mail out the official notices of recalls, which will include what you have to do to get your vehicle repaired, and how long that repair should take. It also provides specific information on the nature of the problem or defect, its impact on safe operation of the vehicle and any other risks. You'll also be provided with a phone number, just in case you run into problems during the repair process.
If sitting around and waiting for the official notice is too much to handle, check the NHSTA website (www.nhtsa.dot.gov). It's a simple site to navigate, allowing you to plug in your vehicle information to verify the existence of a current recall.
This site contains the full NHTSA report, including any limiting factors, such as the presence of an optional accessory, engine and transmission configuration, etc. If the report clearly defines your vehicle, jot down the manufacturer's contact phone number and the Campaign Identification Number for future reference.
"Reasonable time" is, by its nature, a relative, subjective term. In addition, it's not out of the ordinary for some vehicle owners to slip through the notification procedure cracks. When what you consider a reasonable time has passed, with no official notification, go ahead and contact the manufacturer. Have your vehicle's 17-digit VIN number, date of purchase and full description at hand. Your phone call may be the only way that a manufacturer can find you if it has inadvertently overlooked you in the state DMV roles.
Your Part
Once you've gotten your notice, contact the dealer. All of the vehicle manufacturer's dealers are required to make recall repairs, free of charge, just as they do warranty work, with only a few exceptions. If the defect is identified in vehicles more than eight years old, you're on your own. In such cases, recall protocol does not apply and the work is not free. Also, if you've had work done to repair or replace a part or system that is later the subject of a recall, the manufacturer is under no obligation to reimburse you, although some may voluntarily do so.
While recalls are never good news for the auto industry, they are an indication that the NHTSA and the manufacturer are keeping an eye out for engineering or materials flaws. Just follow the procedure outlined above, and your car will likely be the better for it.
by Debbie Murphy/autoMedia.com