2016 BMW i3 Expert Review
By Joe Tralongo, Contributing Editor
KBB Expert Rating: 9.2
For 2016, BMW's i3 EV finds itself with a few more competitors and even more on the horizon. Offered as an upscale alternative to the Chevy Volt and Nissan Leaf, the i3 stands apart with its unique styling, open-space interior concept and $43,500 price tag (and that's just the entry price). To better compete with plug-in hybrids like the Chevy Volt, the i3 can be equipped with a gasoline engine that acts as a generator should the car exceed the batteries' 80-mile range. The i3's sporty attitude, numerous high-end interior features and unique carbon-fiber-reinforced plastic body components not only help it leapfrog the current crop of electric cars, they ensure the i3 will survive the coming onslaught of new EVs from GM, Tesla and Mercedes-Benz.
You'll Like This Car If...
BMW's 2016 i3 electric car offers an environmentally friendly commuter wrapped in a technologically advanced shell. Unique styling, a feature-rich interior and the BMW badge make the i3 more fun to own than a Prius or Leaf, and may even turn more heads than a Tesla Model S.
You May Not Like This Car If...
If you see the car as a means to get from point A to point B, you can spend less money and get more range from a Ford C-Max Energi or Chevy Volt. The Fiat 500c, Volkswagen e-Golf and Kia Soul EV also cost less and offer similar battery-only range.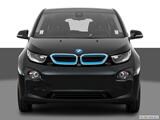 What's New for 2016
The 2016 BMW i3 EV sees no major changes this year.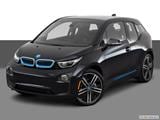 Driving Impressions
While the 2016 i3 electric vehicle from BMW may be all about efficiency, it's also about proving 21st-century technology can still be merged with BMW's driving-enthusiast attitude. The i3's all-electric...
... motor instantaneously delivers maximum torque to the wheels, allowing the i3 to propel its 2,800-pound body to 60 mph in just seven seconds. Acceleration is uninterrupted by gearshifts, making the experience all the more thrilling. The i3's rear-drive setup helps it deliver a more sporting ride than its main rivals. Thanks to an advanced regenerative braking system, stopping power is not only first-rate, it is energy-efficient too. The i3's braking system is so aggressive that, given the proper distance and time, it can even bring the car to a complete stop without the driver ever needing to apply pressure to the brake pedal.
FLAT-PANEL DISPLAYS
If visuals effects are your thing, the 2016 BMW i3 EV's wide-screen display panels are going to make your day. A small screen set just behind the steering wheel displays speed, while a larger screen "floats" just above the center dash displaying images for navigation and the rearview camera.


RANGE-EXTENDER GASOLINE ENGINE
For those hesitant to go full electric, BMW placates any concerns by offering an optional 2-cylinder gasoline engine. This $3,850 upgrade doesn't directly power the i3, but rather recharges the battery pack, essentially doubling the i3's range. Unfortunately, the gasoline engine also nullifies the i3's zero-emissions status.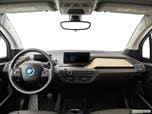 Interior
BMW's i3 EV for 2016 has an interior that is futuristic yet minimalistic. Like its exterior, some elements work better than others. The responsibly forested eucalyptus dash and wide-screen displays reward the senses. Yet some of the other earth-friendly dash materials resemble attic insulation. Like the front seats, the two rear ones are roomier and more comfortable than you may expect, though beware of the i3's high step-in. Rear passengers will have to contend with a large black pillar, but the peculiar vertical shape of the windows creates a good view out. To accommodate extra cargo, the rear seats split and fold.
Exterior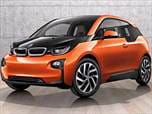 The BMW i3's exterior is polarizing. In one sense, it is as unconventional as its powertrain. Glance at the overall design of this BMW's side windows, and you may see the shape of a bottle on its side, with the spout just over the i3's rear wheels. And like the front wheels, the rear set is pushed to the very edge of the car's carbon-fiber-reinforced plastic body. Even the doors are strange yet functional. The rear set opens outward to make entering and exiting easier for rear passengers. At just 157.4 inches long, the 2016 i3 is shorter than a Honda Fit.
Standard Equipment
The 2016 BMW i3 is available in three trims, or as BMW calls them, "worlds": Mega, Giga and Tera. The base Mega comes well-equipped with navigation system, LED headlights, 19-inch wheels, DC fast-charging port (allows you to charge the battery up to 80 percent in 20 minutes), heated seats, Sensatec leather-like upholstery, and BMW's ConnectedDrive that syncs to your smartphone to enable the use of apps. The Giga model has a leather-and-wool interior, sunroof and i Comfort Access System with keyless entry. Top-line Tera models feature full leather upholstery and special 19-inch wheels.
Optional Equipment
In addition to the range-extending gasoline engine, the i3 offers other hardware and software to make your commute safer and more comfortable. Among the offerings are a 12-speaker/360-watt harman/kardon audio system and the Navigation Professional System with range assistant, real-time traffic info and Traffic Jam Assist. Other options include forward-collision warning and pedestrian detection, automatic parking system, and a collision-mitigation feature that can automatically apply the brakes in emergency situations.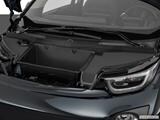 The 2016 BMW i3 electric vehicle uses an electric motor powered by a lithium-ion battery back. Range-extended models have a supplemental 650-cc gasoline engine that acts solely as a generator (it doesn't power the wheels directly) and has a fuel capacity of 2.4 gallons. The BMW i3's electric-only range is 80 to 100 miles, and extended-range models are said to achieve about double that. Hyper-milers can eke more distance by switching to the ECO PRO mode, which is meant to increase distance by 12 percent, or ECO PRO+, which adds another 12 percent. The i3 electric vehicle uses a single-speed transmission and is rear-wheel drive. The i3 recharges in about three hours on a 220-volt charging station or 20-plus hours on a standard 110-volt outlet.

Hybrid-synchronous electric motor
22-kWh lithium-ion battery
170 horsepower
184 lb-ft of torque
Range with full charge: 80-100 miles
Range with full charge plus gasoline-powered Range Extender: 150 miles
The Manufacturer's Suggested Retail Price (MSRP) of the 2016 BMW i3 starts at $43,395. The base price for an i3 with Range Extender is $47,245. The BMW i3 is also eligible for incentives, such as a $7,500 federal tax credit. At these prices, the i3 resides in a middle ground among electric vehicles. It is over $12,000 more than a Nissan Leaf, but nearly $30,000 less than a Tesla Model S. Somewhat closer in pricing is the all-new Tesla Model 3, which will have a starting price around $35,000. Also in this range are the VW e-Golf, Fiat 500e and Ford Focus electric. Tesla says it will begin taking orders in March. Be sure to check the Kelley Blue Book Fair Purchase Price to see what others in your area are paying for an i3. Because the i3 is relatively new, our number crunchers are still calculating its predicted resale value.
To compare current market prices, check out KBB.com's car classifieds to view the new and used BMW i3 vehicles for sale near you.