We're spending 12 months with this Kia Telluride, reviewing the full ownership experience with ongoing updates. Also, find out why we named the Kia Telluride the Best New Model and Midsize SUV Best Buy — Three-Row for 2020
Kia's gentle reminders
by Frankie Rogers on January 6, 2020  
Price: $47,710 | Price yours
Current Odometer: 5,146 miles
Latest MPG: 22.22 mpg
Lifetime MPG: 19.62 mpg
Maintenance/Service Costs: $290.86
Days out of Service: 0
You have to hand it to Kia for its gentle reminders, or alerts depending on your perspective, for things like checking the back seat or making sure all of the windows are closed.
The Rear Occupant Alert (ROA) is to prevent leaving any passenger in the rear seats of the vehicle. The alert is displayed in the cluster along with a soft chime as soon as the front door has been opened and the engine has been turned off. If there is someone left behind after the driver has exited and locked the doors their movement will be detected by the ultrasonic sensors and the horn will sound off for about 25 seconds. While the rear seat reminder is a very useful feature for drivers with small children or pets, it's a constant reminder unless it's deactivated and therefore can get annoying. Luckily, Kia has made it easy to deactivate the alert by accessing User Settings in the cluster and selecting Convenience then selecting Rear Occupant Alert.
What I have found most useful is the alert that lets me know if a window is still in the open position. With the rainstorms that have passed through our area recently the last thing I want to do is leave one of the Kia Telluride's windows open during a downpour. So, when a little reminder popped up in the cluster warning me that a window was not fully closed, even though it appeared closed to me, I was very thankful for its persistence in looking out for me.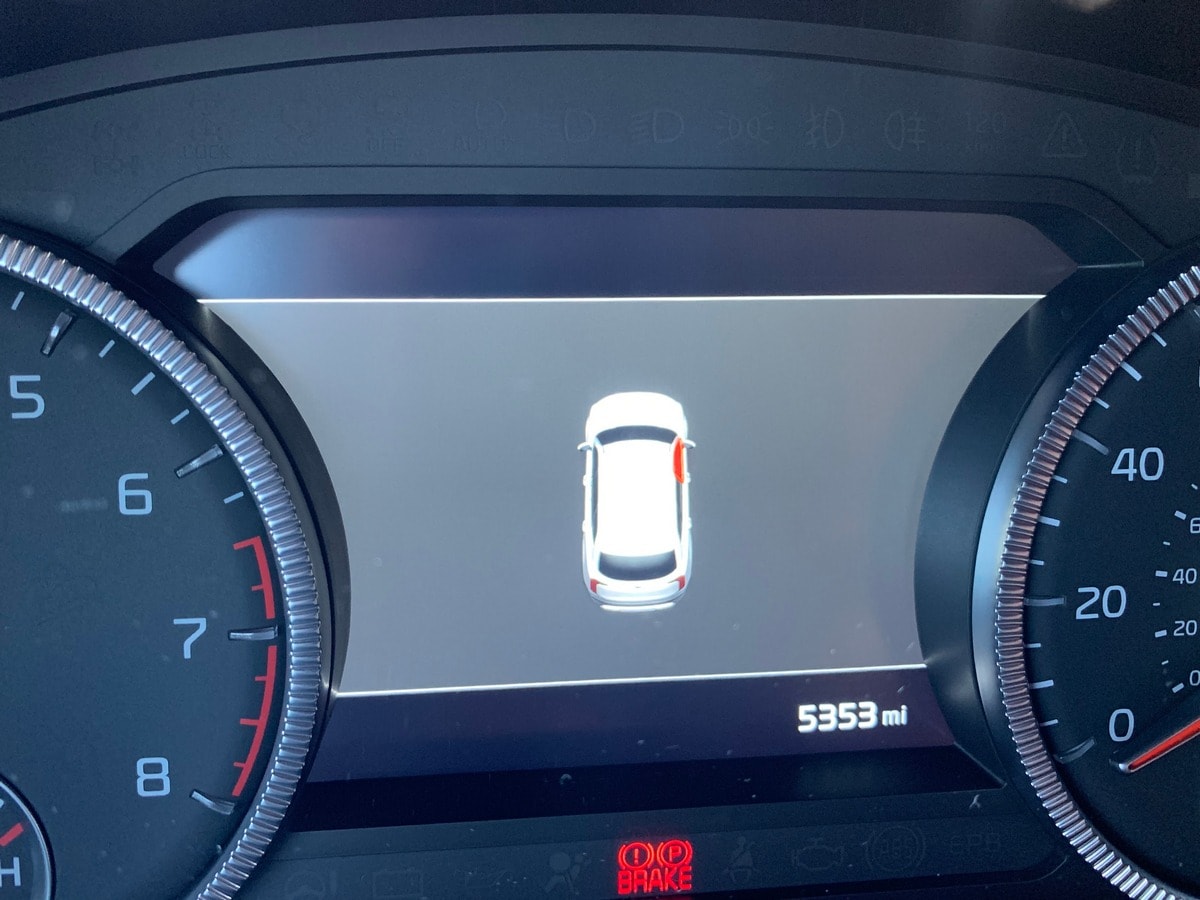 ---
Cruise Control as a driving partner
by Frankie Rogers on December 29, 2019  
Price: $47,710 | Price yours
Current Odometer: 4,876 miles
Latest MPG: 18.37 mpg
Lifetime MPG: 19.33 mpg
Maintenance/Service Costs: $290.86
Days out of Service: 0
Cruise control has been around for a long time. It was first introduced in 1948 by an inventor named Ralph Teetor, a blind man, after he became annoyed with the driving habits of his lawyer who would speed up and slow down during conversation. It took another 10 years before Teetor finally came up with a version that could be implemented on commercially sold vehicles.
During a recent road trip up to the Exotic Feline Breeding Compound in Rosamond, California, which is a facility dedicated to the preservation of endangered cats, I finally had an opportunity to use the Telluride's adaptive cruise control. The cruise control systems found in vehicles today are far more sophisticated than Teetor's version and the Kia Telluride's system is a good example. Our Telluride comes equipped with Smart Cruise Control (SCC) with Stop & Go and is a good example of cruise control that is more than just a system for controlling speed. Once the vehicle's distance and sensitivity settings have been selected it's just a matter of engaging the accelerator and off you go.
The Telluride deftly handles stop-and-go in traffic while also maintaining a set distance between it and the car in front. Our Telluride is also equipped with Highway Driving Assist (HDA) which adjusts the speed of the SCC depending on highway limits, but it also keeps the vehicle centered within its lane as long as the lanes are clearly marked. It worked well but I was a little unnerved at first since I had to cede some control over to it. I could also feel the steering wheel twitch as the SUV worked to stay in its lane. Eventually I came to appreciate the HDA. It's like a driving partner that steps in and helps on long road trips but doesn't complain about my choice in music.

---
A big boy bath, and a fuel economy test
by Michael Harley on December 16, 2019
Current Odometer: 4,104 miles | Price yours
Latest MPG: 22.36 MPG
Lifetime MPG: 19.50 MPG
Maintenance/Service Costs: $0
Time out of Service: 0 days
I borrowed the Telluride for a long weekend with the intention of taking the three-row crossover on a family road trip to San Francisco. Plans changed, the trip was cancelled, and I only ended up taking five adults out to dinner. Everyone, even the person in the third row, was impressed with the interior room and comfort. At the end of the weekend, I chose to handwash the vehicle before returning it. To expedite the process, I used a "foam cannon" attachment on a pressure washer as it layers a nice coating of lubricating soap on the vehicle with minimal effort. With a microfiber mitt in hand, the big vehicle was effortless to wash. Drying the crossover was another issue as it took double the normal number of towels and getting the grille to stop dripping – that's the cost of being able to haul around the whole family, I suppose. I put the Kia through my "fuel economy test" on the way back to work, with the Telluride covering the 86.4-mile all-highway trip at an average speed of 73.16 mph with an indicated 26.3 mpg. That is better than the Volkswagen Atlas (24.6 mpg), but worse than the Acura MDX (27.8 mpg) over the identical test.
---
Floor mats are nice but…
by Frankie Rogers on November 26, 2019 
Price: $47,710 | Price yours
Current Odometer: 2,734 miles
Latest MPG: 20.11 mpg
Lifetime MPG: 19.33 mpg
Maintenance/Service Costs: $290.86
Days out of Service: 0
The Kia Telluride's floor mats are nice in that they fit very well, are easy to clean and match the cabin's motif. The primary purpose of vehicle floor mats is to protect the carpeted floor from dirt, debris and moisture. Like most floor mats found in new vehicles these days they are made to stay in place with hooks, clips, snaps or some type of latch. It's also to keep them from moving under or into the brake or gas pedals. In addition, the mats will have a non-slip surface on the underside which may consist of small bumps or tiny rubber spikes that grip the carpeted floor of the vehicle. The floor mats in our Telluride have the spike-type underside.
I chose the word spike because it best describes what it feels like against your hands when the mats are being removed for cleaning. The hooks that keep the front mats in place work so well that removal of the mat requires some clever rolling and maneuvering to unhook. It is during this removal, or installation, process when exposed hands can get pricked. Unless you like the feeling of sticking your hands in between cactus plants, I recommend using gloves when removing the front floor mats. I know I will.
---
A Flat Tire
by Frankie Rogers on November 12, 2019
Price: $47,710 | Price yours
Current Odometer: 1,444 miles
Latest MPG: 17.78 mpg
Lifetime MPG: 19.15 mpg
Maintenance/Service Costs: $290.86
Days out of Service: 0
Well it happened. Our new 2020 Kia Telluride got its very first flat tire. Luckily, I was just a few miles from home when the low-pressure warning light came on and informed me psi was down to 26 pounds in the right rear tire. While I was shocked at the low pressure reading, I was really impressed with Kia's tire pressure management system. It not only told me the psi, but also which tire had the issue. Some manufacturers do not provide this level of detail. My immediate concern though was that if the pressure dropped any lower the SUV would be riding on the wheel and I did not want that to happen.
Soon I was parked in my driveway and quickly got out and walked around to inspect the tire. I could hear the air escaping as I approached the right side of the SUV, and I could also see the metal object sticking in between the tread about two inches from the tire's edge. When I placed my finger against the puncture, I could feel the air rushing out. Good thing it happened so close to my house otherwise I would have been waiting by the side of a busy highway for a tow truck.
Within 30 minutes of arriving home and contacting the Auto Club (AAA) the tow truck driver pulled up, removed the flat and replaced it with the spare. Luckily, the Kia Telluride has a spare tire since a fair number of vehicles today are no longer equipped with them, Of course, I was limited to speed and distance once the spare tire (aka donut) was installed since it is meant to be a temporary fix until the actual tire can be repaired or replaced.
The next morning, I tried contacting the closest Kia dealership to my home, which is Kia of Riverside, but they were so busy that all three of my calls went to voicemail. Since I would have to drive 14 miles on a freeway with the spare tire to get to the Kia dealership, I decided to visit Just Tires in Corona instead. Their shop is less than five miles from where I live and did not require freeway driving.
After consulting with Adam, the manager, I left the tire for the technician to evaluate whether or not it could be repaired. Shops like Just Tires have requirements in place when it comes to repairing tires. If the damage isn't near the center of the tire's tread the shop will not patch it, which was the case with the Telluride's puncture. A new tire was ordered and delivered that afternoon. Since I had left the tire and wheel at the shop that morning all I had to do was bring the Telluride back and the technician just had to mount and balance the wheel, which took less than 15 minutes. The technician even put the spare back into its place, which is under the rear of the vehicle, and buttoned up everything for me.
While getting a flat tire was a little inconvenient it was not all that unpleasant thanks to the service and proximity of both AAA and Just Tires.
---

by Frankie Rogers on October 29, 2019
Price: $47,710 |Price yours
Current Odometer: 718 miles
Latest MPG: 20.49 mpg
Lifetime MPG: 19.70 mpg
Maintenance/Service Costs: $0
Days out of Service: 0
We just welcomed the 2020 Kia Telluride SX to Kelley Blue Book's long-term test fleet and boy are we excited. The eye-catching Telluride is Kia's new 3-row SUV and was designed here in Irvine. It was created specifically for the U.S. market. While rectangular in appearance, it does so in a striking way, with an imposing grill and headlights. The Telluride's corners are softened yet add to the vehicle's overall toughness. This Kia has a stance that makes the SUV look like it's always ready to take off on an adventure.
The Kia Telluride is not only distinctive in shape but also in other styling cues. One is the attention-grabbing orange LED lighting around the headlights which are only available on the SX trim, something you don't see very often. There is also Kia's use of a satin finish on the exterior trim pieces rather than shiny chrome.
What's under the hood?
Our long-term Kia Telluride is equipped with a 3.8-liter V6 that puts out 291 horsepower and 262 lb-ft of torque. It is mated to a smooth shifting 8-speed automatic transmission. Our Telluride is also equipped with active on-demand all-wheel drive which when needed can send up to 35 percent of engine power to the rear wheels. The EPA ratings are 21 combined mpg and 19 mpg city and 24 mpg highway. So far during the two weeks we have been driving our Telluride we are averaging about 19.7 mpg.
Comfort, Safety and Technology galore
With a base price of $43,490 our Telluride SX comes standard with a host of features such as a 10-inch touchscreen, Android Auto and Apple CarPlay connectivity, keyless remote, push button start, heated steering wheel, heated and ventilated front seats, and 12-way power driver's seat. Safety features include blind spot collision avoidance assist, rear cross traffic collision avoidance assist, forward collision avoidance assist, safe exit assist, lane keeping assist, rear occupant alert, surround view and blind spot view monitor, parking distance warning for forward and reverse, and highway driving assist.
More Options
We opted for the SX Prestige Package for an additional $2,000, which includes a head up display, 110-volt inverter, Nappa leather seat trim, premium cloth headliner and sun visors, heated and ventilated second row seats, and rain sensing windshield wipers. We also added a tow package which includes a tow hitch and self-leveling rear suspension for $795, carpeted floor mats for $210, and a rear bumper protector for $120. When added up our 2020 Kia Telluride SX AWD rings in at $46,615 (not including the $1,095 destination fee).
Where are our plans?
The 2020 Kia Telluride will primarily be used as a commuter vehicle covering 60 miles each day. It will also be used to haul supplies for weekend projects, road trips and last-minute weekend excursions, and as a shuttle for family and friends to and from the South Bay and Corona. With lots of driving and seat time looming in the Telluride's future we should be able to capture useful data on performance, passenger comfort and cargo capacity. Be sure to bookmark this page and check back often for updates.