We're spending 12 months with this Toyota RAV4 Hybrid, reviewing the full ownership experience with ongoing updates.
Consistency pays
by Matt DeLorenzo on January 14, 2020
Price: $38,038 | Price yours
Current Odometer: 6,336 miles
Latest MPG: 36.1 mpg
Lifetime MPG: 35.8 mpg
Maintenance/Service Costs: $57.76
Days out of Service: 0
While we are still awaiting further info on the fuel tank fill mystery, our long-term Toyota RAV4 Hybrid continues to deliver fuel economy that is amazingly consistent—clocking in right around 36 mpg. It's interesting that the numbers have not varied much despite a wide mix of simple city driving during a ridiculously short daily commute by L.A. standards (4 miles) to freeway cruises and short road trips.
This is due primarily to the way that the hybrid powertrain works. In urban driving situations, it uses the electrified portion of the drivetrain as much as possible to raise city fuel economy. At the same time, it retains the long-legged efficiency of the gas engine during higher speed, steady-state cruising. In fact, if you look at the fuel economy ratings of most hybrids, you'll find near parity between city and highway (in some cases city mpg may be higher).
Beyond the fuel economy, the RAV4's hybrid system itself is seamless and consistent in operation. The engine stop-start function is barely noticeable and, better yet, the regenerative braking is really well controlled. This is a big thing because when you pull your foot off the throttle in some systems, it feels as if a boat anchor's been tossed out. Not so with the RAV4. The only indication you have of regen braking is the readout in the instrument cluster.
Another area where Toyota has done a great job is balancing the regenerative forces with braking feel. Again, in other systems we've experienced, there's a vagueness in the brake feel to where you don't know if you're applying enough pressure or what amount of regen the vehicle is using. The RAV4's braking is consistently linear and predictable.
This illustrates what makes the Toyota RAV4 Hybrid so special. It feels quite ordinary in everyday use.
---
Tank refill mystery solved…sort of
by Matt DeLorenzo on January 2, 2020
Price: $38,038 | Price yours
Current Odometer: 5,539 miles
Latest MPG: 35.5 mpg
Lifetime MPG: 35.8 mpg
Maintenance/Service Costs: $57.76
Days out of Service: 0
In our early reports on our experience with the 2019 Toyota RAV4 Hybrid, we complained about an inability to get a full load of fuel on board after running the vehicle to where the fuel warning light would come on. The specs say the RAV4, like it's non-hybrid sibling, has a 14.5 gallon tank, but we were unable to put more than 12 gallons in the tank, even when the distance to empty was reading less than 30 miles. We attributed it to perhaps an overly cautious fuel gauge/low fuel warning strategy on the part of Toyota. In any event, on a vehicle with an EPA rating of 41 mpg city/38 highway on a combined 40 mpg you'd expect a range well in excess of 500 miles.
We never got anywhere close to that on a full tank and with most fill-ups we'd be clicking the pump handle repeatedly just to get 10 gallons in. Turns out we're not the only one. As result of multiple complaints, Toyota is investigating the fuel system of its RAV4 Hybrid models, particularly the shape of the fuel tank which differs from the longitudinal mounted "papoose" style tank used on the previous model of the hybrid. The new setup is a saddle bag type transverse tank ostensibly designed to accommodate the rear battery pack.
According to a statement sent to Automotive News, Toyota said it is  "investigating a fuel tank shape issue on certain RAV4 Hybrid vehicles. In these cases, variations in fuel tank shape may prevent a full refill by up to several gallons. This condition may impact the vehicle's total available driving distance. As a best practice, customers should refuel before or when the low fuel light illuminates, to prevent running out of fuel."
We've contacted Toyota PR seeking a further explanation of the situation and hopefully will have more answers soon.
---
First Service
by Matt DeLorenzo on December 19, 2019
Price: $38,038 | Price yours
Current Odometer: 5,169 miles
Latest MPG: 39.3 mpg
Lifetime MPG: 35.8 mpg
Maintenance/Service Costs: $57.76
Days out of Service: 0
The odometer on our long-term Toyota RAV4 Hybrid ticked over the 5,000-mile mark and the driver information display informed us it was time for service, our first. It was simple to make a reservation on the website for AutoNation Toyota Irvine and the whole process took about an hour, so I decided to wait for the car even though the dealership has a shuttle service for local runs.
Most buyers get the first two service visits free, but since ours was acquired through the Toyota fleet, Kelley Blue Book would pick up all the maintenance costs so we'd be able to accurately gauge an owner's out-of-pocket expenses. The first visit is fairly rudimentary, basically tire rotation and inspection of wear items like the brakes and wipers as well as checking fluid levels and tire pressures. A standard RAV4 inspection on this order costs just under $40, but our bill came to $57.76 because hybrid models require a cleaning of the battery cooling intake filter. No oil change, that will come at the 10,000-mile visit.
The whole experience was quick and efficient and all the employees from the service advisor to the cashier were very polite, friendly and able to explain all the aspects of the visit. The only disappointment was the lack of a complimentary car wash, something we have come to expect thanks to our experience with other makes.
---
Return to duty
by Matt DeLorenzo on December 2, 2019
Price: $38,038 | Price yours
Current Odometer: 4,462 miles
Latest MPG: 35.7 mpg
Lifetime MPG: 36.1 mpg
Maintenance/Service Costs: $0*
Days out of Service: 0*
After nearly two months in the shop, our long-term Toyota RAV4 Hybrid XSE has been returned to service following its untimely encounter with a deer in North Dakota. While the extent of the collision appeared to be confined to the front fascia and other plastic bits including the grille and the right front fender flare, closer inspection at the body shop revealed more extensive damage beneath including some broken mounting tabs on the apparently intact and still functioning headlamps as well as some parking sensors and a fog light that needed replacing.
We put asterisks by the days out of service because the downtime was not the fault of the vehicle itself. It should be noted that the insurance-covered bodywork which totaled about $8,000 and nearly 60 days of waiting due to back-ordered parts underscores that even minor hits that don't deploy the airbags can be very expensive in both time and money.
While the vehicle itself is equipped with amazing technology like forward collision mitigation, park distance warnings and the like, these sensors are expensive and often include a trip to the dealership for recalibration. Fortunately for us, the main radar unit used for the adaptive cruise control was unscathed.
In any event, we're happy to have the RAV4 back in service, and after its repair, looks and drives like it did the day we got it. After sliding behind the wheel and familiarizing myself with the controls, the comfortable seats and the great outward visibility, I was reminded how much I missed this compact crossover and how much I look forward to the miles ahead.
---
Road Trip Part V: The long ride home
by Matt DeLorenzo on October 11, 2019
Price: $38,038 | Price yours
Current Odometer: 4,462 miles
Latest MPG: 35.7 mpg
Lifetime MPG: 36.1 mpg
Maintenance/Service Costs: $0
Days out of Service: 0
The morning dawned with drizzle in Deadwood, South Dakota. I looked over the damage to our long-term 2019 Toyota RAV4 and other than the big piece of missing front fascia and other bits that I managed to throw in the back seat, other critical parts, like the front headlamps and more importantly the radar unit for the cruise control, seemed intact.
With the weather and news that the visitor center at Mt. Rushmore was being renovated so access to the monument was limited, I decided that it was time to be homeward bound. The first leg would be a 640-mile stint to Salt Lake City and my sister's place. With the gaping hole in the front fascia I knew fuel economy was bound to take a hit and it did. Over that leg with two fill-ups, fuel economy worked out to 34.6 mpg.
After a great dinner and overnight stay, it was time to press on for the final 685-mile slog from Salt Lake to Irvine. Using duct tape, I was able to reattach the broken piece of fascia, which helped improve air flow a bit. In 100-plus degree temps outside Las Vegas, I had to stop for some more duct tape, this time a hardier all-weather variety that could take the heat. A little over 10 hours from Salt Lake brought me home. The duct tape magic had its effect on fuel economy—I registered 36.2 mpg on the last two tanks during the return.
The trip had covered 3,098 miles and other than the deer incident, the RAV4 performed flawlessly. I came to appreciate the adaptive cruise control and its effect on reducing fatigue during long days in the saddle. And the saddle itself, the supportive bucket seats, proved comfortable and supportive, a definite plus not only for extended trips, but also in shorter, daily commutes. This is a vehicle you can own for a long time and not tire from its seating position, looks or performance. The RAV4 is off to the body shop for some much-needed rest and repairs. I can't wait for it to rejoin our long-term stable.
Road Trip Part IV: Oh, deer
by Matt DeLorenzo on September 27, 2019
Price: $38,038 | Price yours
Current Odometer: 3,046 miles
Latest MPG: 32.5 mpg
Lifetime MPG: 36.7 mpg
Maintenance/Service Costs: $0
Days out of Service: 0
Driving east from Billings into North Dakota with an eventual destination of Deadwood in the Black Hills of South Dakota, was not the most direct route, but it would fill in another state box on my personal checklist. It was late in the day and as dusk approached, I could still see the rolling grasslands that is unique to this region. I also understand why they call it Big Sky Country. Because of the lack of the huge mountain ranges to the west and desolate landscape, your eyes are naturally drawn upward to the billowing clouds set against the blue skies. It gives new meaning to the word vast.
As the sun dropped below the horizon, however, a new concern popped up, one that I hadn't considered when planning the trip. Driving at night, especially on rural roads has its own dangers, mainly wildlife. More particularly, deer. Outside of Bowman, North Dakota, I had my first sighting, a rather large buck that was standing the middle of the road, almost ghost like. I was able to slow and avoid him, but it put me on notice to be more aware. I began to see other deer later, feeding by the side of the road. I'd honk or flash the lights and they'd get out of the way.
Then it happened. About 10 miles south of Bowman, a deer in full stride appeared out of nowhere and I was unable to swerve out of the way. It hit the right front corner of the RAV4 taking the worst of it. The RAV4 had a broken front fascia, a fractured grille, but the headlamps were unscathed. Pulling the broken pieces of the fascia off and putting them in the back seat, I called in the deer strike and found out that because they are so numerous, the highway patrol no longer takes reports. They just wanted a location to send someone to collect the remains. Shaken, I headed on towards Deadwood. The RAV4 tracked straight, the adaptive cruise and lane keeping assist still worked, but the parking sensors on the right front were broken, which flashed a warning on the dash.
I made it to the hotel late and decided to wait until morning to further assess the damage and my next move on the trip.
Road Trip Part III: Taking the high way
by Matt DeLorenzo on September 20, 2019
Price: $38,038 | Price yours
Current Odometer: 2,741 miles
Latest MPG: 44.8 mpg
Lifetime MPG: 37.4 mpg
Maintenance/Service Costs: $0
Days out of Service: 0
So far, the road trip in our 2019 Toyota RAV4 Hybrid has been pretty uneventful, lots of interstate and backroad two-lane miles and some fairly interesting scenery, but nothing that will take your breath away. That changed leaving Jackson, Wyo., for a drive up through the Tetons and into Yellowstone National Parks.
Breathtaking not only for the scenery, but also some of the roads, especially the Beartooth Highway, out of the northeast corner of Yellowstone, which summits at nearly 11,000 feet. While I had been making great time out on the open road, in the national parks, you need to be patient, take your time and take in the sights. The southern leg up through Grand Teton featured a variety of road surfaces including dirt and gravel, an environment perfectly suited for the RAV4. The raised driving position and large glass area of the greenhouse (including the panoramic sunroof) allows you to take it all in, including the towering mountains still wearing snow in late August.
On into Yellowstone, the traffic builds, so again, patience is the key. I stopped at Old Faithful and contrary to popular belief, it doesn't really go on at regular intervals, but rather it's called that because it's one of the most active geysers in the park and will spout in intervals ranging from 35 minutes to 2.5 hours. A check of the Yellowstone website lets you know the approximate time (plus or minus 10 minutes) of the next eruption.
Meandering out of the park will take you several hours, and you'll see a lot of wildlife. A traffic jam on one of the roads was not caused by summer construction (check the park handout before you go to avoid those man-made jams) but rather by a pair of Bison that were walking nose to tail down the double yellow line.
A friend recommended taking the Beartooth Highway out of the park on the way to Billings, Mont., and it was truly a spectacular ride. The RAV4 was easy to pilot through the switchbacks and thanks to the hybrid powertrain, didn't ever really feel winded at all as we hit the summit. I, on the other hand, did feel a little light headed, kept drinking plenty of water and felt a lot better once I got down to a more manageable 6,000-foot altitude. Still, it was a most memorable daylong drive.
Because of the relatively low speeds in the park and then the steady state level cruising from the Beartooth Highway to Billings, I recorded the highest fuel economy readings of the trip so far, 44.8 mpg. I was able to go 463.4 miles on the tank (the Distance to Empty was reading single digits when I pulled into the gas station east of Billings).
Road Trip Part II: Cruising down the highway
by Matt DeLorenzo on September 13, 2019
Price: $38,038 | Price yours
Current Odometer: 2,277 miles
Latest MPG: 37.1 mpg
Lifetime MPG: 36.1 mpg
Maintenance/Service Costs: $0
Days out of Service: 0
After spending the evening in St. George, Utah, I set out for Jackson Hole, tracking along I-15 to Spanish Fork, where 89 would lead through Sundance, past Park City and on into Wyoming. The great thing about Western road trips are the speed limits—Interstate limits are 80 mph in more places than you think and even the back-road two lane highways have limits approaching 70 mph, so you can definitely make time.
Already with more than 800 miles under my belt, I've become a big fan of the RAV4's radar-controlled adaptive cruise control with lane keeping assist. For the longest time, I remember preferring to not use standard cruise control, because I felt I was always fiddling with it if you ran into any kind of temporary congestion when making time on the freeway. You know, when that 18-wheeler pulls out to pass another and traffic begins to stack up. When using conventional cruise control you'd have to disengage it and reengage it when the road cleared.
With these new adaptive cruise control systems, you can set the speed and forget it. You can also set your comfort level of how close you want to get to traffic in front of you and the lane keeping assist on the RAV4 was highly accurate in keeping the vehicle in the center of the lane. Only occasionally did I feel the need to intervene. While the lane keeping assist would also track on the gentle curves, it's not hands-free driving (the system will warn you to put your hands on the wheel if it senses no feedback after 20 seconds or so).
The adaptive cruise worked flawlessly and even brought the RAV4 down to a halt in stop-and-go traffic, though you have to hit the throttle to get going when traffic moves.  It was also able to maintain a reasonable distance at the closest follow setting, not too close to where you felt you were on someone's bumper, but also near enough to make that right lane denizen think twice about slotting in between you and the car in front.
After an 8 hours stretch when I pulled into Jackson Hole, I didn't feel worn out and I attribute that to the comfortable and supportive seats as well as the adaptive cruise—I was doing much less work than if I were actively regulating the speed and had a tighter grip on the steering. Both the seats and the cruise control were ready and able to handle the long miles ahead.
A note on fuel economy: The fill-up in Cokeville, Wyoming, included 10.143 gallons of fuel having travelled 376.1 miles—the Distance to Empty said I could go about another 30 miles, but I wasn't sure how far the next services were. When I gassed up that morning in Cedar City, Utah, I'd been able to travel 457.7 miles on the previous tank of fuel. The DTE meter said I had 4 miles of range left. When I filled up, DTE read 496 miles after putting 11.75 gallons into the 14.5-gallon tank. Again, it points to a conservative approach in dealing with low fuel.
Road Trip: Part 1
by Matt DeLorenzo on September 6, 2019
Price: $38,038 | Price yours
Current Odometer: 1444 miles
Latest MPG: 37.8 mpg
Lifetime MPG: 35.2 mpg
Maintenance/Service Costs: $0
Days out of Service: 0
There's no better way to get to know a vehicle than to take it on an extended road trip. With this most recent fill-up at the local Shell station about a half-mile from our Irvine offices, I'm setting out on a circuitous trip that includes a stop in Las Vegas for my brother's bachelor party, a flight to Michigan for some golf and then a return to the desert to pickup the RAV4 and head north.
The destinations include the Grand Teton and Yellowstone National Parks, a blast through Montana hooking the corner of North Dakota (because I've never been there) and then on to Deadwood, S.D., Mount Rushmore, a stop in Salt Lake City and eventually back to Orange County.
One of the aspects of our 2019 Toyota RAV4 Hybrid that I'm getting a handle on it's the disparity between the low fuel warning and the inability to put more than 12 gallons into the 14.5-gallon tank. I've concluded that Toyota is awfully conservative when it comes to its DTE (Distance to Empty) readings. On a full tank, the DTE will read more than 400 miles range, but by the time the low fuel light comes on and the distance left is showing under 50 miles, the trip odometer usually reads somewhere in the mid-300-mile range. You expect with a vehicle returning somewhere between 35 and 40 mpg with a 14.5-gallon tank would have a range upwards of 450 miles. Out on the open road, I hope to be able to stretch that out some and see what the practical range you can expect from the RAV4 despite what the warning lights tell you.
In loading it up for the trip, there's a few nice features—there's plenty of room for a golf clubs and bags in the cargo area behind the second row and the security shade is easy to put in and take out. Also having spent time driving around town, I like the RAV4's combination of large touchscreen and controls like volume and station knobs as well as manual buttons for the climate control, which helps to keep distractions to a minimum. And a run through of some verbal commands with the navigation system reveals a setup that is easier to use than most and is fairly accurate in its understanding of places as well as names for placing phone calls through the hands-free setup. More reports to follow from the road.
Eco vs. Sport mode
by Matt DeLorenzo on August 23, 2019
Price: $38,038 | Price yours
Current Odometer: 948 miles
Latest MPG: 34.6 mpg
Lifetime MPG: 36.2 mpg
Maintenance/Service Costs: $0
Days out of Service: 0
We're still getting to know our 2019 Toyota RAV4 XSE Hybrid, more through experiencing its features firsthand than sitting down and drilling through the 5-inch thick owner's manual. And what we've discovered so far is pretty cool, like the difference between Eco and Sport mode.
There's a rotary dial on the console—twist it left and the RAV4 goes into Eco mode, twist it right and the Sport mode is brought up. Pushing the button down engages the Normal mode. Most of the time, I've been content to leave it in Eco mode for my leisurely drive on surface streets between home and the office. Acceleration is acceptable and the stop/start feature not too obtrusive, though if the air conditioning switches off, I merely release the brake to get the engine and A/C compressor going again. This approach has netted earlier fuel economy around 37 mpg.
Recently, we've begun to play with the Sport mode, which turns the scale on the speedometer from green to red. But that's not all. It really does transform the RAV4—throttle tip-in is more immediate, the acceleration more urgent and the fuel economy has taken a decided hit, dropping below 35 mpg (still not a bad figure for a vehicle the size of this compact SUV). The hybrid does have more power than the standard 4-cylinder model, making 219 horsepower versus the standard 206. And while torque is actually down for the hybrid (163 lb-ft vs. 184), the immediate response of the electric motor more than makes up for that deficit. So, our RAV4 Hybrid really does have a dual nature that can either sip gas or step off the line smartly.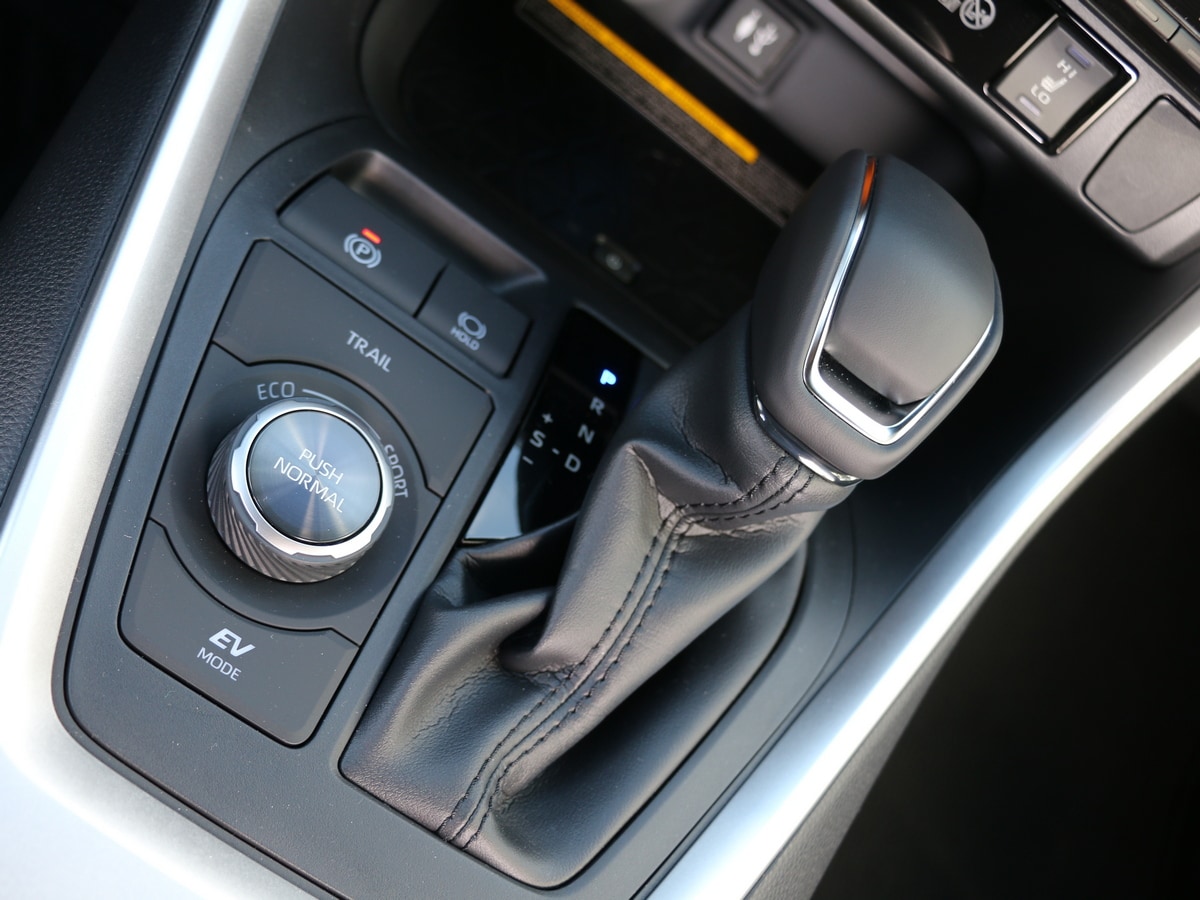 Getting to know you
by Matt DeLorenzo on August 9, 2019
Price: $38,038 | Price yours
Current Odometer: 723 miles
Latest MPG: 36.7 mpg
Lifetime MPG: 37.0 mpg
Maintenance/Service Costs: $0
Days out of Service: 0
So far, our 2019 Toyota RAV4 XSE Hybrid has seamlessly slotted into our long-term test fleet and has impressed with its upscale appearance, comfortable ride and effortless performance from the hybrid powertrain. One editor commented that the only thing he misses is ventilated seats, but then again, you can't have everything.
Fuel economy is still a bit below the advertised 40-mpg combined, but it can be attributed in part to the break-in period for the normally aspirated 2.5-liter 4-cylinder engine. As it runs in, we'll keep close tabs on the fuel economy to see if it gets closer to the EPA ratings.
In the two fill-ups we've done so far, the only concern is that the low fuel warning has come on and the vehicle shows about 50-odd mile-range to empty, but we were only able to pump about 9 gallons into the tank. The specs show a 14.5-gallon capacity, so we're a bit puzzled by the disparity. Perhaps a few more trips to the pump will sort this oddity out.
The other debate is whether to keep or remove the roof rack cross beams—they tend to generate a bit of wind noise that can be annoying when the panoramic sunroof is open. We'll keep you posted on what we decide to do. For now though, the RAV4 Hybrid is proving to be a comfortable, competent crossover that's both handsome and pleasant to drive.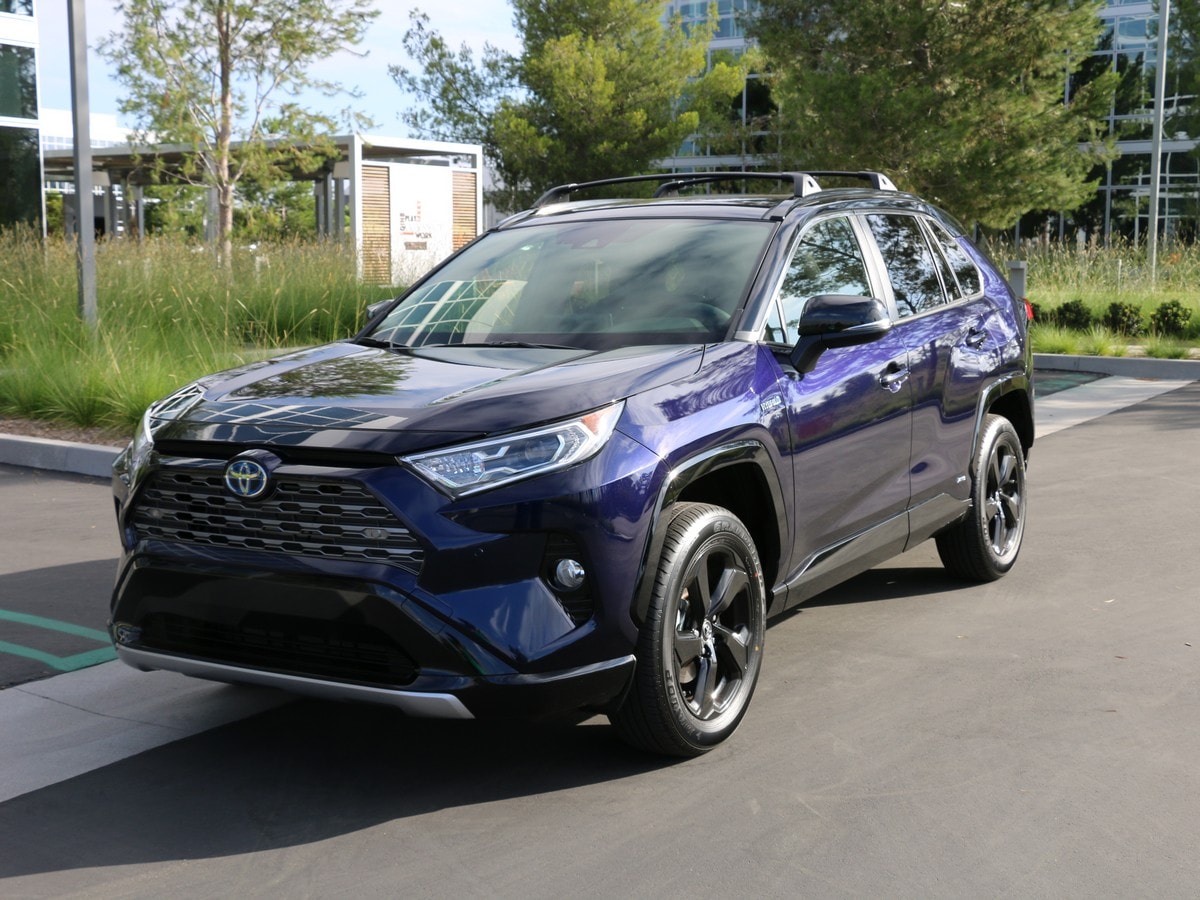 Introduction
by Matt DeLorenzo on July 26, 2019
Price: $38,038 | Price yours
Powertrain: 219-horsepower 2.5-liter 4-cylinder hybrid
All-wheel drive
EPA fuel economy: 41 mpg city/38 mpg highway
We've been around long enough to remember when the first Toyota RAV4 models were dubbed sport/cutes for their diminutive size and relatively puny performance. My how times have changed. The 2019 Toyota RAV4 Hybrid is not only a luxuriously appointed compact crossover SUV, it also has a cutting-edge powertrain that delivers impressive fuel economy.
Styling on the RAV4 has evolved from its earliest iteration where its SUV-inspired looks primarily came from its body cladding and rear-door mount of the spare tire to later versions that were more modern crossovers with more than a modicum of car-design cues. This latest take on the genre, moves it and brings it back from that realm into a more rugged, off-road inspired look. The 2019 RAV4 has a bold grille, muscular wheel arches, a roof rack and big 18-inch alloy wheels.
Adding to this more macho appearance of our Blueprint blue RAV4 is the Midnight black roof and roof rack along with black wheels. The effect is quite stealthy.
Hybrid powertrain
Our RAV4 is equipped with a 2.5-liter normally aspirated 4-cylinder engine with two electric motors for a combined output of 219 horsepower and 163 lb-ft of torque. The powertrain drives all four wheels through a continuously variable transmission. Combined fuel economy of 40 mpg is based on 41 mpg city and 38 mpg highway.
The 2019 Toyota RAV4 Hybrid in XSE trim comes with plenty of equipment for its $33,700 base price. Included are a power rear liftgate, power tilt-slide moonroof, integrated fog lights, LED headlamps, heated outside power mirrors and a roof rack. The interior features an 8.0-inch touchscreen, Bluetooth connectivity, Apple CarPlay compatibility, smart key with push button start, a 7-inch digital instrument cluster display, dual zone climate control, heated front seats and a power adjustable driver's seat.
Standard safety features include Toyota Safety Sense 2.0 with pre-collision system with pedestrian detection, full-speed range radar cruise control, lane departure alert with steering assist, lane racing assist, automatic high beams, road sign assist and blind spot monitoring with rear cross-traffic alert.
Options
We also have an upgraded infotainment system (a $1,620 option) with integrated navigation and a premium 11-speaker JBL audio system. It also includes voice recognition, 4 USB charging points, Wi-Fi hotspot and satellite radio. A $640 technology package adds Intelligent Clearance Sonar with Rear Cross-Traffic Braking and Qi wireless smartphone charging. There's also a larger panoramic sunroof that replaces the standard moonroof as a $200 option, as well as $315 cross bars for the roof rack. Carpeted floor and cargo mats add $269 and a door sill protector is $199 extra. Including $1,095 delivery, the all-in price for our 2019 Toyota RAV4 XSE Hybrid is $38,038.
Upscale allure
Our initial impressions of the RAV4 Hybrid is that it lives up to Toyota's reputation for building solid vehicles—the gaps and seams are tight; the doors close with an authoritative thunk and the ride is controlled and comfortable. In addition to its handsome, rugged looks, the cabin has a premium feel to it. There's real stitching in contrast colors, plenty of soft touch materials and even the knobs and inside of the door pulls have this knurled rubber surface that adds to the feel that is a go-anywhere, do-anything vehicle.
The Toyota RAV4 has come a long way and over the next year, we hope to see how much further it can go in satisfying our wanderlust.