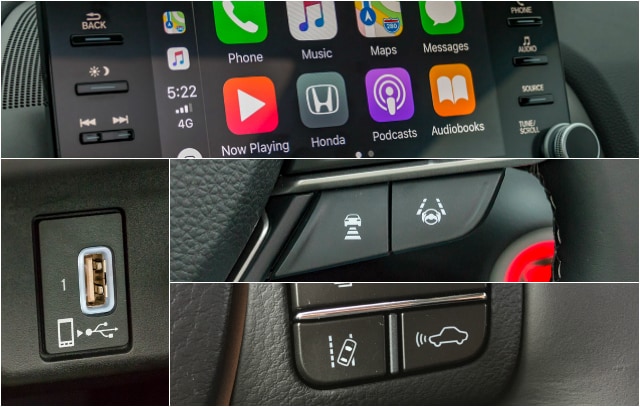 Automotive technology has evolved at such a rapid pace that modern mainstream vehicles today include many features that were offered only on high-end models just a few years ago, and at considerable expense. But thanks to economies of scale, technology once considered exotic, like adaptive cruise control with a stop-and-go capability, are available on commuter-friendly compact sedans. Here's our take of the must-have tech features you should consider when buying a new vehicle.
Apple CarPlay and Android Auto
Although carmakers are continually working to make their screen-based infotainment systems faster-acting and easier to use, many drivers prefer the familiar and often superior functionality of their smartphone. They may also want to use smartphone apps such as Waze that aren't on their in-car system.
Apple CarPlay and Android Auto allow a simplified version of your smartphone screen to appear on your car's dashboard display. The in-car system must be equipped with Apple CarPlay or Android Auto, and the good news is that functionality is migrating down to all but the base trim level in most new vehicles.
Blind-spot warning
As its name implies, a blind-spot warning system alerts drivers to a vehicle in their blind spot. Sensors monitor the area alongside the car's rear flanks, and when a vehicle in an adjoining lane is detected, a warning light illuminates, typically in the side-view mirror on the corresponding side. If the driver ignores the warning and signals to move into that lane, most systems will then flash the alert and possibly also sound a warning.
Some systems additionally provide brake intervention, meaning they will apply the brake on a wheel on one side of the car to prevent the driver from steering into the adjacent lane when a vehicle is detected in the blind spot.
Lane-Keeping Assist
Lane-keeping assist functions as a semi-autonomous driving function, but it is designed to aid rather than supplant the driver. Cameras read lane marking and sometimes also follow the car ahead to establish the lane boundaries, which means the systems require well-marked roads. When the system is able to establish the lane boundaries, an indicator in the instrument cluster will turn green, signaling that the system is ready to assist with steering duties.
The best lane-keeping assist systems will gently steer to maintain the car's position in the center of the lane. Weaker systems sometimes ping-pong back and forth from one side of the lane to the other. Lane-keeping assist often struggles on curvy roads, so it is best utilized on highways. The system's steering inputs usually are gentle and easily overruled by the driver.
Although lane-keeping assist can handle steering duties briefly on its own, the systems are designed to be used with driver input, and if the driver's hand is not detected on the steering wheel, they will flash a warning to put your hands on the wheel.
Keyless entry and access, pushbutton start
The next step beyond key fob remotes is passive keyless entry, which is paired with pushbutton start and allows a driver to unlock, start, shut off, and lock the car all without touching the key fob.
The system works by detecting the fob in your pocket or purse, and it unlocks the door when you pull the handle or touch a button on the handle. Inside the car, a simple pushbutton ignition starts the car, as long as the fob is detected.
To lock the car after parking, usually there's a touch-sensitive spot or button on the outside door handle that you press to lock the car, again with the remote on your person. A flash of the lights and/or a beep of the horn confirms that the car is locked.
Connected Mobile Apps
Connected mobile apps allow owners access to a variety of vehicle information and the ability to perform a host of vehicle-related functions via their smartphone. The specifics vary by make and model, but information can include: fuel level, battery charge level and range (in EVs), location of a parked vehicle, whether the car is locked or unlocked, and whether any windows or the sunroof is open.
App-enabled functions can include remote start; scheduling service; locking, unlocking, and engine start (when combined with digital key); notification when the vehicle exceeds a certain speed or travels outside a geofenced area; and the ability to send a destination from your phone to your car's navigation system.
Connected mobile apps often have a subscription fee. Each brand has its own name for its app, some examples being: Lincoln Way, MyFord Mobile, AcuraLink, BMW Connected, Mercedes me, and Volvo on Call.
Rear Cross-Traffic Alert
Rear cross-traffic alert is often paired with blind-spot warning because they use the same cameras or radar sensors, but rear cross-traffic alert performs a different function. When backing up, it warns the driver of approaching traffic from either direction—usually with both an audible and visual warning. Some systems combine rear cross-traffic alert is automatic braking, meaning that if the driver ignores the warning, the car will brake automatically to avoid backing into the path of an oncoming vehicle.
Automatic Emergency Braking
Automatic emergency braking, which is combined with forward collision warning, is one of the most important safety advances of recent years and is proven to reduce rear-end collisions. It is particularly useful in heavy traffic, where a moment's inattention can find a driver looking up to see traffic stopped ahead.
This system scans the road ahead, and if the closing speed to a slowed or stopped vehicle ahead indicates the danger of a collision, it will first sound a warning—a flashing light sometime accompanied by an alert tone—and if the driver does not react, either by braking or steering, the system will automatically apply the brakes. The automatic brake application can either avoid or at least mitigate the force of the collision.
Adaptive Cruise Control with Traffic Assist
Basic versions of adaptive cruise control, once set, can slow the vehicle below the set speed when traffic ahead slows, then return to the set speed once it clears. But it only works above 30 mph or so, and if the cars ahead drop below that speed, the system will switch itself off (with a warning to the driver).
Advanced versions of adaptive cruise control include traffic assist (sometimes referred to as all-speed adaptive cruise control or adaptive cruise control with stop-and-go) and continue to function all the way to a stop, making it much more useful in heavy traffic. With most advanced systems, if the stop lasts only a moment or two, the car can move off again on its own. If the stop lasts longer, the driver usually has to give the accelerator a nudge or tap one of the cruise-control buttons to get moving again, at which point the system re-engages.
360-degree camera
Backup cameras are currently mandated in all new cars, but large vehicles and those with compromised visibility really benefit from more robust, 360-degree cameras. With this functionality, a series of cameras around the car send info to a central computer, which can stitch together a top-down view around the car that can be shown in a split-screen display along with the rear camera view, greatly aiding maneuverability in tight quarters.
Teen Driver Technology
Households with young drivers will want to avail themselves of teen driver technology, which can function as an electronic overseer of newly licensed drivers by setting limits and tattling on bad behavior.
Depending on the features offered by the automaker, vehicle keys or key fobs can be programmed to: set a speed warning; set a speed limit; prevent the vehicle from shifting into gear if the driver seatbelt is unbuckled; prevent the audio system from turning on unless all front-seat passengers have buckled their seatbelts; set a lower maximum volume for the stereo; prevent active-safety features from being switched off; and block adult content on satellite radio.
Following a teen's use of the family car, the owner can get reports on the teen's driving history, including distance traveled, maximum speed, how often the accelerator was floored, and whether certain safety systems were triggered.