Ford's newest Mustang is an electric SUV
EPA-estimated range varies from 230 miles to 300 miles
Rear or all-wheel drive
Mustang Mach-E goes on sale in the fall of 2020, GT versions arrive in 2021
Prices start at $43,895 before $7,500 federal EV tax credit
How serious is Ford about electrifying the automobile? Very. By 2022, the Dearborn company will pour $11.5 billion into the development of 40 new BEVs, PHEVs and Hybrids.
And the first of those pure battery-electric Fords is a stunner: the new 2021 Ford Mustang Mach-E, a 2-row SUV with a promised range of up to 300 miles.
An electric Mustang SUV?
As odd as it may seem, Ford has indeed built an electric Mustang SUV. Long story short, Ford didn't want its first new-from-the-ground-up electric car (remember, the old Ranger EV and Focus EV were reconfigured gasoline models) to be just another bland 2-row crossover. So, after some soul searching, Ford decided to leverage its strengths and use the hallowed Mustang name on an all-new electric SUV that delivers what it calls "guilt-free performance."
Let's take a closer look at this new 2021 Ford Mustang Mach-E, which just made its world debut in Los Angeles and goes on sale in the fall of 2020 in all 50 U.S. states.
Fast facts
A key distinction: Ford considers the Mach-E to be a true Mustang SUV, not a Mustang-inspired SUV. Although Ford has an agreement with VW to share that company's MEB electric vehicle platform, the new Mustang Mach-E is the first vehicle based on Ford's Global Electric Architecture, a dedicated EV platform featuring a large lithium-ion battery pack that effectively serves as the floorboard between the front and rear axles. This helps keep the Mach-E's center of gravity very low, for outstanding vehicle dynamics. It also creates a flat load floor.
Ford says the Mach-E's standard 76-kWh battery will provide 240 miles of EPA range. A 99-kW extended-range battery pack also will be available, delivering over 300 miles of EPA range in rear-wheel-drive (RWD) models.
One thing's guaranteed: This new electric Mustang SUV will be one fast pony. With the extended range battery, the all-wheel-drive Mach-E will produce 332 horsepower and 417 lb-ft of torque, meaning it should hit 60 mph more quickly than the base Porsche Macan.
Although we don't have specific numbers yet, two special performance versions of the Mustang Mach-E will be even quicker. The Mach-E GT, expected to arrive in the summer of 2021, should hit 60 mph in the less than 4 seconds, making it quicker than a Macan Turbo. A GT Performance Edition of the new Mach-E Mustang will rocket off the line even more quickly, hitting 60 mph in the mid 3-second range, a time comparable to the Porsche 911 GTS. Both high-performance Mach-E GTs are expected to produce 459 horsepower and a whopping 612 lb-ft of torque.
The battery packs, built by Ford with pouch-style lithium-ion cells from LG Chem, are secured inside a waterproof case surrounded by crash-absorption material. For enhanced performance and improved charging, the battery packs are liquid-cooled. The standard pack, says Ford, has 288 cells. The larger battery pack, which weighs a substantial 1,280 pounds, has 376 individual cells.
The RWD Ford Mustang Mach-E relies on a single 210-kilowatt electric motor mounted between the rear wheels, while the AWD Mach-E also has a 50-kilowatt electric motor in front. The electric motors, which are oil-cooled for longevity, have been developed by Ford.
Even when equipped with the front motor, the Mach-E Mustang has a trunk in front, accessible under the long hood. Note: This plastic-lined front trunk (or "frunk"), which at 4.8 cubic feet is large enough for a compact roller bag, boasts a drain, which means it can be filled with ice and used as a cooler at your next tailgate. It's the same size in the RWD and AWD models.
Interior
The Ford Mustang Mach-E is a 5-seat SUV, and even though it has a sloping roofline the headroom in back is pretty good, enough for folks 6-foot-2 or shorter. Three across the back bench will be tight, but there's an overall feeling of spaciousness inside this Mustang SUV, created in part by the long wheelbase and flat floor. A handy console on the front floorboard has an upper shelf for phone charging and an open lower area that can swallow a couple of purses with ease.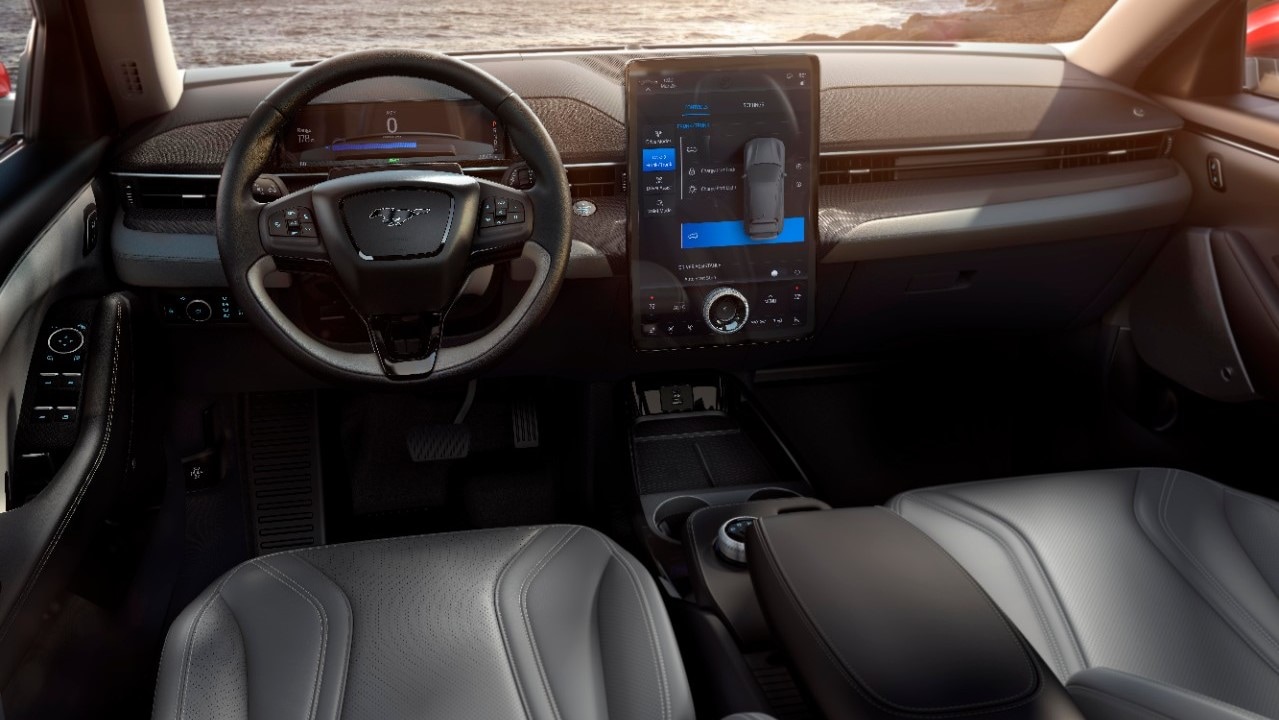 To minimize clutter, Ford, in a manner not unlike Tesla, has employed a large 15.5-inch portrait-oriented control screen on the Mach-E's center stack. Ford says this highly configurable touch screen is human centric, not screen centric, their way of saying the interface gets easier as it learns driver tastes and tendencies. While we hope this is true, we're pleased to see a knurled metal volume knob at the bottom of the screen. The knob not only twists but offers a central push button and an outer ring "push" for additional functionality.
We were allowed to play with the Mach-E's interface and found it as intuitive as modern smartphones. You can easily scroll up and down or left and right to access functions, and in many instances there are multiple options for changing a setting. For example, you can push a virtual "+" or "-" buttons to adjust cabin temperature, or you can drag a virtual slider up and down for the same effect. Ford even allows for the inevitable bumps that occur while operating a touchscreen when driving. If your finger slides a bit off a screen slider it can still operate said slider with up and down movement.
We also like having a gauge cluster in the traditional spot, right in front of the driver. It's digital, it features all the requisite driving vitals, and it's complemented by a fabric-covered double-brow sound bar that spans the width of the dash and evokes the early Mustangs. A nice touch, for sure.
Styling
Mustangs have always been about beautiful proportions, and the Mach-E succeeds. With its long hood and sloping roof, the Mach-E looks great, particularly in profile. Many styling elements are classic Mustang.
These include a shark nose, a prominent brow, short overhangs, pulled-back A-pillars and a sweeping roof, together with a long wheelbase, pronounced rear haunches and tri-bar taillamps. The exterior door handles, of note, aren't integrated into the Mach-E's sheet metal as you might expect. Rather, each front door has a pushbutton release with a tiny L-shaped grab handle, while the rears also open with a pushbutton but no exterior handles.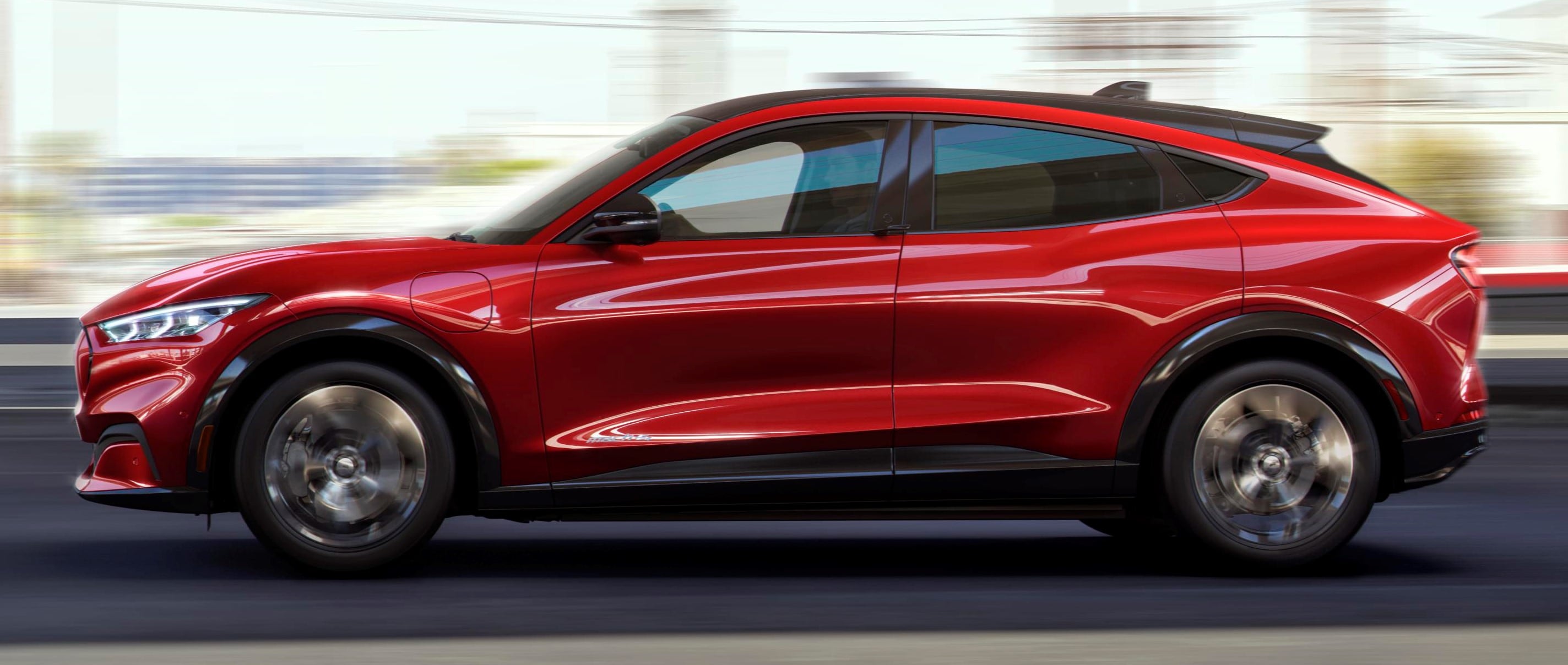 Of note: The Mach-E took shape at Dearborn Product Development Center, the same place where the Ford GT was designed. The design team worked quickly, and in close cooperation with the engineering team. After about six months of long 70-hour work weeks, the final design of the of the Mach-E Mustang took shape and was approved in December of 2017.
Will there be a GT version of the Ford Mustang Mach-E?
Yes, there will be a Mustang Mach-E GT. Actually, there will be two: a GT and a GT Performance Edition. Although the standard Ford Mustang Mach-E arrives in late 2020 as a 2021 model, the Mach-E GTs won't arrive until the summer of 2021.
Here's what we know about the GTs: Both are AWD models with 210-kilowatt motors front and rear, and both are fitted with the larger battery and have an expected EPA range of about 240 miles. Both also have revised front styling with a pseudo grille in place of the Mach-E's standard nose, which is a bit reminiscent of the Tesla Model 3's but has a prominent galloping Mustang graphic to tell us differently. All Mustang Mach-Es, for the record, feature active shutters in the lower part of their nose for battery cooling.
The Mustang Mach-E GTs will ride on 20-inch wheels, but only the Performance Edition is fitted with forged wheels and magneto-rheological MagneRide suspension. These adaptive shocks work amazingly well in varying conditions, but all Mach-Es benefit from a low center of gravity and expected 50/50 weight distribution. The Mustang ride and handling team, in fact, handled the chassis development for the Mach-E, and in doing so became the first program within the company to employ Ford's new racing simulator in North Carolina.
Five versions
Ford's new electric SUV will be offered in five flavors, although not much is known at this time about how each is equipped. Here's what we know:
The Mustang Mach-E Select is the entry-level Mach-E, a rear-drive model with a 255-horsepower electric motor, the standard battery pack and a range of 230 miles. An AWD Mach-E Select is available; it has the standard battery and an expected EPA range of about 210 miles.
Similarly, the Mustang Mach-E Premium, with more features but the same standard battery pack and 255-horsepower motor, is expected to have a range of 230 miles in RWD form, or 210 with AWD. When equipped with the extended-range battery and a 282-horsepower electric motor, the RWD Mach-E Premium has an EPA-estimated range of 300 miles. An AWD Mach-E Premium, with 333 horsepower and the larger battery, has an estimated range of 270 miles.
The Mustang Mach-E California Route 1 is available only one way: as a 282-horsepower RWD model with the extended-range battery and an estimated EPA range of 300 miles.
Ford also offers a First Edition Mustang Mach-E. Although a Ford rep wouldn't confirm how many First Editions would be sold, he did let on that it would be a 4-digit number (somewhere between 1,000 and 9,999, evidently). The First Edition is available one way: as an AWD model with the larger battery, 333 horsepower and a targeted EPA range of 270 miles. It's available in three exterior colors, including Grabber Blue, and it also has red brake calipers.
Last, Ford will sell a pair of Mustang Mach-E GT models: a standard GT and the GT Performance Edition. Both are AWD models with the extended-range battery, and both have a targeted EPA range of 250 miles. The standard GT is anything but, hitting 60 mph in less than 4 seconds. The Performance Edition does it in about 3.5. That's quick! It also has the proven MagneRide dampers.
One more reason we like the Mach-E GTs: They look much better from the front, thanks to what Ford designers call their "implied" grille. This pseudo grille looks 3-dimensional but it's actually smooth and covered in a clear plastic. Ford says both versions of the Mustang Mach-E GT will go on sale in the summer of 2021.
How much does the Ford Mustang Mach-E cost?
The 2021 Ford Mustang Mach-E has an attractive starting price of $43,895, and that's before the federal EV tax credit of $7,500. The Mach-E Select has a range of 230 miles and doesn't arrive until early 2021. If you want an AWD Select, that's an extra $2,700.
A Mach-E Premium, set to go on sale next fall, has an estimated list price of $50,600. Ordering a Premium with AWD adds $2,700. You can also order a RWD Premium with the extended-range battery for an extra $5,000. That's the model with 300 miles of range. An AWD Premium with the larger battery pack is also available for $2,700 on top of that. It has a range of 270 miles.
The Ford Mustang Mach-E California Route 1 model is listed at an estimated $52,400. It's a RWD model with the extended-range battery pack, so it has the full range of 300 miles. It will be available in early 2021. The limited First Edition Mach-E, an AWD model with red brake calipers and a max range of 270 miles, arrives in the fall of 2020, priced at an estimated $59,900.
Last, there are the Mach-E GTs, the sporty AWD models that arrive in the spring of 2021 with an expected range of 250 miles and a starting price of $60,500. The Performance Edition of the GT, the extremely potent Mach-E that has MagneRide suspension and hits 60 mph in a scant 3.5 seconds, is not priced yet, but we know it will be higher.
One thing is certain: All of Ford's new electric Mustang SUVs are eligible for a $7,500 federal tax credit, and, unlike some other EVs, they will be sold in all 50 states.
Can I order one now?
Yes. Reservations require a $500 deposit and can be made at Ford's website, where interested buyers can spec out their Mustang Mach-E just how they'd like it. And by now, Ford may even have final pricing up on its site.
Will the world accept an electric Mustang SUV?

A good question. While this new Mustang EV came as a total surprise and may offend the Mustang faithful who feel a 4-door electric SUV is completely antithetical to an internal-combustion pony car, it's a bold move not without precedent. Remember when Porsche first built the Cayenne SUV? Fans of the 911 sports car were livid, claiming that an SUV polluted the brand. Now, though, strong SUV sales keep 911s rolling out the doors in Germany.
Let's also remember that Ford's new electric SUV is far from a ponderous SUV of old. In contrast, it's quick and immediately responsive, with a low center of gravity that translates to minimal body roll while cornering.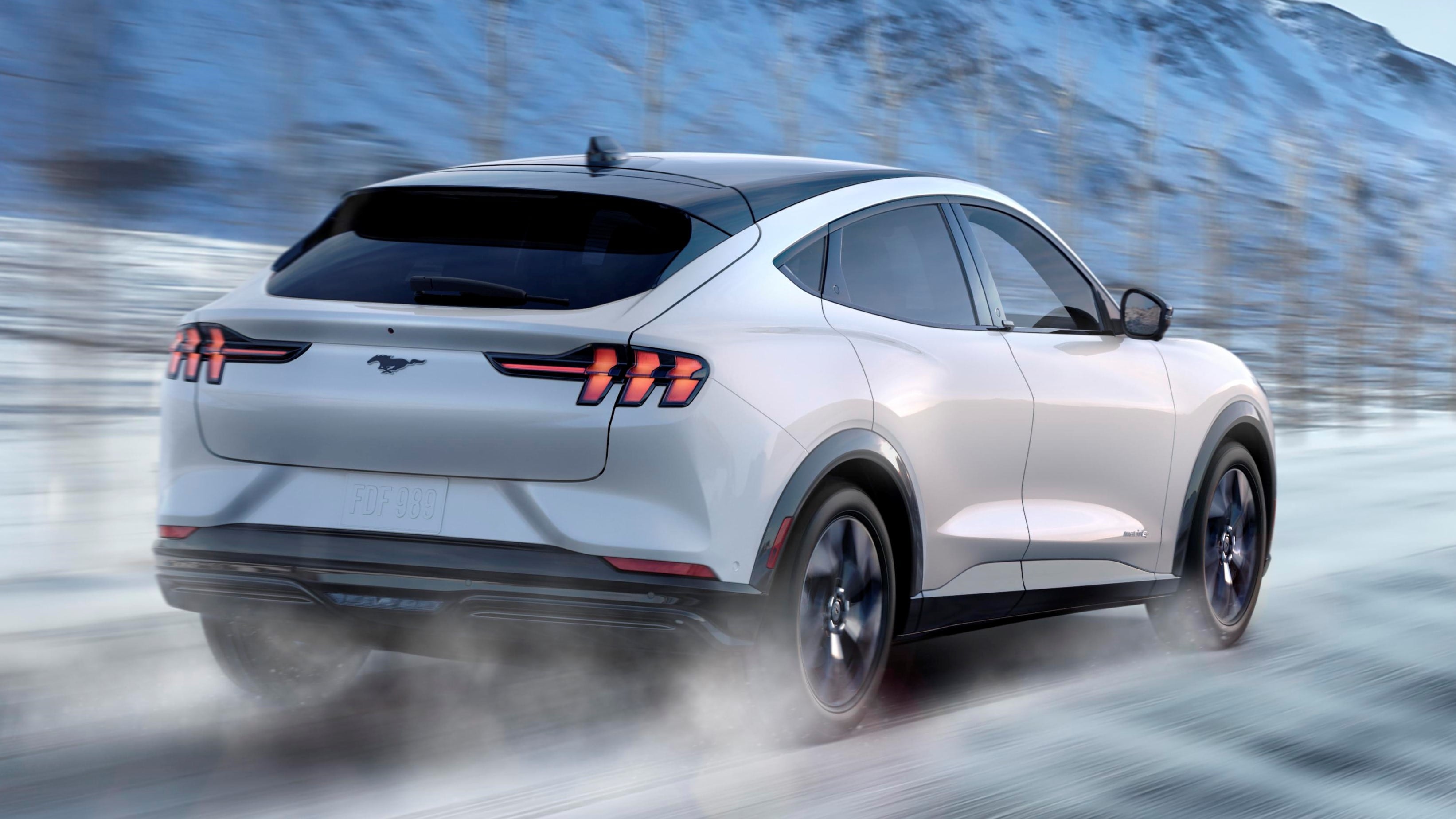 We haven't yet driven the Mach-E yet, but we rode in a camouflaged pre-production version at the Jet Center in Hawthorne, California. In a brief 5-minute ride (on the street and through a slalom set up on an airport taxiway), we came away impressed with the new electric Mustang SUV.
As with most EVs, the power is immediate, and you get planted in your seat with more force than you initially expect. And the electric Mustang SUV also stayed almost unnaturally flat in the slalom. All the while, the Mach-E was quiet inside, even though Ford pipes in a sound through the stereo to let us know that some motive force is at work here. Ford says the simulated powertrain sound, strangely not unlike that of a well-muffled V8, can be switched off. It isn't even used at all in Whisper, one of the Mach-E Mustang's three standard drive modes that alter the steering and overall responsiveness of the vehicle.
Three drive modes
In Whisper, the Mach-E is super smooth, and the drive experience is characterized by effortless gliding or coasting when you lift off the accelerator pedal. Regenerative braking is minimal. In Engaged, the most common drive mode, the simulated powertrain noise comes through at a seemingly natural level. A bit of regenerative braking makes the Mach-E feel more like a conventional car in lift-throttle situations. In Unbridled, the high-performance mode, the powertrain sounds are the loudest, but not to an objectionable level. Regenerative braking is strongest in Unbridled, which means the Mach E slows quite quickly with a lift of the pedal.
Also worth noting: The 2021 Ford Mustang Mach-E doesn't have handy brake paddles like those on the Hyundai Kona Electric and Kia Niro EV, which help you slow the vehicle with improved precision during one-pedal driving. In the Mach-E, when you need a bit more deceleration (say, for an upcoming red light), you can press the L button in the center of rotary shifter to engage low range and slow the electric Mustang SUV a bit more without touching the brake pedal. Low range, for the record, is available in all three drive modes, but it doesn't provide any more regen braking than what's already tuned into the Unbridled mode.
Where is the Ford Mustang Mach-E being built?
The new electric Mustang SUV will be built in Mexico.
How long does it take to charge the electric Mustang SUV?

All customers who buy a Mustang Mach-E won't need to sign up for multiple charging networks because Ford supplies two years of free access via the FordPass Charging Network. For the record. The new Mach-E comes with an onboard charger and a conventional CCS (Combined Charging System) plug.
The FordPass Charging Network provides access to Electrify America's 150-kW fast chargers. These clearly are the way to go, as they charge the Mach-E from 10 to 80 percent battery capacity in only 45 minutes. Put another way: The Mustang Mach-E can receive 47 miles of charge in only 10 minutes with these fast chargers.
With a Ford Connected Charge Station (available through Amazon) installed at your house, Ford says the Mach-E can receive up to 32 miles of charge in one hour. This 48-amp station is an excellent option for those folks for who plan to recharge overnight. Ford says most EV owners charge their cars at home.
Using a 120-volt wall socket and the onboard charger, you'll get only three miles of charge in an hour. Using a 240-volt outlet is much better, as the Mach-E receives up to 22 miles of charge in an hour. While that's an improvement, it will still take a full night to recharge the Mach-E's large battery pack using 240.
Who are the electric Mustang SUV's competitors?
There's a reason Ford chose the Hawthorne Jet Center to reveal the Mach-E – it was a shot across the bow of Tesla, whose Design Center is adjacent to the site and was used earlier this year for the reveal of the all-electric Tesla Model Y. This electric Tesla SUV, with a starting price of $39,000 and a range of 300 miles, arrives this fall, and the sportiest version hits 60 mph in a claimed 3.5 seconds.
That sounds very comparable to the new 2021 Ford Mustang Mach-E, but let's not forget that Volkswagen is also investing billions into new EVs, including a production version of the ID. Space Vizzion Concept, an electric crossover that will arrive in 2021. Clearly, Tesla clearly is no longer the only EV game in town.
The Mustang Mach-E isn't the first electric Ford

When the Ford Motor Company started building cars in the early 1900s, Henry Ford, in a sense, was bringing elite technology (an automobile with an internal combustion engine) to the masses. This was a time when gasoline and electricity battled to become the motive power of choice, and even Clara Ford, Henry's wife, drove an electric car – a 1914 Detroit Electric Model 47 Brougham.
While we all know which fuel won that fight, the new Ford Mustang Mach-E – more than 100 years later – reminds us that the battle is on again, and it may swing soon in electricity's favor. Ford, for the record, has stated that it plans to be a carbon neutral company by 2030, and the new 2021 Ford Mustang Mach-E is leading that charge as an EV that's not just efficient, but also fast and fun to drive.