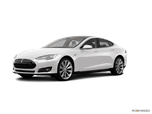 Tesla model year changes do not coincide with updates and improvements. Rather, Tesla simply adds features and options as they become technically feasible. Hence the center console data screen shows fields for blind-spot warning, lane-departure warning and all-wheel drive, all desirable, but with none not yet offered on the 2014 car.
About Tesla Model S
To most consumers, the electric car is a novelty. A compact, limited-range vehicle like the Nissan Leaf whose owners can also afford to have a second, gasoline-powered car in the garage. Tesla understands public fears about long charging times and of being stranded miles from an electric socket, so they designed the Model S to be a different kind of electric car. The new platform allows for maximized efficiency, five passengers, lots of cargo, high performance, and an extended driving range. While charging time is still an issue, different battery pack options that allow for rapid charging coupled with the company's aggressive move to begin installing a network of Superchargers should go a long way to improving confidence in the 2014 Model S.
View
Tesla Model S vehicles for sale
near you.