For 2014, a new limited-edition Viper TA joins the lineup as the most intense street-legal Viper ever produced. SRT plans to build only 33 examples of the TA – which stands for Time Attack – all done in Crusher Orange paint and optimized to showcase the car's formidable potential on a racetrack.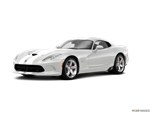 The Viper returns after a 3-year absence with a sensational new skin, a cushier cabin, more technology, and something no other Viper has had: electronic stability control. Formerly under the Dodge brand, the Viper is now the flagship car for SRT. For now the Viper is only available as a 2-seat coupe, but a roadster is expected down the road.

About SRT Viper
Between minivans, hybrids and the intensifying domestication of sports cars, one might suppose the automotive industry has gone soft. Enter the 2014 SRT Viper, the antithesis of well-mannered automobiles. On public roads, the Viper's raucous nature and lack of creature comforts make it one of the least refined supercars on the market, but in a way, that's part of the appeal. The Viper's main attraction is its 640-horsepower naturally aspirated V10, which, combined with wide gear ratios and wind-cheating bodywork, enables a dash to 60 mph in about three seconds and a top speed of 206 mph. Although slightly more livable than previous iterations, the 2014 Viper is not for everyone. That said, the similarly priced Corvette ZR1, Nissan GT-R and Aston Martin Vantage deserve a look.