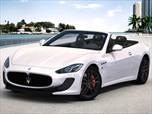 There's not a lot new for the 2015 Maserati GranTurismo, with the exception of a special Centennial edition. Topping the already fancy MC Stradale, the Centennial edition adds tri-coated colors, special wheels and aggressive seats with a contrasting insert.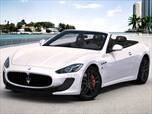 Maserati is not a large company, and it has focused its efforts on the upcoming 2015 Maserati Ghibli sedan. As such, the GranTurismo is essentially the same car this year as it was last year.
About Maserati GranTurismo
The 2015 Maserati GranTurismo mixes the Italian exotic-car formula – powerful and sonorous V8 and drop-dead sexy styling – with a couture name and leather-lined interior. The result is a car that offers an alternative if you're shopping for an Aston Martin DB9 or a Porsche 911. Not only can it hang with its British and German rivals, it neatly splits the cost between them, although we're guessing Maserati GranTurismo buyers aren't exactly bargain hunting. Nonetheless, Maserati offers a surprisingly wide spectrum of models to choose from, ranging from the base coupe and convertible to Sport, MC Stradale and this year's special Centennial edition.
View
Maserati GranTurismo vehicles for sale
near you.