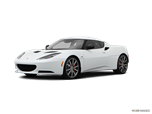 After receiving an optional automatic transmission in 2012, the low-volume Lotus Evora carries over mostly unchanged for model year 2013.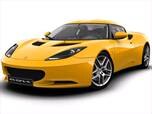 2012 Lotus Evora and Evora S models are now available with a 6-speed automatic transmission called Intelligent Precision Shift, or IPS. Lotus says the system will adapt to your driving style, and it features steering-wheel-mounted paddles that allow manual shifting.
About Lotus Evora
British automaker Lotus has long been known for sports cars that rely on compact, lightweight chassis and small-but-powerful engines vs. the larger platforms and big, fuel-thirsty engines found in many rivals. But these qualities that make Lotus vehicles nimble on racetracks and twisty roads also result in cramped interiors and stiff rides. With the Evora, Lotus has created a larger car that addresses these issues by offering extra room and more comfort, yet retains its flingable nature. Like the outgoing Elise and Exige, the 2012 Lotus Evora coupe features a mid-engine/rear-wheel-drive configuration. The engine in the Evora, though, is a bigger, Toyota-derived V6. The Evora is offered as a 2-seater with storage in back or as a 2+2 whose two rear seats are child-only. An S variant offers more power from its supercharged engine.