Narrow year range (drag arrows to filter):
See photos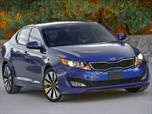 The 2012 Kia Optima sedan receives a number of improvements and feature upgrades. Foglights and heated side mirrors are added to the standard-equipment list, while the LX trim receives automatic headlights. The Premium package, available on the EX, EX Turbo and SX, gains an 8-speaker Infinity audio system, Kia's UVO voice-activated infotainment system, and power-folding mirrors. HD Radio and power-folding mirrors are added to the 2012 Kia Optima Hybrid's Premium and Technology package.

See photos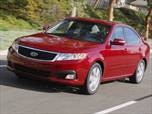 The Kia Optima receives a major freshening, with a new front end, revised rear end and an upgraded interior. The 2009 model gains over two additional inches in length, as well as a new, more powerful 2.4-liter four-cylinder engine. Other news includes the addition of a new trim, the SX, and an available onboard navigation unit.
About Kia Optima
The 2012 Kia Optima sedan proves no matter what your past reputation in the market, if you build a superior product filled with features consumers want and wrap it in skin so sexy it smokes every other family sedan on the market, people will buy your car. Once a hardly noticed 4-door sedan, the 2012 Kia Optima now has customers lining up to get behind the wheel. Beyond its sinister good looks and impressive price point, the 2012 Kia Optima family sedan delivers good figures in the area of resale, fuel economy and safety. Covering all the bases, Kia builds a wide range of Optimas including a base model, a luxury model, a high-performance turbo model and even a hybrid. With the 2012 Kia Optima sedan, Kia has left no stone unturned and no competitor a safe place to hide.