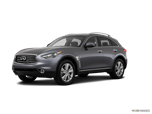 For 2015, Infiniti's QX70 luxury crossover SUV loses its V8 engine, leaving just two trims: QX70 and QX70 AWD (all-wheel drive). The available Sport package loses its most compelling features, those being Rear Active Steering and Continuous Damping Control.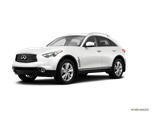 Other than its new moniker, the 2014 QX70 remains the same as the outgoing Infiniti FX. The Limited Edition model is no longer available.
About Infiniti QX70
Although its name may seem unfamiliar, the 2015 Infiniti QX70 began its run in life as the popular FX, a design that has held up amazingly well over the years. Sleek, low and fast, the QX70 is still one of the best driving luxury SUVs around, though it has lost some of its mojo with the deletion of the 5.0-liter V8 engine. Not noted for its spacious back seat or vast cargo hold, the QX70 is more about style and performance than utility, placing it on par with the Porsche Cayenne and a cut above the soft-riding Lexus RX. But Infiniti's midsize luxury SUV remains relevant, thanks to its gorgeous interior, long list of electronic entertainment and safety features, and relatively strong resale and reliability ratings.
View
Infiniti QX70 vehicles for sale
near you.