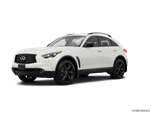 The 2016 QX70 luxury crossover SUV is unchanged from the 2015 model.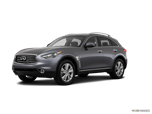 For 2015, Infiniti's QX70 luxury crossover SUV loses its V8 engine, leaving just two trims: QX70 and QX70 AWD (all-wheel drive). The available Sport package loses its most compelling features, those being Rear Active Steering and Continuous Damping Control.
About Infiniti QX70
Although it began life wearing the old Infiniti FX badge, the 2016 QX70 luxury-performance crossover SUV from Infiniti remains relevant. Sleek and low, with an aggressive driving manner and powerful V6, the QX70 remains one of the best-performing vehicles in its class. Sure, there is no V8 option and you can find more interior room in a Lincoln MKX or Lexus RX, but these attributes were never high up on the QX70 buyer's "must have" list. Like the Porsche Cayenne and BMW X6, the QX70 is all about the experience behind the wheel. Thanks to its stunning interior, long list of standard and available equipment and good resale and reliability, Infiniti's QX70 remains a contender, albeit an aging one.
View
Infiniti vehicles for sale
near you.