Introduced in the late-arriving 2013 Dart GT, the 184-horsepower/2.4-liter "Tigershark" engine also becomes standard in the 2014 SXT and Limited models. Redesigned front bucket seats offer more comfort, and all but the base Dart SE boast additional standard features. Dart option packages also have been reshuffled to better reflect customer preferences.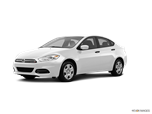 As the first Chrysler Group product to be based on Alfa Romeo platform architecture, the 2013 Dart resurrects a classic Dodge name while introducing a new level of style, content and practical technology to the brand – and in several instances, to the entire compact segment.
About Dodge Dart
The 2015 Dodge Dart blends European driving sophistication with American style and must-have features. Using a modified version of a European-market Alfa Romeo, this compact sedan goes head-to-head with other compact rivals like the Chevrolet Cruze, Ford Focus, Honda Civic, Hyundai Elantra, Kia Forte, Mazda Mazda3, Nissan Sentra and Toyota Corolla. The Dodge Dart offers three different 4-cylinder engines, five different models ranging from a budget-conscious SE to a more luxurious Limited, and numerous class-exclusive technologies. With front-wheel drive, good fuel economy – especially the Dart Aero model – and excellent safety ratings, the Dodge Dart has a lot going for it. However, this relatively new name has had a tough time carving out a niche in a class dominated by the Civic and Corolla.