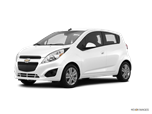 A more efficient CVT (continuously variable automatic transmission) replaces the 4-speed in models with an automatic transmission, and all Spark minicars gain automatic headlight control. Navigation is now available through a smartphone-enabled app. The all-electric Spark EV is new for 2014 and has a range of 82 miles.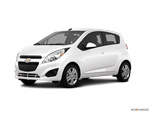 The 2013 Chevy Spark is the latest entry into the A-segment market of micro-compacts. Although it's new to the U.S. market, Chevy has actually been building the Spark in South Korea for the Asian and European markets over the past few years. America's rising gas prices have made this model more relevant. That being said, the Spark's miniscule size, edgy styling and smart packaging are what really make it stand out.
About Chevrolet Spark
The Spark is Chevrolet's U.S. entry into the minicar market, a niche that's slowly growing as more buyers look for high-mileage, low-cost vehicles that feel at home in crowded cities. Though it only debuted in 2013, Chevy has enhanced the Spark for 2014 with a new automatic transmission that increases fuel economy to 39 mpg in an effort to top rivals such as the Scion iQ, Fiat 500, and Smart Fortwo. For those never wanting to visit a gas station, there's the all-electric Spark EV initially for sale in California and Oregon. With two rear seats and slightly larger dimensions than its rivals, the Spark is easier to live with. It's at home in the city, but those who log many highway miles should look to something larger.