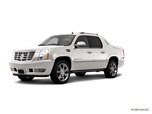 Other than some enhancements to the Escalade's brakes and two new colors, there are no major changes to the 2013 Escalade SUV.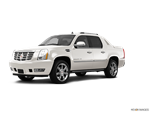 Cadillac Escalade models receive a few modest updates for 2012, highlights of which include two new exterior colors for Escalade SUV models (Radiant Silver Metallic and Crystal Red Tintcoat), a new center console design, and navigation system enhancements.
About Cadillac Escalade EXT
Cadillac's original Escalade EXT arrived late in 2002 and the ESV sport utility vehicle came along the following year. While the ESV is derived from the long-wheelbase Chevrolet Suburban, the EXT is Cadillac's take on Chevy's innovative Avalanche truck, which quickly converts from a closed SUV to a surprisingly capable pickup via a removable midgate divider system that extends the usable bed into the rear-seat area. The 2007 EXT boasts a new chassis, body, interior and powertrain, and a generous allotment of new convenience and safety features.