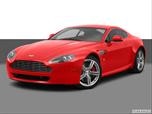 For the 2012 model year, the base Aston Martin V8 Vantage gets the automated manual transmission, steering gear, larger brakes and wider tires that were previously only found on the higher-trim Vantage S. Other changes are limited to a revised navigation system that's easier to use.
About Aston Martin Vantage
When thinking of the 2012 Aston Martin Vantage, the term "trophy wife" comes to mind. That's not to say the Vantage is all looks with no substance – after all, even trophy wives can earn PhDs and have loads of personality – but it's this Aston's aesthetics that undoubtedly draws the most attention. On paper, comparing the Vantage coupe or convertible to cars like the Audi R8, Porsche 911 Carrera S, Maserati Gran Turismo and Jaguar XKR might make it seem like a bit of a socialite outcast at a country club, but while this beauty may not steal hearts right off the bat, it sure will steal a lot of looks. Opting for the V12 trim, however, levels the performance on the playing field.