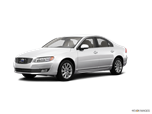 After receiving a visual and technology upgrade last year, the 2015 Volvo S80's biggest change is at the bottom of the lineup. Front-wheel-drive S80 models get a 2.0-liter turbocharged 4-cylinder connected to a new 8-speed automatic transmission. Offering better fuel economy and more power, it's a win-win.
About Volvo S80
The 2015 Volvo S80 sits atop the Swedish carmaker's sedan heap, yet many overlook it when cross-shopping against Lexus, Audi and BMW.

Too bad for them, because they're missing out on a sedan brimming with world-class luxury and safety features, and some of the most comfortable seats in the business, all available at a very reasonable price. Its subdued styling appeals to those who speak softly, rather than wield big sticks. This year, an all-new 4-cylinder powerplant finds its way under the hood of front-wheel drive-models, offering more power and better fuel economy than its predecessor. All-wheel drive (AWD) versions of the S80 still sport a turbocharged 6-cylinder. It can even tow up to 3,300 pounds, remarkable considering it's not even an SUV.